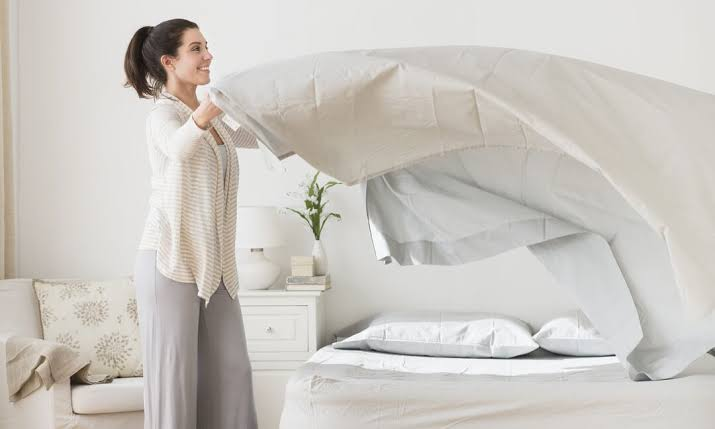 When it comes to improving sleep quality, activities leading to bedtime and the type of mattresses are frequently discussed factors. However, as it turns out, bedsheets and even the pillowcases can be a good reason why you don't feel refreshed after waking up every morning. 
Though sleeping in a comfortable, peaceful, environment, are necessary to obtain a good sleep, the right type of sheets add to your comfort. As sheets come in direct contact with your skin, they are as important as good-quality mattress and blanket that send you off to dreamland. 
Here are some of the top pointers you need to consider while buying bedsheets for sound sleep-
A Bedsheet With Higher Thread Count Not Necessarily Means Quality
There is an age-old myth that higher is the thread count, better is the quality. However, it's not always the case. Thread count is the number of vertical or horizontal threads per square inch of fabric. And, it's only one part of the total measure of a fabric's quality.
There is no denying that sheets with higher thread count tend to wear better and get soft over time. But, as the weave is tight, fabric with counts over 500 doesn't allow the sheets to breathe. Besides, such sheets tend to trap the body's heat and moisture. 
So, anything over 400 or 500 is the manipulation of the thread or fabric. Prefer to sleep on sheets with a thread count between 200 and 400, feel soft to the touch.
Choosing The Right Fabric Is Crucial
Back in the day, most of the sheets on the market came in cotton! It's still the most prominent fabric type due to its durability, breathability, and degree of comfort. So, it makes a great choice for every season. It also comes blended with rayon or other materials that affect its feel and weight. 
Sheets that feel cool to the touch of satin or other types of polyesters seem tempting. But, this silk-like quality is due to petroleum-based material. Such kinds of bed sheets are less breathable, trap warm air, and make you feel overheated. 
Therefore, natural fabric, or particularly cotton, is the best choice for all-day comfortable sleep. Egyptian Cotton, Bamboo Blends, or Linen sheets are some of the good options to choose from. You can visit Southern California Mattress Superstores to find premium-quality bedsheets or other bedding accessories. 
Weaves And Finishes Matter
Do you prefer soft or crisp? If you want to go for the latter, choose the percale. It is a plainer weave than the supple sateen. If you are thinking of T-shirt sheets, Jersey sheets are for you. They are made with flap knits that keep them soft but are more prone to sliding on the bed. If you live in cold regions, consider nubby cotton that will keep you toasty. 
Further, sheets are also treated with chemicals to prevent them from getting wrinkled or losing their shape. Therefore, some manufacturers produce organic cotton sheets which mean 'chemical-free.' Though they may get wrinkled easily, people still prefer the organic choice. It's recommended to feel the sheet in person and decide what to prefer.
The Bedsheet Should Fit Your Mattress
If you have ever wrestled with a too-small fitted sheet on a mattress, you already know how crucial it is to buy bedsheets of correct sizes. Not only this, but it also interferes with your sleep. So, it is necessary to buy a sheet that fits your mattress.
If you have a king, queen, or a twin size bed, look for the features, such as elastic edging to ensure a smooth and hassle-free fit. For pillow-up or other non-standard mattresses, search for the sheets specifically made for those sizes. Also, if you have added toppers to your mattress, buy an extra-deep sheet that corresponds.
Understanding these basic qualities of a bedsheet, you can tailor your bedding to achieve a relaxing, comfortable night sleep.