Choosing the best modern TV stand
Though TVs have been around for a good couple of decades now, they sure have changed a lot. We've come a long way from those huge blocks of wood with tiny black and white screens which used a dial for changing channels. Flat screens have become the default, but even that is old news – TVs are now bigger, offering much sharper resolutions, and access to tons of incredible features, making them truly smart devices. And then there are the added features you can bring in yourself by plugging in a home theater system or video game consoles. What a time to be alive!
However, with those advancements come changes in the needs surrounding TV stands. Because nowadays you can't just put the block of wood on a different block of wood and call it a day – there are so many factors to consider that it may seem all too easy to get lost in all those choices! Don't worry – we're here to save the day! Here are five crucial tips that will help you pick the ideal modern TV stand!

#1 It's all about the numbers
No, we're not talking about the price here (though that's obviously important too, we just don't like to talk about it). In order to really serve its purpose well, your TV stand has to have the right dimensions. After all, what good is a TV stand if it's too small to support your new 50+-inch TV? If you think you don't have to think about this with a wall-mounted TV – think again! Sure, there's no need to worry about the weight support, but think of how ridiculous it would look if the size difference was off the charts?
That's just one aspect of it, though – there's one that has much more practical consequences. You need to make sure that your TV stand's height is properly adjusted to your seats. Nobody wants to crane their necks to watch the latest episode of Game of Thrones, and that's not even going into the long-term effects on your health (and boy, they sure aren't pretty). If you're not really feeling like committing to a specific TV just yet but want to have a stand put in there just in case, you can always get one that allows you to adjust its height.
#2 Style matters
If you're like most people with a TV, it's probably going to be a centerpiece of your room. We're not judging here or anything – it's a perfectly valid choice, especially considering how many hours most people spend in front of one. What makes this important, though, is the fact that your TV will be displayed front-and-center at all times – and so will your TV stand, Make sure your new TV stand doesn't clash with your interior – and if it does, that it does so tastefully. A cute TV stand won't help you out too much if it makes your living room look messy and confusing!
#3 Placement sure is a thing!
Speaking of being displayed front-and-center – where your TV stand, well, stands will also depend on the layout of the room. Don't uproot your living room's entire decor just to make everything revolve around the TV stand – that is unless you really want to! Instead, try to find a solution that will let you take advantage of what's already there.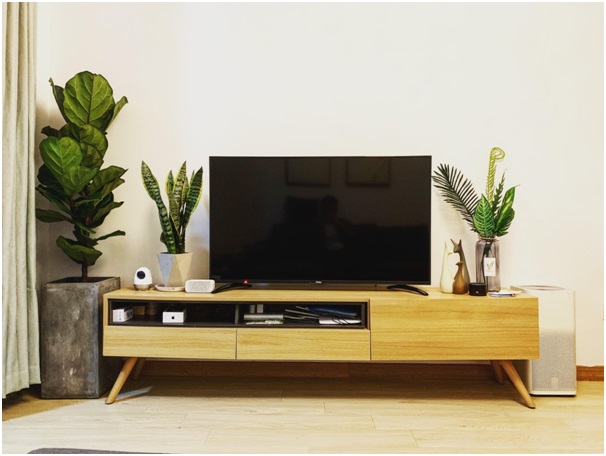 #4 What's in it?
There is quite a lot of wiggle room on the market when it comes to picking the material for your TV stand. The most popular choices are wood, metal, fibreboard, glass – and that's really just the tip of the iceberg. Consider what exactly you need for your room – something durable and stable so that the kids and dogs don't wreck it into oblivion within a week? Or something light and stylish, so that you have to watch out how intensely you put down that remote control for the rest of your life? Whatever the case, there's a material out there that suits your needs – get out there and knock yourself out.
#5 Think about what you're going to put in there
As we've mentioned before, TVs now serve many different functions, and a lot of them come with additional accessories. If you're an avid gamer, you may look for a stand that has the room to store your console. Otherwise, you might just want to consider all the extra storage space your TV stand will give you. Perhaps you're really running out of space in your living room and need more storage. You can always pick a bigger stand to make sure you never run out of space.