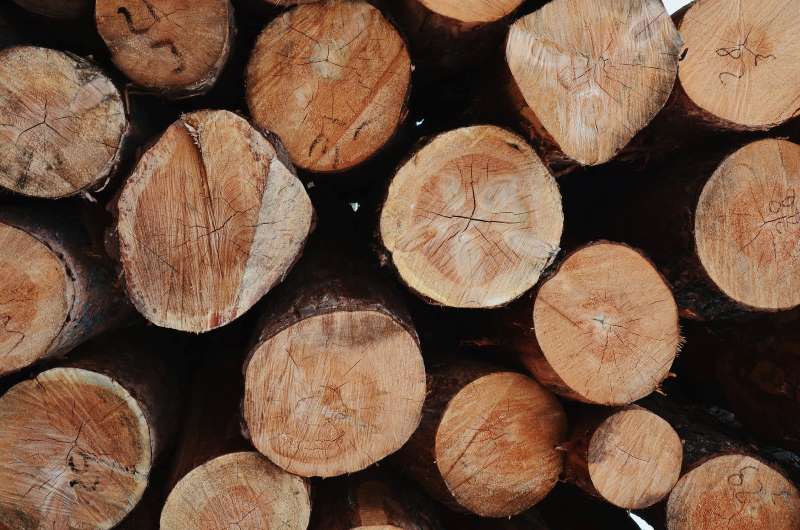 Looking to add some natural style to your apartment? Ready to give your home a relaxed, rustic look? Need to add a unique piece of décor to your living room or bedroom?
There's one thing that a lot of designers are using as natural décor these days: logs.
No, we are not suggesting you make your apartment look like the inside of a log cabin. But if you're ready to add some unique, natural charm to your place, logs are a great way to do it.
Ready to learn how? Here are seven ways to decorate with logs inside your apartment.
1. Logs as Tables
Add a statement-making style to any room in your home with a log table. One large log, or even a big tree trunk, cut flat on top, makes a great coffee table or accent table!
You can also DIY a log table by gathering several skinnier logs and securing them together with twine, rope, or a leather strap. Just form them into a cylinder and place a round piece of glass on top to create a rustic log table with a modern edge.
Depending on how many logs you have, you can create a large coffee table or a small accent table to place beside your bed or couch.
Want to give your log table a truly unique look? Paint the top in a metallic color to create the perfect balance of natural charm and industrial style.
2. Logs as Stools
In the wilderness, logs function as natural stools, so why not bring some into your home for the same purpose?
Just like with a log table, you can use one big log or a series of smaller ones tied together. The trick is to make sure that they're the exact same height so that you've got a smooth, flat surface to sit on.
Log stools are great for indoor use, but they're also perfect for outdoor seating on a patio or balcony.
There are endless ways to DIY a log stool. You can add short feet to the bottom of a tall log. You can cut a log just a few inches thick and attach long legs underneath it. You can cover the top with leather or add batting and upholster the seat.
The options are endless!
3. Logs as Natural Decorative Accents
The next time you're walking along the beach or hiking through the woods, keep an eye out for driftwood or long, thick tree branches.
Branches and driftwood have beautiful, natural arches and curves. They look fantastic placed on top of a mantle or across an empty table.
A sturdy branch or tree limb can also double as a curtain rod. Just cut it the length of your window, mount hooks on the wall, and slide your curtain's tabs over the tree branch as you would with any standard curtain rod. If you want to get really funky, paint it in a bright color or a sleek metallic finish.
Need a new serving platter for drinks or charcuterie? Easily turn a slim slice of log into a cool, rustic serving tray for glasses and small plates.
4. Logs as Wall Décor
Tired of looking at those bare, boring walls in your apartment? Add some 3D texture by mounting lots of little circular logs side by side.
This technique looks terrific on a large wall, such as the wall behind your couch or behind your bed. But you can also do it on a small wall if you're not trying to make as much of a commitment.
Not ready to cover an entire wall with wood circles? You can hide the side of a cabinet or personalize a boring bookshelf with this same technique.
5. Logs as Candle Holders
With a small hand saw and a drill that cuts circles, you can turn any old log into a chic, rustic candle holder. This works with any log of any size, and you can use it to hold candles of all shapes and sizes.
From pillars to votives, a log candle holder is perfect for placing on a mantle or a coffee table. You can also use it to create a rustic dining table centerpiece for your next dinner party.
All you have to do is find a log you like, carve out a few holes, and drop your candles in.
Check out this DIY video to learn how to make your own!
6. Logs as Flower Pots
Logs also make great flower pots. Just like a log candle holder, all you need to do is hollow out the interior. You'll have an instant place to plant flowers, succulents, or your favorite green plants.
Log flower pots look great indoors, but they work exceptionally well outdoors.
Because they're natural, you'll never have to worry about them getting damaged in the rain or sun. If you have a balcony or patio in your apartment, place a few log flower pots outside to create an ultra-rustic mini garden.
7. Logs as Wine Racks
If you drink a lot of wine, a log wine rack is a great way to showcase your wine with a unique style. To make a log wine rack, stand a log vertically, and cut the bottom so that it's perfectly flat. (The last thing you want is for your wine rack to tip over and your bottles to break!)
Hollow out a series of horizontal circles through the log. Depending on the log's width, you can cut the circles all the way through so that the wine bottles protrude out each side. If you have a log with a wide diameter, cut the circle deep enough to secure the majority of the wine bottle, so it doesn't fall out.
The taller the log, the more wine bottles you can put on display!
Conclusion
If you love a DIY project, all the above ideas are easy to make and create on your own. But if you're not that handy with tools, don't worry. You can buy log décor without ever venturing into the woods or worrying about cutting a straight line.
You can turn logs into just about anything from tables and stools to flower pots and candle holders.
So get creative and embrace your natural sense of style. A simple piece of log furniture or décor is all it takes to transform your apartment into a chic, rustic space.
Author Bio:
Ryan Sundling is a Group Marketing Manager at Cardinal Group Management. He has over ten years of experience in the conventional housing industry and works with The Oliver on a daily basis to help them with their marketing efforts.