If you are all about an eye makeup which is glamorous glitzy but scared that you will go overboard with the glitter, then we are here to help you out. Here are five types of glitter eye makeup for different occasions that will help you create a dramatic look. So, no more shying away from the current hottest makeup trend: glitter for the eyes.
Top Four Types of Glitter for Eye Makeup for 2019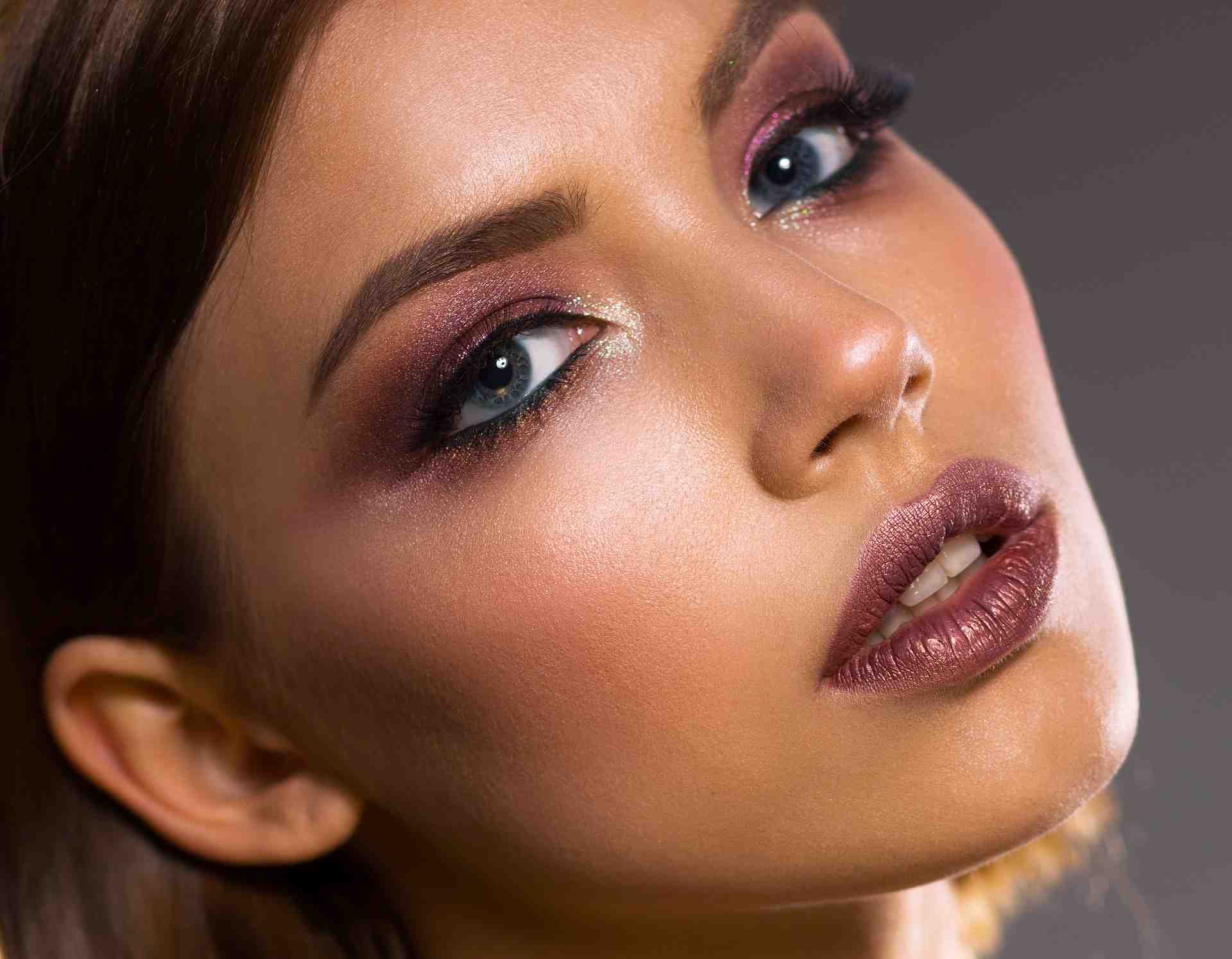 In order to make sure that you look your best wherever you go, here are four top glitter eye shadow looks that you can recreate in the comfort of your home, without any professional help. Just grab some high-quality eye shadow blending brushes to help you look glamorous.
1. Golden Glitter for Eyes
Gold is a color that complements all eye colors and skin tones, which is why it is one of the most popular colors for glitter for the eyes. So, the most important thing is to get hold of a makeup palette which comprises different shades of golden browns that will blend well with golden glitters.
The first step is always to prime your eyes with concealer and loose translucent powder. Once you have done that, apply a creamy eye shadow on the eyelid and surrounding areas and then proceed to apply a dark bronzer to the creases of the eyelid. Blend the bronzer well using a blending brush. Then apply the lightest shade on the palette on the crease of your eyelid using a flat-tipped brush.
It is also important to highlight the brow bone with a light shimmer. Once that is done, line your eyelids with black gel eyeliner and use golden eyeliner to line the lower lid under the eyelashes. Now it is time to apply the golden glitter. All you have to do is apply some glitter adhesive on the lid and pat down some golden glitter for eyes on the eyelid using your fingertip. Add some black mascara for volume and you are ready to turn heads with your golden eye makeup.
2. Chunky Glitters for Eyes
Chunky glitter for eyes is for those individuals who do not shy away from bold makeup. The glitter particles in this type of eyeshadow are comparatively bigger than the ordinary ones and tend to look more dramatic when applied on the eyes. So if you are ready to floor people with a gorgeous and glamorous look, and then follow the same basic steps as listed above and apply chunky glitter of any color on your eyes.
3. Smoky Shimmery Eyes
Smoky eyes with nude lips are a classic look that is both dramatic and easy to recreate. The smoky shimmery eye is sensuous and just perfect for any party. Add a dash of unpredictable novelty by applying a little bit of silver glitter on the eyelids, and you are ready to paint the town red.
4. Glitter for Cat Eyes
Minimal yet glamorous, the cat eye glitter is for those individuals who believe in simplicity with a hint of glamour. To achieve this look, all you need to do is to draw cat eyes with gel eyeliners and line the wing with a glitter of your choice. Underline the eye using an angled flat brush with the same glitter and look drop-dead gorgeous with this simple eye makeup. Do not forget to volumize your lashes with sufficient quantities of mascara.
Apply Glitter on Eyes With These 7 Easy Steps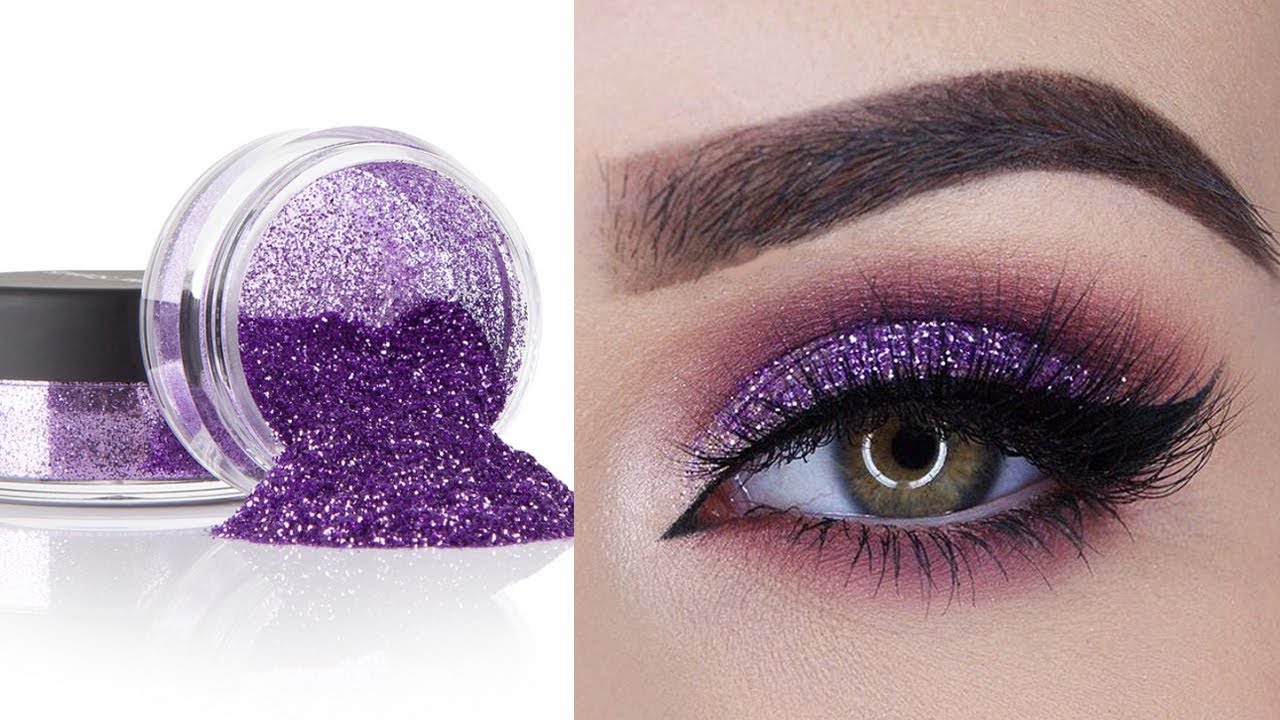 Other than these specific makeup looks, here is an easy step-by-step tutorial on how to put glitter on your eyes as a part of your regular makeup routine, without trying to recreate a specific look.
Step 1: Use a light colored eyeshadow as the transition color on the crease of the eye. If you are aiming for a natural look, opt for gray or light brown. However, if it is a bold and dramatic look that you want, try out some bright colors like blue or pink.
Step 2: Pick out another color and sweep it over your eyelids with a flat brush. This color can be anything as long as it complements the transition color well.
Step 3: Now we have to start creating a shadow tone. Choose a darker shade and start blending it in from the corner of the eye. If your transition color was gray or brown, then it is best to choose dark brown or black for the shadow tone. However, in case you used some brighter colors, you can go with navy blue or magenta. Keep blending the color from the corner of the eye towards the eyelid to create a soft look.
Step 4: Now it is time to add a darker color at the corners under the eyes using a smudge brush. Do not use too much color. The key here is to be subtle.
Step 5: It is not just important to work only on the eyes. Use a light shimmer to highlight the brow bone as well.
Step 6: Do not forget your eyeliner and mascara. A cat eye look is a classic when you are applying glitter on your eyes.
Step 7: The last and the most important part – applying the glitter for eyes. Pick glittery eyeliner of your choice and apply it to the creases and under the eye. If you succeed in making winged eyeliner, then you should apply the glitter just underneath it. Now, using your fingertips or a flat brush, apply the glitter on the eyelid. However, do not overdo it. Keep it fun yet classy.
In Conclusion
Glitter for eyes is a classic makeup item for any special event. It highlights your eyes and can be paired with any type of makeup. Hope the above-mentioned tutorial helped you in your makeup efforts. Always remember to buy high-quality brushes, eyeshadow, and glitter for eyes for healthy skin and a great makeup look.