Summer season is the perfect excuse for the women's denim shorts to come out of the closet. It is one of the best seasons to show off your summer clothes and go out and about to paint the town red! Here are some things to remember when you wear summer clothes:
1. To beat the heat, ensure that you wear clothes that are made of a material that is light and breathable. Natural fabric material will help one stay cool during the summer heat. 
2. Sneakers are never a bad idea and can be easily paired with a lot of multiple clothing options in your closet.
3. A perfect pair of women's denim shorts isn't impossible to find, but the length and the cut do make all the difference. Ensure you choose the one that matches your body type.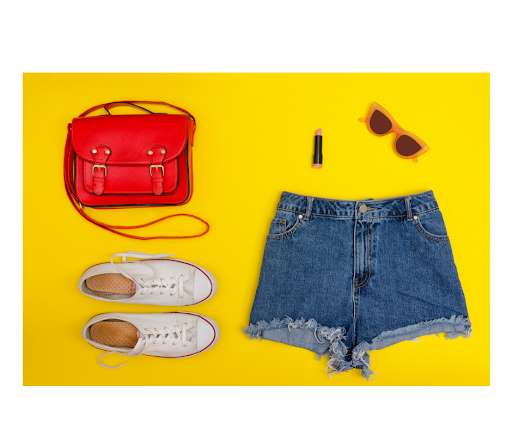 4. Summer sandals are one of the best options for footwear during the summer season, and if they are in bold color, it's like a cherry on the cake.
5. Denim paired with bright and beautiful dressier pieces makes for an easy & breezy spectacular summer look.
6. If you happen to be comfortable, then dresses or tops with strappy pieces can come across as very stylish and chic without showing a lot of skin. 
7. Color like blue, coral, yellow become colors for the summer season. Teaming them up with neutrals can rarely be a bad idea.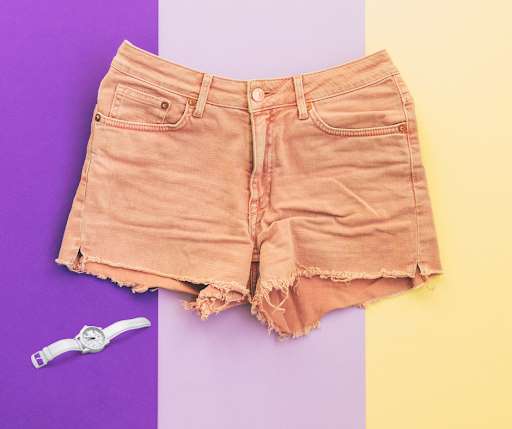 8. Floral prints or geometric patterns can be an excellent pick for those events in the summer season that you are invited too. They look different and can garner some attention on the fashion front.
Summer happens to be the denim shorts perfect season and rightly so because they are so comfortable to wear and harmonize with the season's vibes. Women's denim shorts are widely available in the market but, if you want to perfect your summer look with these denim options, find some inspiring ideas below:
1. All those music festivals, parties at the patio, or gatherings can be attended by wearing a snazzy kimono on top of your denim shorts. The kimono could be colored or printed, and it instantly exalts your overall look in the hot summer season.
2. A chic off-shoulder top can be a match made in fashion heaven for those denim shorts. Extra brownie points if its in a lightweight fabric with delightful prints. Sunglasses and a pair of white sneakers can complete this look perfectly.
3. Women's denim shorts do not necessarily have to be paired with a shorter top; one can even opt for a long shirt with buttons that can be tucked or tied in a knot on the front. Cotton material for the shirt or a light chambray denim design shirt is an excellent choice. Pair it with a crossbody bag and some white sneakers, and your ensemble could not look any better. 
4. Black shorts, with t-shirt, becomes a base for several summer outfits and can be a favorite for many women. You could even pair it with a denim jacket, which makes the entire look pretty cool. 
5. Striped long sleeve tee along with denim shorts, paired with a black leather jacket can add an edge to the overall look. You can complete the look with boots and a bag.
6.  For a quirky and casual summer outfit, a V-neck top with denim shorts (high waist) along with a long pendant chain and a bag could be a great choice. 
7. A top with a floral design will blend well with shorts made of denim as they bring out a grown-up version of you. A pair of heels will add the required polish to the entire denim ensemble.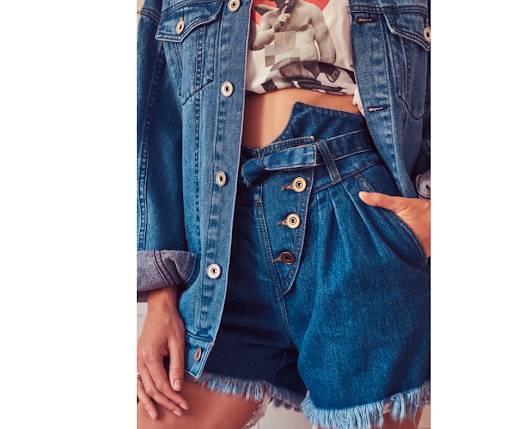 8. A coat made of faux fur and leather worn over shorts, with sandals having high heels, can be picked up by people who happen to be vintage fashion lovers. Everyone might not prefer this but, if you can pull this off, this look can make you look fabulous.
9. Accessories play a significant role in your entire ensemble as they add to the overall appearance and make a simple t-shirt along with shorts look so voguish and chic. 
10. To achieve a more polished look, one can opt for a colorful vest with white t-shirt worn over shorts. 
11. A pair of thigh-high boots coupled with a boyfriend jacket over a pair of shorts can bring out the mature version of you and look very fashionable.
12. For those days when you are running short on time and need tips on what to wear for that concert, a music show, a colorful top with shorts, sneakers, sunglasses, and a crossbody bag is a stunning choice.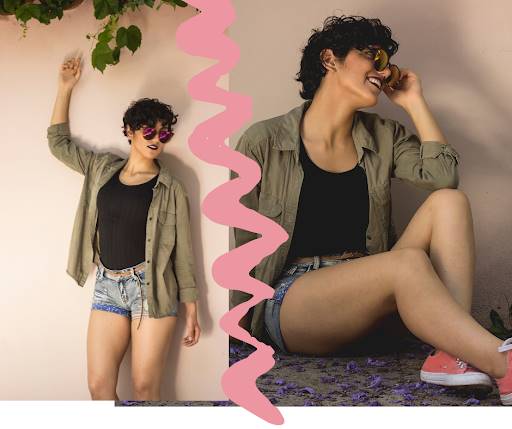 It's safe to conclude that women's denim shorts Jack of several fashion trends and versatile master of them all. They help keep your legs breezy in summer and can be styled in numerous ways depending on the event, mood, or simply the look you are aiming to achieve.