Living in a house that has a small bathroom can be quite a hassle. Small bathrooms easily get cluttered, and if it is used by more than one person, can cause delays, especially in the morning when everyone is in a hurry to get ready for work.
If you fall in this category, there is good news for you. Do you know that it is possible to optimize that your small bathroom so that you begin to enjoy the benefits people with large bathrooms enjoy?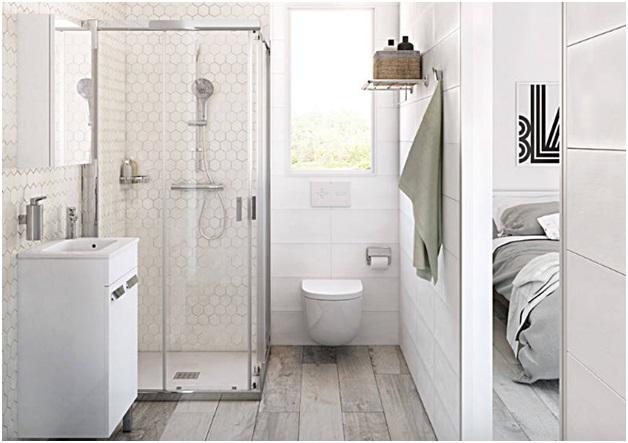 Read on for a few tested and trusted tips for making the most of your small bathroom.
Install a medicine cabinet
A medicine cabinet on your bathroom wall can perform two separate functions that will beautifully optimize your bathroom space. It will provide you with an extra mirror for making up or grooming, and best of all, it contains interior storage space that can be used to hold a lot more than medicine. For example, a medicine cabinet can be used to store some of your bathroom necessities and toiletries so that your bathroom transforms from a cluttered space into a neat and organised room.
The best medicine cabinets are those that come with multiple shelves instead of the traditional one cabinet or two shelves. These shelve spaces can be put to good use in your bathroom, with one shelve dedicated to medicines, and the others left for bathroom stuff.
Install a wall cabinet
If you would rather do without the extra mirror, there are plenty of options when it comes to modern and traditional wall cabinets that can double as a bathroom shelf. Instead of a mirror, you can go for wall cabinets with sliding glass or double glass doors. These see-through cabinet designs make it easy for you to see into the cabinet, so that you already know where the item you want is before opening the doors.
Just like medicine cabinets, wall cabinets are handy as storage units, and you can use them to store just about anything in the bathroom, from lotions, to body sprays, towels, and pads. Regardless of the style of cabinet you want, the secret is to choose a design and style the properly complements your bathroom's decor.
Organize with bathroom vanity
Ada compliant bathroom sinks and vanities are some of the best options when it comes to making the most of a small bathroom. These combination sink and cabinet provides enough storage for your bathroom as well as replaces the traditional sink and faucet system with a modern design.
Bathroom vanities not only create extra usable space in your bathroom, it is also a great way to improve the aesthetics of your bathroom space. In fact, investing in a bathroom vanity will also boost the value of your property so that should you ever decide to sell, you will find willing buyers are a good price.
There are several designs and styles of bathroom vanities, some of which can be found here, all of which will give your bathroom the much needed storage space and aesthetic appeal. For example, you can opt for the floating bathroom vanity, the ideal vanity option for a really small bathroom, or you can go for the freestanding version. Whatever your choice, be sure to go for a vanity that blends with the decor of your bathroom, and one that is made of water resistant and durable materials, because of the sinks and plumbing that will be connected to the cabinet.
Use bathroom wall storage
Bathroom wall storage is also great for optimizing your bathroom space. This smart bathroom space saver offers over-the-toilet storage in form of shelves and cabinets directly over the toilet cistern and supported by legs located on either side of the back of the toilet seat.
This type of bathroom wall storage stands right over the toilet providing easy to reach storage location inside your bathroom. They can also be installed in a different location, such as over the bathroom sink or at the head of the bathtub.
You can choose a space saver that come with door and shelves or opt for the shelves only version. If you intend to install it close to the bath/ shower area, make sure to get one made from water resistant and durable materials like plastic or laminate wood.
Wrapping up
As you can see, there are just so many options when it comes to equipment that can transform your cluttered bathroom into an organised space. You can even choose to customize your choice of storage in any way that you want, such as by installing electric lights and electric outlets inside the cabinets, or even adding a hidden compartment for keeping valuables safe from intruders.
All in all, your bathroom should be a practical and aesthetically pleasing environment, so be sure that any addiction you are making in your bathroom will not compromise the decor and design of your bathroom space.