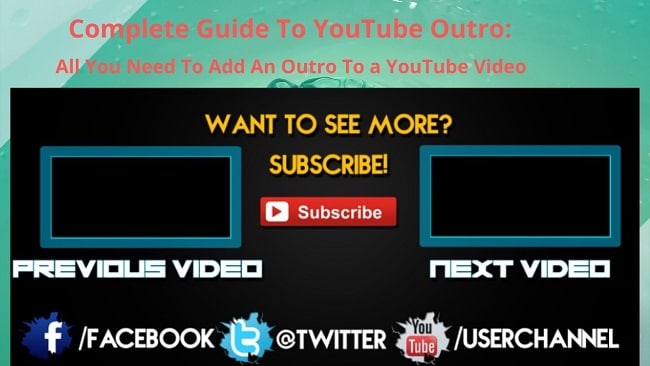 YouTube intros are the most important aspects of a YouTube video as they set the records straight for what kind of content it consists of. They are also called as the biggest crowd puller. Therefore a lot of emphasis is given on creating the most attractive intro in order to increase the number of views. Though intros are what gives the video an initial push but it is also important to end it smoothly. That's when you create interesting outros to increase your subscribers, likes, shares, comments etc. A lot of results in the platform do not show up if you do not have an out-of-the-world outro. Let's read further to know why and how that happens.
What are YouTube Outros?
As soon as you are done broadcasting the core topic in the YouTube video, you place the outro video in the end for a smooth transition. Videos are concluded with outros to end the screen with call to actions. Call to action is self explanatory and consists of a message asking viewers to either like, share or subscribe to the page or follow a particular link or product. 
YouTube editor is of great help in creating mind boggling outros. Though there are some key methods that must be kept in mind in developing YouTube outros that need a wide discussion.
How are YouTube Outros created?
The easiest form of video is an outro video. It does not require the skills of a professional designer to create a state-of-the-art outro video.
Some basic rules of the video concerning the length, duration and size of the video must be kept in mind. An outro video should not be more than 10 seconds long by any chance, otherwise it will lose viewership.    
What creators mostly ignore are professional help on creating intro and outro videos. Without wasting much money, one can go for online YouTube outro maker tools that are as good as hiring a professional editor. Let's see how that works. 
Some of the popular YouTube outro makers along with their advantages are listed below
 1.Snappa Outro Maker
As soon as you open the tool online, a few words highlighted in the home page tells you how Snappa Outro Maker helps you create outros in just 60 seconds. They also have a range of customized templates, graphics and texts to create outstanding channel outros. To add to that is a library filled with over 30,00,000 high-res royalty free stock photos, customisable texts etc.
 2.Tube Arsenal Outro Maker
An easy-to-use outro maker that is available online for free makes the job for a layman quite easier. Tube Arsenal Outro Maker helps you create outros in just three simple steps without the use of any software. That saves up a lot of your time getting wasted in learning the craft of graphic designing or video editing. 
 3. Biteable Outro Maker
The home page of this particular tool is so funky and attractive that it forms an instant connect with the user. Biteable Outro Maker is easy to use and has a variety of templates such as motion graphics, logos, pop-up scenes etc., for users to explore and play around with their creativity. The tool can be used either free of cost or with the help of a monthly plan. A free plan has a few limitations while the monthly plan unlocks innumerable features and templates that can be used to create outstanding outros.  
 4. Outro Maker
The Outro Maker tool is fairly the simplest than the rest. It has a wide range of templates to choose from which works best when creating an outro for a gaming channel. This tool is more advantageous because it also gives audiences an added 7-day free trial with no credit card option.