Football Manager 2019 is a perfect place to make a dream come true. Players can create their own footballing story by training their football team and helping them win medals. A proper strategy is indispensable, but the player must carefully consider choosing the right members for the team, especially goalkeepers.
The goalkeeper is a key to the success or failure of a team's performance. A good goalkeeper in Football Manager 2019 is the one who has outstanding attributes for the team as well as good mentality and physical health. So, let's find out 10 talented goalkeepers in this realistic game world.
Manuel Neuer (CA 186 – PA 193)
Manuel Neuer is a German footballer in Bayern Munich. He is known as an ultimate sweeper-keeper who has a good reflex ability when facing fast shoots at the field. His outstanding achievement confirmed his reputation as one of the best goalkeepers in the tournament. Through every match, he proves his excellent performances, including grate acceleration, pace, and balance. He won the IFFHS World's Best Goalkeeper award, 2014 FIFA World Cup, Golden Glove award and so much more.
His attributes are remarkable with 18 handlings, 16 kickings, 20 reflexes, and 18 agility.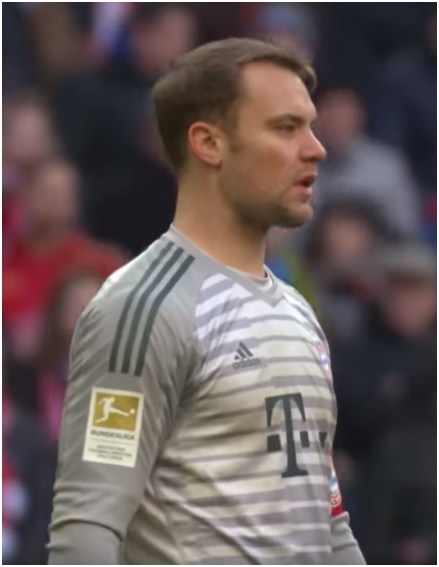 Image via da banh truc tiep
David de Gea (CA 180 – PA 185)
David de Gea is recognized as one of the best football players in the world. He is a Spanish professional goalkeeper who is now playing for Manchester United. Gea started his career at the age of 13 and has been adequately trained since then. His achievements for the team and personal awards are incredible. One of his well-known successes is that he won the Premier League golden glove with 18 clean sheets.
Here are some of his attributes: 18 agility, 18 handling, 16 one on ones, and 20 reflexes.
Jan Oblak (CA 172 – PA 176)
Jan Oblak is another well-known name in football players. He is a 25-year-old goalkeeper who is playing for Atletico Madrid. He continually went through lots of hard training at the age 17 to exert himself to the limit when he competes and that's why his reputation was built. Oblak won the Zamora award when he was 22 and the league's best goalkeeper in 2014. These awards show that he is a young and talented player who is expected to win the prize.
His attributes are amazing: 18 reflexes, 14 throwings, 18 handlings, and 16 kickings.
Alisson Becker (CA 170 – PA 185)
Alisson Becker is a very familiar name to us. Becker was born on 2 October 1992 and he is a Brazilian professional footballer who plays for Liverpool. He successfully prevents the other team from scoring with his incredible speed to catch the ball and quick reaction toward any situation. He won the Premier League Golden Glove for the cleanest sheets and had the honor to represent the nation at the 2018 FIFA World Cup.
Apart from the attributes, his mental side is incredible with 15 concentration, 18 composure, and 19 determination. He also has excellent technical goalkeeping and physical skills as well (18 kickings, 18 rushings out, and 18 natural fitness).
Marc-Andre ter Stegen (CA 168 – PA 183)
He is a professional football player who comes from Germany and now he plays for Barcelona. His kicking and throwing skills are perfect. The accuracy of his throws is a key contributing to the best opportunities that his team will get while playing in the match. He received the treble in his first season in Spain and 21 caps for Germany. Hence, the very bright future is waiting for this young and talented goalkeeper.
He has excellent technical goalkeeping skills with 19 kickings, 18 rushings out, and 17 passing.
Gianluigi Buffon (CA 167 – PA 171)
Buffon is a 40-year-old player from Italy and now he plays for Paris Saint-Germain. He is also an experienced goalkeeper who began his career in 1995. Buffon is the only goalkeeper who won the UEFA Club Footballer of the Year award and also received the best Goalkeeper award in 2003.
In spite of his age, his technics are still terrific. He has a remarkable command of the area which shows his outstanding ability to claim the ball, make decision or change positions. Besides, he also has excellent physical and mental skills (20 determination, 20 leadership, 16 concentration,…).
Thibaut Courtois (CA 165 – PA 183)
Thibaut Courtois is one of the greatest goalkeepers of all time.
After a long time negotiating with Chelsea, Real Madrid has successfully recruited this player. He is a 26-year-old football player who comes from Belgium and won the Golden Glove as the best goalkeeper of the tournament in 2018 FIFA World Cup. He joined the Racing Genk when he was 7-year-old and since then, he started to play as a goalkeeper. He is famous for his jumping reach with great technical skills to do a vertical jump.
Here are his significant attributes: 17 One on ones, 17 handlings, 15 concentration, 19 jumping reach.
Keylor Navas (CA 165 – PA 167)
Navas was born in Costa Rica and now he is a part of the Spanish club Real Madrid. He won six national championships and the 2005 CONCACAF Champions' Cup which make him more famous than ever before. He shows his impressive performance in kicking, handling and especially when it comes to stopping other players attack the goal in one on one situation.
His strengths mainly show in goalkeeping attributes (17 passing, 17 rushings out and 20 kickings).
Ederson, Manchester City (CA 164 – PA 180)
This is another young but influential goalkeeper. He is a footballer from Brazil who values £39 million and now, he joins the English club Manchester City. He started converting into a goalkeeper at a local club called São Paulo FC in 2008. This talented footballer achieved the Guinness World Record for the longest drop kick (75.35 meters) in 2018 and this legend makes his reputation grow significantly these days.
He makes good reaction while an opponent attacks the goal (15 reflexes) and his ability to close down other players, stop the ball, make a decision in proper time is also incredible ( 18 bravery, 14 decisions, 15 determinations).
Hugo Lloris (CA 162 – PA 170)
Hugo Lloris is a French professional shot-stopper who works for Tottenham Hotspur. This goalkeeper is famous for keeping a clean sheet and giving a helping hand for the club in the Champions League. All of his skills are practically perfect.
In Football Manager 2019, his technical goalkeeping skill is significant (19 rushings out,17 handlings, 17 one on ones, 15 communication). Besides, he also successfully performs his mental skills in the match (15 concentration, 15 teamwork, 14 decision).
How do you think about these excellent goalkeepers? Leave your comments right now. Go to https://tructiepbongda.vip/ to check and verify again.