ITIL continues to support individuals and organizations for gaining optimal value from digital and IT services. It is a globally recognized framework that provides comprehensive, proven and practical guidance for establishing an IT service management system. ITIL encourages consistency and continual improvement for organizations using IT-enabled services. ITIL is an effective IT Service Management (ITSM) that positions Information Technology and business strategy using an established set of practices. Getting an ITIL V4 Certification can help your business in many ways. ITIL certification is based on a series of process for improving and refining an IT lifecycle. It can help boost the capabilities of companies and methods of people ensuring that the organizations can quickly adapt to the changing technology and business practices and stay on top of the competition.
In this post, we will discuss everything about ITIL certification and why is it beneficial.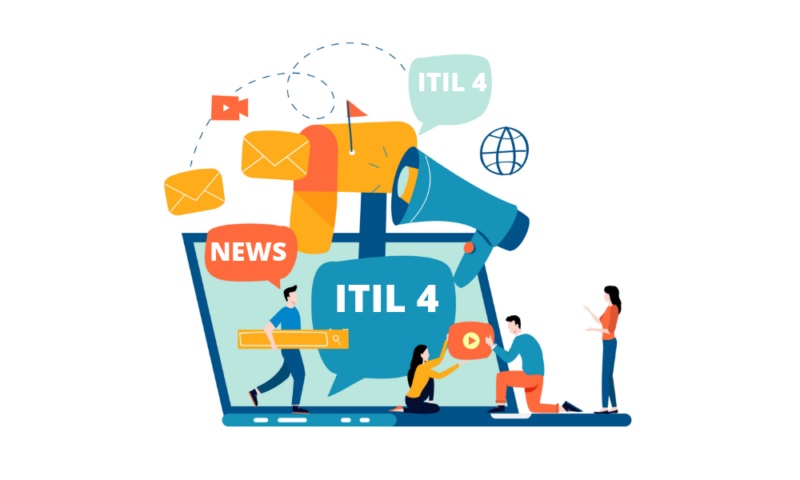 How can an ITIL Certification Help your Business?
Not day passes when you don't use any of the digital services. These digital services weren't created in a vacuum, instead, they were developed using a project management practice that took into the account the objective of the service along with the potential issues in creating, delivering, and maintaining it. In simple words, there would have been a whole host of factors and aspects to consider.
A robust IT management service is all about knowing how to incorporate these aspects into the development process. This is where ITIL certification comes into the play. ITIL covers the whole IT development lifecycle that includes the identification of business requirements from an IT perspective to creating and designing a solution, delivering and maintaining the service with a room for continual reviews and feedback along with improvement.
Taking the ITIL strategies on board can help your business with a number of advantages. For starters, it can help cut back the money and time that gets squandered throughout the IT service development lifecycle. On the other hand, it also helps raise the quality of the end-product. This ultimately results in providing a huge boost to consumer satisfaction once a product or service is implemented. Most importantly, it helps boost the morale of the workforce.
By investing in ITIL certification and implementing it on your business, you can expect to:
Raise your business' profile with an internationally recognized certification
Quickly adapt to compliance and changes in technology with an aim to continuous growth and maintenance of your competitive advantage
Raise the standards and value of your service portfolio
Ease collaboration and create networking opportunities by incorporating ILIT's methodologies and terms in your business
Improve your risk management procedures by reducing and predicting service failures and disruptions
Ensure a significant alignment between IT and other sectors of your business. This is a critical aspect of enterprise architecture development
Develop a stable service development environment that supports ongoing changes while taking care of the employee requirements
Manage risks without unintentionally sabotaging or disrupting your service
Improve resource management and increase productivity by establishing cost-effective guidelines
Learn how to develop a guide on predicting and reacting on issues with your service, boasting several facets including user experience instead of merely focusing on just IT development
Better understand your potential audience base so that you are able to deliver services according to their requirements. This will help you build a long-term relationship with your potential customers and improve the reputation of your business
You should know that even the individual modules of ITIL could prove significantly useful for your business. Each module provides actionable insight, helping business owners establish a transparent procedure for IT Service Management and development.
There is no need to attain a full master's certification in ITIL, though it is considered a highly regarded achievement and could prove fruitful for your business. The ITIL certifications are achieved gradually through Foundation, Intermediate, and Practitioner modules that will qualify you to take exams and move on to next levels.
What are the benefits of ITIL 4 Certification?
ITIL 4 is designed to help businesses and organizations navigate the new technological era, also referred to as the 'Fourth Industrial Revolution.' The speed at which the current breakthroughs are emerging is ultimately disrupting every industry and the business sector on a larger scale. The new technological era is marked by emerging technologies in the fields of autonomous vehicles, 3D printing, Internet of Things (IoT), biotechnology, quantum computing, nanotechnology, artificial intelligence (AI), and robotics among others.
ITIL 4 is designed to provide a flexible and practical basis for supporting the businesses and enterprises on their journey into the latest world of digital transformation. ITIL 4 will help enterprises to align their physical, digital, and human resources to race with the sophisticated modern landscape.
With the release of the latest ITIL 4, the context of ITIL is grown much bigger now. ITIL 4 emphasize the technology and business world determining how they work in the present scenario and how they work in the future with a digital transformation including DevOps and Agile.
ITIL 4 certification is aimed at catering to the needs of software developers and service management practitioners and enterprises by promoting an all-inclusive view of delivering services and products. ITIL 4, right from the foundation level, will emphasize the importance of automating, transparency, and collaboration wherever possible by working holistically.
More importantly, ITIL 4 maintains many of the core components of ITIL that makes it so valuable to organizations and individuals today. Change is inevitable, and businesses and enterprises are struggling to navigate it. ITIL 4 is designed to help organizations navigate this ongoing change.
ITIL 4 has proven to be the next iteration of the new technological era that boasts all the best and valuable things from ITIL. It can help expand your IT and service operations to a whole new level. ITIL 4 has moved from the process-led delivery mechanism and now supports value driven and faster quality delivery for businesses and individuals.
Final Words
ITIL 4 can provide you with high levels of competency skill set along with higher and better-paying opportunities.