Christmas is just around the corner. Join the festive cheer and show your clients how much you value their business with corporate Christmas gifts. Well-planned and high-quality gifts will reflect well on your brand and foster loyalty with your clients and employees.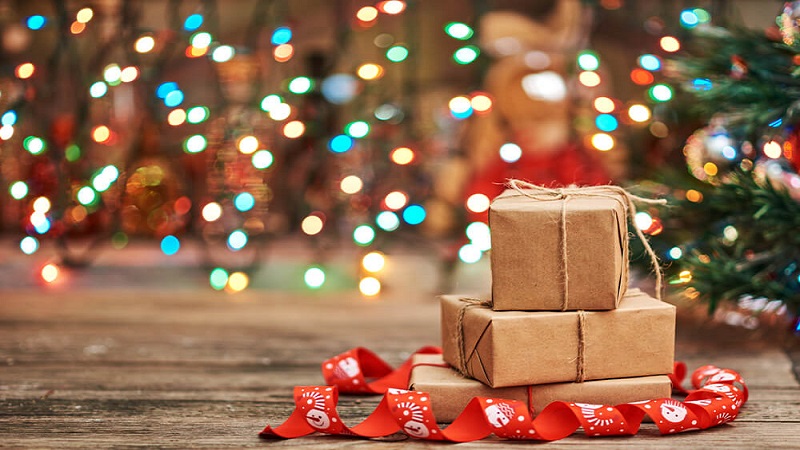 Christmas is just around the corner. Join the festive cheer and show your clients how much you value their business with corporate Christmas gifts. Well-planned and high-quality crimbo gifts will reflect well on your brand and foster loyalty with your clients and employees.
With so many options available, it's not always easy to choose a meaningful gift. In this guide to the best corporate Christmas gifts, you'll find helpful tips about choosing the right gift as well as some great ideas to get you started.
Why Give Custom Branded Gifts This Christmas?
There are many reasons to give custom Christmas gifts that feature your brand name or logo. Here are a few:
Show your gratitude to loyal employees and valued clients. You'll keep them coming back for more when they feel valued.
Foster loyalty by creating a positive emotional experience with your clients. Give something that connects with your audience in a personal way and solidify your relationship with them.
Engage your customers with a positive brand experience. Giving them something they can hold in their hands is powerful.
Increase brand exposure and spread your brand name far and wide. Get your brand to stick in people's minds and gain attention from prospective clients.
Make a good first impression with potential clients. Set yourself up for success by starting off on the right foot.
Who Can Give Christmas Corporate Gifts?
Do you have:
clients or customers, that you want to connect with in a positive way?
employees, that you want to reward?
a message you want to send to the community?
a new product, service, or store that you want to promote?
If you answered "yes" to any of the above, chances are you'll benefit from giving promotional gifts at Christmas!
Promotional products are an effective marketing strategy for organizations and businesses across many industries. From automotive to healthcare, government, and NPO groups – whatever type of organization you're from, you can benefit from Christmas corporate gifts.
The key is choosing the right type of gift for your industry and target audience.
How to Choose the Best Corporate Christmas Gift
Not all gifts are equal. You want to choose a gift that is going to be effective at satisfying the user and promoting your brand. So what qualities should you look for in a corporate promotional product?
Useful – Don't spend your money on a gift that will go straight to the bin. Not only is that a waste of your money, but it also won't make the receiver feel valued. Instead, invest in a promotional gift that is useful and practical. It should be something your target audience will value and enjoy using for a long time to come.
Visible – A good promotional product will get your brand name or logo seen over and over again. This could be repeat visibility by the user or by other people who interact with that person. For example, a keyring will be seen by the user every time they pick up their keys. A branded hat will be seen by everyone the user interacts with while wearing the hat. The more visibility your promotional product gets, the more your brand is getting seen.
Well made – The quality of your promotional product reflects on your brand. Give your customers and employees a high-value, high-quality gift and you will send the message that you're professional and that you care about them. A well-made gift will help you make a positive connection between your brand and your audience.
On brand – Whatever you put your brand name on should reflect the values of your brand. Choose a gift that communicates your brand in the best way. For example, a brand that values eco-friendly practices might want to avoid any plastic gifts or excess packaging. Instead, they should choose a gift that aligns with their values and reinforces their brand story.
Targeted – There's no point in giving a gift if the receiver doesn't appreciate it or won't use it. Make sure you research your target audience so you know what type of gifts will be valuable to them. Your promotional item should help create a positive customer experience. It should be something they are happy and proud to show off and use again and again.
Top 5 Corporate Gifts for Loyal Clients & Employees
Promotional speakers – A great option for the holiday season, portable speakers are a high-value gift that customers can use in their own homes, bring to parties or take on holiday with them. Highly practical and memorable, this would make a great gift for younger audiences or businesses with an upbeat culture.
Wine case/cooler bag – A classic promotional product that always lands well, especially during the warm summer months. Wine cases and cooler bags come in a wide range of styles and designs which means you can choose a product that reflects your brand well and is highly targeted to your audience.
Cheese board set – A classy gift that customers will use again and again. Wooden cheese boards are a high-value product that is used at parties and events where your logo will be seen by many more eyes. Choose a stylish design and give your customers something they'll love to show off.
BBQ set – A summer favorite and a highly useful gift. Give well-made BBQ tools set and show your clients that you value their business. Add your logo and increase brand visibility as the BBQ tools are used at parties and picnics throughout the summer.
Branded glasses/tumblers – Get your brand logo etched onto a wine glass or tumbler and give a gift that customers will keep on using. Consider on-trend double-wall glasses that can be used for hot drinks as well as cold beverages. Or choose a glass style that fits your brand story best whether that's a shot glass, beer mug, or wine glass.
There are 5 ideas to get you started – now it's over to you. What will you be giving your clients and employees this Christmas?