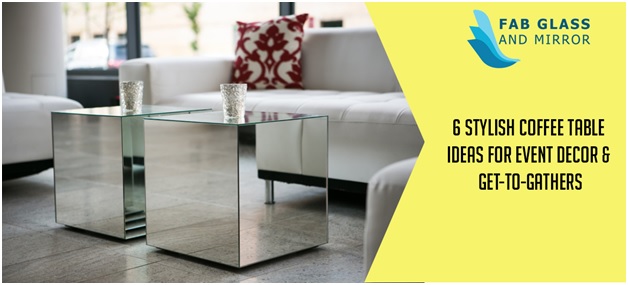 Do you have an event of a family get together and wondering how you will decorate your home to make the guests amazed and entertained? Well, this is a problem most homeowners in the 21st-century experience. They find it difficult to come up with ideas that will make their events stand out in the eyes of their visitors. When you are looking to hold an event in your home, either indoors or outdoors, you may invite a planner, or you may use the workforce of your family members to engage in a DIY project. Such projects make you explore your creativity. You can include all the accessories and decorations that you would like to be in your event.
Also, you get to cut down on the costs of the decorations that would otherwise be charged by the planners. With regard to this issue, you might be wondering what you can do to make the glass coffee tables to look stylish during such events. This article will give you a trendy and stylish glass tables ideas for your events of gatherings.
Fish Tank Coffee Table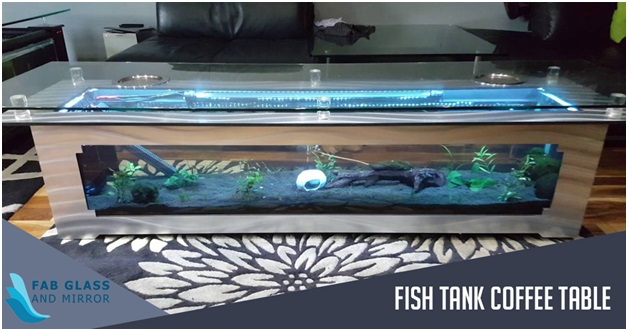 This design is popular in most modern homes because it brings nature closest to home. Most event planners include the fish tank coffee tables so that they can make events stand out before the attendees.  This design incorporates a large fish tank that is filled with different types of decorative fishes inside. Just like any normal aquarium, it is filled with water and attractive lights so that the aqua life can be visible from the outside. This design is most suitable for homeowners who are lovers of wildlife and would like to awe the visitors with an amazingly unique design. The glass top of this table design should be properly sealed to avoid any coffee leakages into the water. The coffee might be toxic for the fish making them uncomfortable in the long run.
Glass display coffee tables
For homeowners who have items that they have collected over time, they may be interested in showcasing them to the visitors during the event of family get together. For instance, if you have decorative sea shells from your visit to a beach abroad, you may display them under a glass display of your coffee table. This will look amazing especially it is strategically positioned and well lighted. Most individuals who are lovers of seashells would be interested in keeping observing the decorations throughout the event. This is a technique that you use to capture the attention of your guests. You do not need to worry if you do not have sea shells, you can use any other items that you consider as precious and would amaze our visitors.
Also, you should ensure that the glass sued for the top is tempered and clear. This would ensure that your items are safely kept and they are visible respectively. Also, you put a combination of the invaluable items on the display table since you may have guests who are interested in different items. To make this work, you should separate the different items in trays just below the display glass.
Attendees
Having a fire in the depth of the night after an event is completed would be a   great addition to your get together. Sitting around a fire with a warm cup of American Heroes Coffee could help you to pass the time in the night. This type of design is mostly preferred for outdoor setting since a large fire could cause accidents if put indoors. For your events, the gas fire glass table should have a strong wooden frame and stand. Since it is to be placed outdoors, you should also find mechanisms that will ensure that it is firmly set on the ground. Reduce any form of movements that could cause accidents in the long run. This way, you could find yourself making the visitors happy while warming themselves outside. However, the glass around the gas fire should be made from tempered materials. Tempered glass material can withstand high temperatures which means it will not be greatly affected by the heat from the gas fire. The design may look simple, but it is unique and futuristic.  When using this design, you should avoid placing the glass table near inflammable things since it could cause extensive damage.
Whiskey Barrel coffee table
Whiskey barrels are useful materials to create modern designs of glass coffee tables to be used at events. The whiskey barrel is normally cut into two halves and one is used as a coffee table. The cut side of one half is used to fix the glass top to make an elegant coffee table. This is one of the stylish coffee table ideas that can make your event stand out in the long run. The underside of the barrel that has been cut into half can be used as a storage for the drinks to be used within the event. Such a glass coffee table is centrally placed where the visitors are sited so that they can easily access the drinks. Also, a great idea would be to add shelves inside the barrel with a door for ease of access. Since the design is unique, it will make your event stand out. Several of these glass tables can be made and be placed strategically at different positions where the event is taking place.
Treasure chest coffee table
Most people love reading while they are at events as they socialize with the attendees. This is a common practice for people who have modern home settings. Also, you may be a lover of playing board games such as chess. A coffee table that has a transparent treasure chest can be magical when used in your event. Within the treasure chest, you can put things such as chess which use the historical boards among other things. Also, you could include photo albums of a family if it is a get-together. Photo albums help the attendees to see the history of a particular album in pictorial form. The treasure chest can hold anything that may interest the people attending the event or get together. They are mostly used as coffee tables for home decor.
Round glass top coffee tables
If you are looking for Stylish coffee table ideas, you might like to consider the round glass coffee table. It is a modern coffee table for home decor which can also be used for both outdoor and indoor events. Ideally, when used in events, it offers convenience during conversations. When people are sited around a table, there is more participation in the conversation than when the table has straight edges. This is thus more preferred for events and gatherings. The visitors can sit around the table and engage in stories or other forms of conversations.  If you are holding a significant event, you may place several round glass top coffee tables at strategic positions where they can be used by the visitors.
For different designs and Stylish coffee table ideas, fab glass and mirror is a company that will provide you with a large variety of designs. They are affordable and use high-quality glass that is durable.