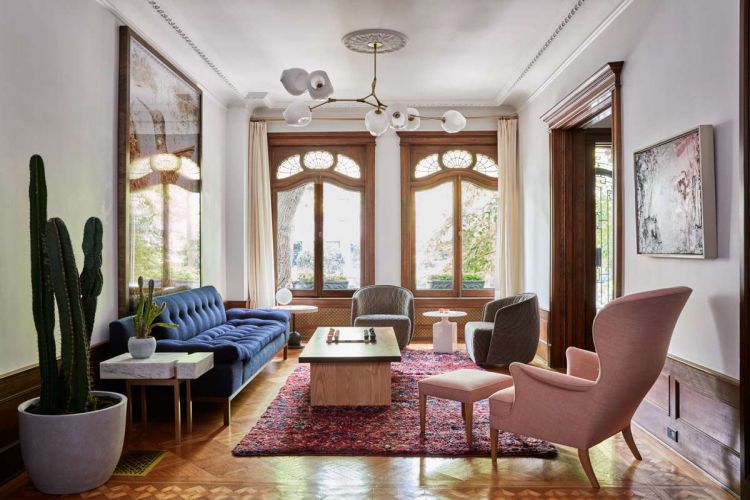 Your home is a place of respite from the outside world – it is a sanctuary of your comfort and should align with your personality. Every corner of the house should bubble with warmth, joy, and a little bit of you!
Running from one house and home furniture store to another might be exhausting, especially if you don't want the same old regular pieces. So, if you are looking for something unique and unconventional, look no further!
1. Talk Chair
Have limited space and crave making one corner of your house a cozy, talking spot? Get a talking chair instead of cramming the space with dull, old chairs! 
It's two chairs attached in a crosscut fashion, prompting a neat look. The seats are circular and elongate all the way to the floor, creating a cylindrical shape. A wood frame goes around the seats like a curvy backrest. 
So, sit with your beloved, get a cup of coffee, and while away your hours chatting about nothing and everything intimately.
This simple, unusual chair design celebrates and bolsters the act of communication like no other!
2. Bird Nest Bed
When you were young, did you ever look at a bird's nest and think, 'how cozy it must be for the baby birds?'
Now imagine if you could have a giant bird's nest in your house! It acts as a bed, looks snug and spectacular, and is a complete statement piece. Fill it with colorful pillows and spend hours reading your favorite book while snuck in this nest with your comfy blanket.
Wouldn't be surprised if it becomes the most well-liked sport in your house by all!
3. Arched Moon Lamp
If all-things-galaxy-related charms you away, a moon lamp will add to your joy! Its LED light is embedded in an arched steel structure, sitting in the base of maple wood.
Although it's a sophisticated, minimalistic look, this contemporary lamp piece can steal away the spotlight of your room! If you are going with an all-white theme or keeping the room unadorned, this sleek-looking lamp will add the required style. 
Plus, the minimalistic room palette will create a feeling of contentment, balance, and security. Yes, furniture, interior design, and psychology are all interlinked!
4. Wall Shelves
No house can be complete with shelves! They are easy to customize and are super versatile. 
Get a set of wall shelves that gradually decreases in length, giving an impression of the shelf disappearing behind the wall. This design will stand out from the rest and will earn you several, 'how did you even think of this?' awe-filled compliments!
5. Swing Table
Growing up can be so tedious, but you can try to fill child-like amazement in every aspect of your life. Start with the dining table first!
Turn all your meals and work-from-home office meetings ultra-cool with this dining table attached with swing chairs. Get rid of the typical dining table concept, and introduce this cool and contemporary piece!
If you have kids, they are going to love this so much!
Getting a house is an incredible achievement. But to make that house reflect your personality is a different game altogether! 
So, don't gruel yourself by looking through ordinary pieces at every other house and home furniture store. Get a custom piece that tells a story about your preferences, and dial up the liveliness in your house to the next level!