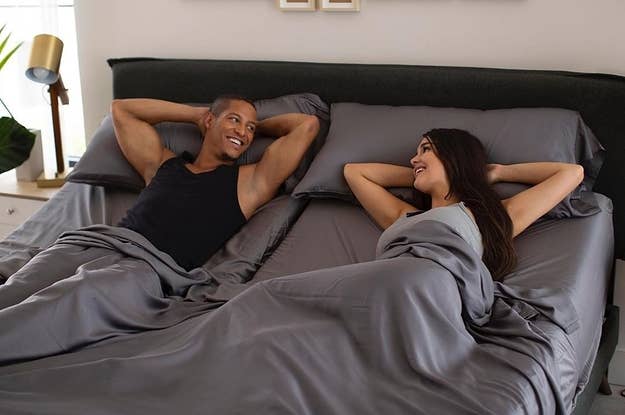 Are you one of those people who wakes up from a night's sleep all sweaty and sticky? In fact, do you find it difficult to fall asleep due to feeling hot and flushed? 
If you've answered yes to these questions, then you're someone we call a "hot sleeper". What's that? Well, in simple terms, it refers to people who feel hot throughout the night and are unable to sleep because of it.
Being a hot sleeper is a real hassle and it prevents you from having a good night's sleep. But that's only if you don't have the right kind of goods with you. Here's a list of 5 amazing products that will solve this problem and help you sleep peacefully. 
1. Temperature-Controlled Mattresses
If you tend to sleep hot, then the best way to solve that problem is by getting a temperature-controlled mattress. Basically, these are "smart" mattresses that heat up or cool down according to your requirements. So when it gets uncomfortably hot and you can't sleep, the mattress will lower its temperature. There are also gel-based hybrid mattresses which keep you cool throughout the night and enable air circulation, unlike those made of memory foam. Although such mattresses are more expensive than your usual generic models, they are a really good investment that will last you for a long time. 
2. Cooling Pillowcases
Going in the same direction, another great product that you can buy to sleep better is cooling pillowcases. Such pillowcases are made with special fabric that keeps the pillow cool all the time. It's usually made with a blend of highly breathable cotton that stimulates airflow. These are more affordable than a mattress, and still provide a great deal of comfort. They also prevent the accumulation of dust and bacteria, unlike other pillowcases. You can find them at any online store of your choice. 
3. Linen Quilt
One of the reasons that is aggravating your tendency to sleep hot might be your blanket. Most of us can't sleep without a blanket or a quilt, but oftentimes they tend to be too warm and suffocating. Especially in hot and humid places. Try switching up your usual blanket with a linen quilt. Linen is one of the airiest and cooling materials available. A linen quilt will give you adequate warmth without making you feel flushed and choked. You might think that linen will be scratchy and uncomfortable but most linen quilts are actually created in a way that increases its softness after every wash. 
4. Gel Eye Masks
If you're looking for an easy and portable solution, try purchasing a gel eye mask. These are sleeping masks with a cooling gel interior, which keeps your eyes and face cool as you sleep. Most of them have a silky exterior, which adds an extra level of comfort, as compared to the usual cotton. They are the perfect accompaniment to a long flight or journey. Here's an added tip. If it's a really hot day, you can even store it in the fridge for a while and then put it on, for extra cooling. 
5. Tower Fan
If your central cooling system doesn't do much for you, consider getting a tower fan. These are basically elongated, standing fans that give you an extra burst of cool air. It's the perfect device for those extremely hot days when even the air conditioner seems to give you no respite. Most of them have an auto-off feature that shuts the device down automatically, when it gets too cold or when a specific amount of time has passed. If you're worried about the price, don't be. These gadgets are really affordable and they're available in most online as well as physical departmental stores.