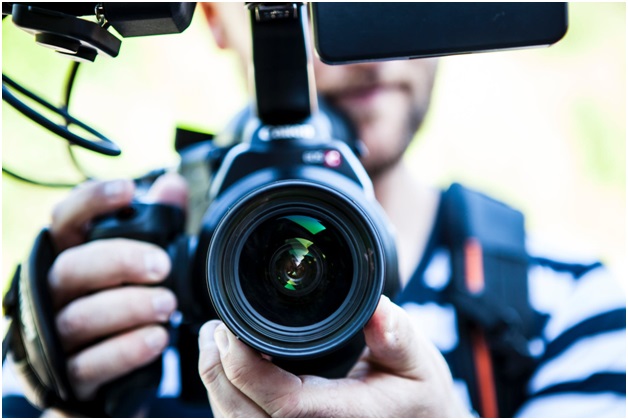 Image Source: Pexels.com
There is no doubt that sound effects add loads of excitement to the videos. The scope and use of these sound effects can be of the vast horizon.
Whether you need sounds for your film or want funny noises for your vlog, it's easy to find great sound effects you can easily use for free.
Making your YouTube video stand out from the rest can be a bit tricky and frustrating. One trending way to take your video to an all-new level is by adding and mixing it up with fascinating sound effects.
Most Popular Sound Effects Used by YouTubers
●      Gator Sound
Sound Gator has a massive number of sound effects divided into numerous segments. These sections are quite specific, like food sound effects, drink sound effects or phone sound effects.
It also offers the sorting of sound effects by filtering date added, trend, popularity, rating, top favorites, or most currently being discussed.
●      HookSounds
It is exclusive, well-curated sound effects that offer a wide range of tracks and music. Many YouTubers are looking for modern, versatile, unique sound effects and that's precisely what HookSounds provides to its audience.
One of the other key features of this effect is to create non-generic music that you can't find anywhere else.
●      Ding
Adding a Ding sound effect into the video can cue Sim's Let's Play audience at the very start of a club gathering. It helps in highlighting the main theme point of your current rant.
●      Swoosh
The sound of swoosh can be easily used as a sign that mail has come your character's way. It helps to focus an essential paper flying out the window.
Adding a swooshing effect to the basketball or a baseball session is absolutely a no-brainer.
●      Sound Bible
The fantastic sounds on Sound Bibleare either in the domain of public, which implies that anyone can use them without having any restriction. The other option is the licensed under the Creative Commons Attributions 3.0 License, which means that you just need to provide a little credit for the person who created the effect. It has been a trending sound effect for YouTubers.
●      YouTube Audio Library
It is indeed one of the most popular sources of having loads of sound effects. With this option, music and sound effects can be easily added straight away to the video you are making on YouTube.
There are hundreds of royalty-free music tracks and sound effects that can be filtered by virtue of genre, instrument, duration, and attribution.
●      Explosive
The effect of KA-BOOOOOOM!!!!. It is quite apparent that people like to watch things explode. It has been observed that YouTubers have digitally blown up their videos with audio clips that are much better for adding a lot of spice to your videos.
●      Filmora
Filmoraprovides the YouTubers with a vast library of free sound effects, which can be conveniently downloaded either singly or in the form of a bundle. These are free for everyone, irrespective of the choice of a video editor in use.
The effects available are majorly in the category of nature sounds, animal sounds, gun sounds, bird sounds, cricket sounds, laughing sounds, video games, and thunderstorms.
●      Fire
There is no doubt that the sound of cracking fire immediately soothes you and put you into refreshment mode. Fire sound clips invite YouTube subscribers to get a bit cozy while they enjoy watching the video.
●      Meme SoundBoard
It is considered to be the best meme soundboard presently prevailing on the internet. It has more than 10,000 professional sounds, and the number continues to rise every month. The USP of this board is the PRO version of this app, with bundles of memes and functions making it a big big hit….
The Bottom Line
The presence of sound effects in videos is of paramount importance. YouTubers are very particular about their choice of sound effects while they are making videos, as they know they are the trendsetters. There are hundreds and thousands of amazing sound effects available; some of the most popular ones have been mentioned in this article.