The warm and cozy cloud of bedding that down comforters provide can be quite irresistible. In fact, it puts you in total comfort and makes you forget all your worries of the day. However, before purchasing one you need to determine the right type of comforter to buy. Down comforters are available in two categories i.e. traditional down comforters and down alternative comforters.
Down comforters have layers of light and fluffy insulation comprising of geese and duck feathers. Down alternative comforters, on the other hand, consist of synthetic materials such as polyester, acrylic, and rayon. Some down alternatives have natural stuff like cotton.
Down alternative comforters are ideal for people battling with allergic conditions. The good thing is that they provide the same level of warmth, coziness and even durability like their down counterparts.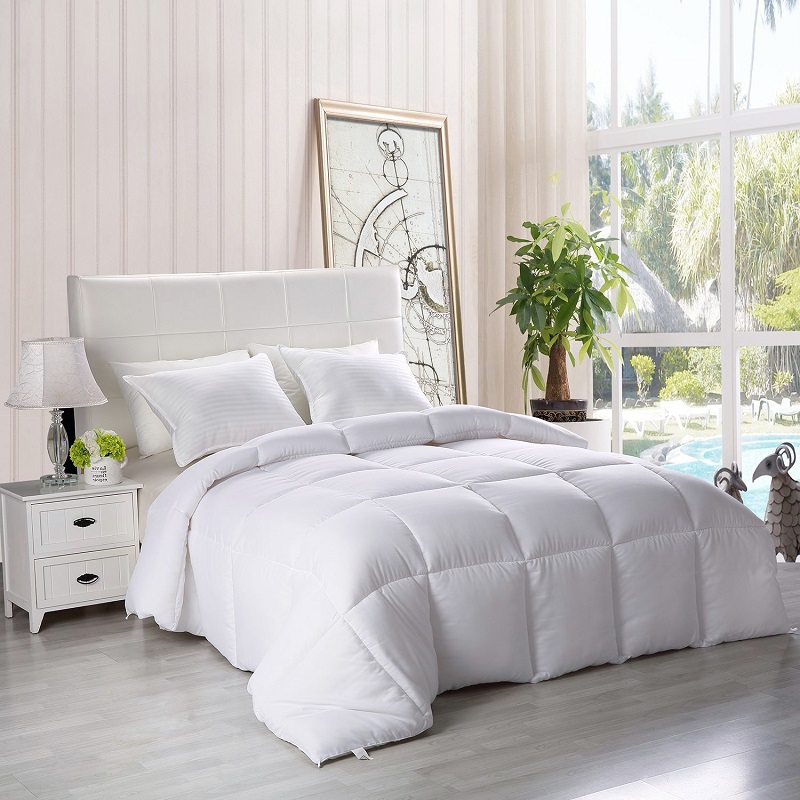 Why a down alternative comforter is the best choice for allergic people?
One of the biggest challenges of using a down comforter is how to clean and maintain them. Apart from trapping dust, mites and other particles, down comforters are prone to clumping and flattening. They are hard to clean, hence not recommended for allergic people.
Down alternatives are typically hypoallergenic. You can machine-wash and dry clean them with ease. This makes them easy to maintain, unlike down comforters. This is ideal for asthmatic and allergic people because proper hygiene is a necessity for them. Down comforters can only be cleaned by using mild detergents.
They're lightweight and flexible
In addition to hypoallergenic materials, down alternative comforters are lightweight. They are designed with advanced technology that enables them to provide the same quality of warmth, moisture wicking and more while still remaining airy, ventilated and fresh. You can carry it with ease as they are not heavy like regular down comforters. You can check the best lightweight down alternative comforters with good fill power on pillowbedding.com.
Some of the popular fabrics used in down alternative comforters include batistes, sateen, cambric, and damask. Batiste is an opaque cotton blend fabric that features a plain weave. It is lightweight, gentle and ideal for use in baby clothing.
 Sateen is low-luster and is made of soft and smooth cotton. Cambric is delicately fine and lightweight. It is popular in most clothing such as handkerchief and other linen. Damask is glossy and has a simple but reversible pattern. It has contrasting textures. Down alternative comforters are available in different fabrics so you can find something that meets your sleeping needs.
They are ideal for all seasons 
You don't need to store your down alternative comforter during summer and use it again when winter knocks. These comforters can adapt to changing seasons and you can use it all year round. The warm and toasty feel make them very adaptable. Winter nights become warm while hot summer nights become cool and fresh.
Down alternatives don't have the notorious duck or goose feathers. They use synthetic fibers that have special anti-microbial properties. They can keep allergens at bay and give you an enjoyable night sleep. These comforters are carefully sewn and specially constructed with an even filling. Fill power is measured by the thread count. Good comforters have thread count that ranges from 550-750. More fill power implies better insulation quality.
Although they don't last as long as down comforters, down alternatives are affordably priced. Those who are suffering from allergy and have tight budgets can still afford a comforter to protect them against allergens. Down comforters are more of investment as they last longer but are not ideal for the allergic.
They are available in multiple sizes 
The greatest thing about down alternative comforters is their varied sizes. They come in twin, queen, king and full sizes. This is one of the biggest factors to consider when shopping for a comforter. You need a comforter that matches the size of your bed. Twin comforters are lightweight and are ideal for smaller beds like the kid or guest rooms. Full size and queen comforters are suitable for most beds and provide sufficient coziness for any double bed. King size comforters offer the biggest coverage as is the biggest of all the available sizes. It is also heavy and is ideal in case you share a bed with another allergic person.
Bottom Line
Down alternative comforters are lightweight, breathable, sizeable, evenly filled, affordable and ideal for use in all seasons. They are recommended for use by people with asthma and other allergic conditions.