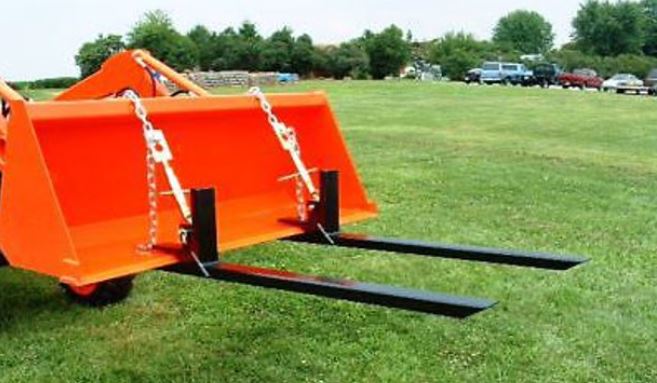 Skid steer buckets are one of the most versatile and useful attachments used in the landscaping industry. Using bucket forks with your machine will add more versatility to your loader in a very less amount of investment as compared to the cost of frames and traditional forks. 
Bucket forks are easy to mount and you should choose the one which is made with high-grade steel. The bucket forks should also be processed with full heat treatment. This helps in keeping your attachment in a good condition for a longer period. It also helps in reducing the damage caused to the bucket fork due to stress and impacts. 
If you wish to do the lifting work using attachments like pallet fork or forklift you will need to change the attachment or machine. For the skid steer loaders on which buckets are mounted, bucket forks provide the capability of lifting things without actually changing the attachments or machine. 
Advantages of Bucket Forks
Bucket forks

help in distributing the lifting load evenly across the complete mass of the bucket. 

The mounting is hands-free. That is, you need not deal with tools like a clamp, bolt, or any other pieces of equipment that are hard to handle. 

Industrial, real, forks, not fabricated forks or tubes are made up of welded heels. 

It reduces potential damage to the bucket floor and cutting edge. 

You can easily adjust fork spacing while using it for wide loaders. 

It is convenient, compact, and inexpensive.
Features of Bucket Forks
Easy to mount

Adjustable forks

For additional machines, you can get extra mounting brackets

Made using high-grade steel 

To absorb impact, it is fully heat-treated

You get forks, shaft bar, and mounting hooks. 
Choosing the right bucket fork
You should measure from the top outside edge to the cutting edge of your bucket. For smaller tractors, to your measurement, you can add 4".This will give you the minimum fork height. The bucket fork should always be a little longer as compared to the minimum height, they should never be shorter. To be specific, you can use 48" or 42" long fork. 
For machines like backhoes, you need to add 5" to the measurement to get the minimum fork height. As mentioned earlier, the bucket fork should be a little longer than the minimum height and it should never be shorter than that. Then you need to choose the shaft length and hook profile. Usually, in case of backhoes, the case style hook is used and in clamshell and other backhoes, J style hook is used. Most of the time you will find standard 48" or 60" long fork blades in the kits. You can also get customized sizes or you can also opt for high capacity kits according to the requirement. 
Lastly, you should know that when the bucket forks are attached, the overall length increases and makes the turning radius 8-12 feet wider as compared to the turning radius of the bucket alone.