Safety gloves are vitally important in protecting you from cuts, burns, and chemical irritation while working. But, what is in store for the future of safety gloves.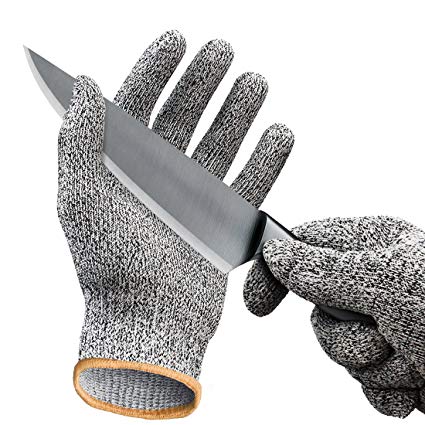 In this blog post, you will learn what the safety glove market will look like in only a few years and some manufacturing developments that will make the creation of safety gloves easier and more affordable than ever.
SAFETY GLOVE MARKET PROJECTIONS
More and more hands-on jobs are becoming popular in the world today. According to the Environmental Health and Safety Today, an online magazine, it is projected that the safety glove industry will reach total worldwide sales close to $10 billion by the year 2026.
There are several reasons for this. First and foremost, companies are beginning to recognize how important workplace safety is. Without safety precautions, companies could be held liable in workplace injury lawsuits that could cost them thousands of dollars.
Secondly, customers are also the cause for an increase use of safety gloves in various fields.  Makeup creator and YouTuber Jaclyn Hill recently came under fire because fibers from worker gloves were landing in her makeup, giving the appearance that the makeup had mold in it.
The increased call for health and safety measures like the implementation of safety gloves can also be credited to unions that are set up to protect workers, their rights, and their safety on the job.
Regardless of the reasons why the safety glove market will flourish, it is sure to leave a lasting impact on the global economy in the years to come.
FUTURE MANUFACTURING
One trend that will continue in the glove manufacturing business is an emphasis on green manufacturing and technology. Since this will be a large industry, more manufacturers are trying to find ways to make a smaller impact on the environment by changing some of their processes to protect the earth.
Regardless of making less of an impact on the earth, it seems that a growing manufacturing trend will be disposable gloves. Disposable gloves are designed for one use, making them cheaper to purchase in bulk.
Nitrile gloves are also replacing latex gloves. Nitrile is made of a synthetic rubber and is a great alternative for those who may have a latex allergy. They are also puncture resistant, making them great for several uses!
Knitting technologies are also improving, making stronger gloves that last longer and are able to protect your hands against just about anything. New materials are also being created. Stronger materials will add to the strength and longevity of the gloves.
Lastly, a major trend is making gloves that are less restrictive on the hands. A lot of people decide not to wear work safety gloves because they feel their hands are too restricted to perform their work tasks. With tighter knitting technologies on cloth-based gloves, workers will be able to complete their tasks with ease while protecting their hands in the process. This is sure to be a changing development in glove manufacturing.
HOW WE CAN HELP
EverPro Gloves is a Chinese glove manufacturer that has been making work safety gloves since 2011. We make cut resistant, latex coated, nitrile coated, polyurethane coated, PVC coated, impact resistant, winter, heat resistant, sandy work, and foam work gloves.