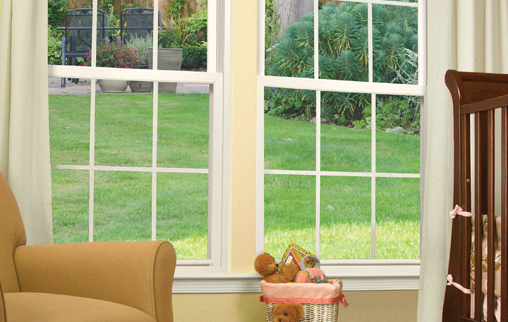 Replacing your windows and doors requires complete knowledge of what is served with quality under your budget. The flexible FlexScreen is a new inventory in our windows systems. Stanek replacement windows with FlexScreen comes with a variety of benefits that make them your ideal window screen. The sliding windows and double-hung windows present at our store are now available with these most flexible window screens in the world. The FlexSCreen are PVC coated, without any hardware attachment they come with a high-performance frame made with spring steel.
The replacement windows at Stanek Windows are surely your best choice if you are planning to renovate your home with new window designs. We allow customization with our replacement window designs in order to give you exactly a tailored window frame that keeps adding to the delight of your home. Stanek replacement windows with FlexScreen are easy to use and you don't need to indulge in color matching of the screen with your windows.
Factors that you need to ponder upon while repacing your windows:
The present condition of your window frames
Is the replacement required for all the windows?
Your budget
What are the style options you are considering
The glass pane should be triple-paned or double-paned
How much energy efficiency is required
Customizations that you want to make
We have a variety of window types available for you:
Bow and Bay windows
Awning and casement windows
Sliding windows
Double-hung windows
Custom shaped windows
All our double-hung and casement windows now come standard with FlexScreen. This makes important for us to list the features of both the types of windows. This will help you in making an easy call for the window that you want for your home.
Sliding Windows
The sliding windows as their name suggest work on a sliding operation. These windows are preferable to be fitted in the window opening with greater width then height. They provide great ventilation with sashes open from both sides. The low profile windows are easy to use and provide good security. They have double cam locks. Your windows and doors should always have the ability to provide great security. At Stanek Windows, you get the option to customize your windows and get the best look for your home.
Double-hung Windows
Double-hung windows are another great window option that we provide with FlexScreens. The double-hung windows provide great ventilation with their sashes present on the top and bottom getting opened. These windows are easy to clean. They can slide up and down and do not come in the way of people passing through. They are the best options for walkways, patios,  and decks. They provide energy efficiency, security and are also cost-efficient and durable.
Benefits of FlexScreen:
Installing the FlexScreen with our Stanek windows is not a difficult task. You simply need to bend the sides of the FlexScreen in order to fix it inside the screen track.
With Flexscreen there is no need to worry for the paint getting scratched, bent or broken hardware. You can test it yourself by throwing them off from the height of a five-story building. They will be intact.
The successful performance of this revolutionary window screen type gave it the award-winning title for 'the most innovative window component' in the year 2015.
The lack of hardware eliminates the complexities otherwise involved in other window frames. The spring steel frame is pretty light.
The hidden screens inside your window pockets provide better sightlines and you do not need to put efforts in color matching.
The FlexScreens have better stability, unlike the aluminum frames. The paint tends to peel off the window panes of aluminum frames and they bend sometimes as well. FlexScreens are thus more versatile.
Conclusion
Every customer should buy the replacement windows and doors for their place keeping into concern various factors. We at Stanek windows provide replacement windows with customization options and our professionals visit your place to give a demonstration of our material. Currently, we provide FlexScreens with all our standard sliding and double-hung windows.  There is no additional cost for the window screens. You can check the warranty details and compare them with other window brands before making a choice.