Countertops play an important role in your home's kitchen. Constant use demands that the surface be enduring and resistant to cracks, stains and abrasions. Material used in countertops has become so varied that it can be difficult to tell which one to choose. The first decision should be your preference in substance. Natural and organic properties in stone slab countertops bring a high-end look to designer kitchens. However, solid surfacing materials have their good points.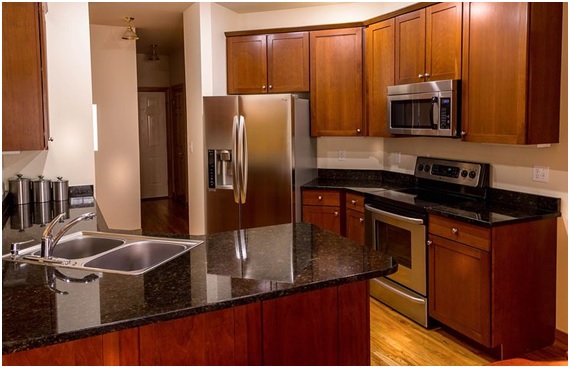 Slab Countertops
Natural stone comes out of the side of a mountain in huge chunks. Sliced down into slabs, they are then cut, refined and polished to make full-length counter tops. Every area of the world has specific stone formations that deliver the type of beautiful stone counter tops that you see today. Examples of varied stone designs and textures created by the earth include:
marble
granite
slate
soapstone
Each type of stone has its own unique characteristics in how they look and react to the atmosphere. The porous nature of natural stone requires it to be treated with a sealant in order to resist stains and scratches. Some have more distinct attributes than others due to the chemical makeup of the stone. For instance, soapstone and granite are heat resistant while quartz is better known for being stain and scratch resistant. You will never find any two slabs of stone with the same tone of color or markings. This creates a customized and unique display for kitchen and bath countertops.
Each type of natural stone has individual instructions on care. Granite must be resealed every 10 to 15 years and abrasive cleansers cannot be used in everyday care.
Quartz, on the other hand, require less maintenance and is much more resistant to scratches and harsh cleaners. Slate is non-porous and one of the easiest natural stone countertops to clean and maintain.
Slate Countertops
Matching a color scheme can be a bit of a challenge when considering natural stone. They will bear their natural color which can be dark, medium or light in tone. Sometimes all all white kitchen can benefit from a touch of natural gray slate or soapstone in greenish-black. Slate does not require sealing and is available in rich dark colors. Italian slate is a popular choice for bringing a unique and breathtaking beauty to the modern kitchens of today. You can go with that option or you can select granite of varying colors. Marble and limestone are almost always white or light in color.
Solid Surface Countertops
Man made solid surfaces are able to give you more choices in color and texture than natural stone. However, they will not have the unique quality and natural look that accompanies natural stone. There are many materials, such as quartz composites and acrylics that are pleasing to the eye, but they will never match the wholesomeness of natural stone. Touted as imitation stone, these man made countertops do have some pluses.
Price is the biggest factor between natural stone and solid surface countertops. Natural stone will always be more expensive than imitation stone. Stone will last forever. It may take some maintenance from time to time, but stone is thousands of years old. Man made stone that is made from partial stone and chemicals has a life of approximately 40 to 50 years. It is an individual choice between quality and longevity when comparing the two.
Also referred to as engineered stone, a wider selection of colors and finishes can be found with solid surface countertops. Every imaginable shade of color can be made to match a kitchen. Patterns and stripes can also be worked into a countertop or backsplash for a creative look. Because engineered stone lacks the characteristics of natural stone, it is more flexible and non-porous.
Solid surface countertops have drawbacks. They are seamed together at corners and turns. Most are not resistant to extreme heat. Bond failure has also been reported in some instances. While less expensive than a slab of natural stone, solid surface materials can be pricey. Striving to make an advancement over plastic laminates, there is still much to learn in the use of natural stone, even when the stone is crushed or in fragments.
Other types of materials are also popular in today's market of countertops. Other materials used to dress up a kitchen inexpensively include:
concrete
wood
ceramic tile
plastic laminates
There are many options for countertops in today's new and renovated kitchens. If you are hoping for an upscale attractive look that is both natural and professional, choose a slab stone over engineered. When installed and maintained properly, you will have a piece of history that exemplifies your room with unsurpassed quality.