With spring in the air, many of us start look forward to embracing the new, including transforming spaces in our homes to embrace new color trends, adopt new textures or just experience something different. If you know you want a change in your interior design but aren't sure just what to do, you might want to think about one of these exciting design trends.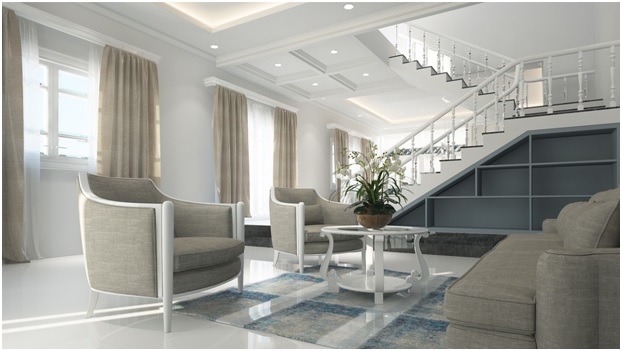 Embrace the Bold
Bold colors are making a bigger splash than ever, like rich reds and burnt oranges, paired with more neutral calm shades like grey or white that go great in the Atlanta summertime. You don't want to overwhelm a room with vibrant colors, it's all about balance, using the boldest colors sparingly, as an accent or statement piece. Incorporating more color doesn't necessarily have to mean adding lots of bright elements, tones and tints can add subtle depth to any space. Or think bold patterned backsplashes – this kitchen by Dan Rak Design is a great example with its daring geometric backsplash giving the room lots of personality. Plus, backsplashes that are the stick-on type can easily be removed and switched out if you're afraid of commitment.
Paint the Ceiling
Ceilings are like a fifth wall that can bring all sorts of opportunities although they're usually ignored. Not anymore – now is the time to start taking advantage of the ceiling, making a strong statement with an accent color that adds a pop of visual interest. You could do anything from a daring paint color to molding or wallpaper.
Shiny Elements
The iridescent glow of decor has suddenly shown up into the world of design, and in a big way. It brings lots of character, with pieces in metal, glass, plastic or what have you, the main point is that it shines.
Big Plants
It's all about big, bold plants in home interior design now, like a rubber tree, dragon tree or any type of palm tree. These are great for creating an eye-catching statement placed just about anywhere in the home. Plants are ideal for empty corners, but you can also place one on each side of a couch. The bigger the plant, the better. At the same time, don't forget about the needs of your plant – check the care instructions to find out how much sunlight it requires to ensure it will flourish where you want it.
Maximize not Minimize
The term minimalist has been around for a while now, with many people going with minimalist home decor, but that's all changing again with the theme now not "less is more" but "more is more." Forget about that stark, barren look and go with an overload of textures and sensible excess (not clutter). Have fun with the journey, bringing out your creativity by creating unique spaces that show off your own unique personality.