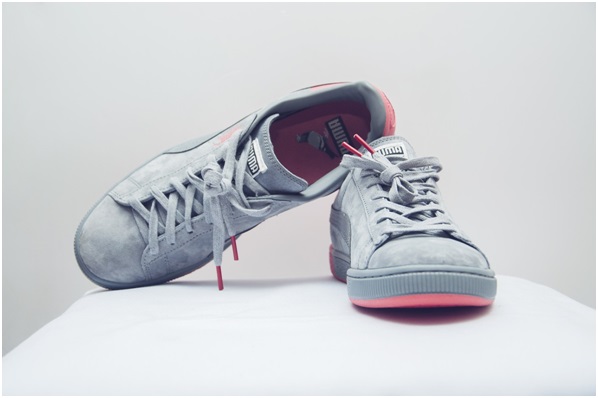 Sneakers and denim shorts are a classic pairing that can be worn by adults and children. New Balance sneakers and other popular sneaker brands provide feet with more protection from safety hazards and ultraviolet rays than sandals. Here are few tips for pairing footwear and clothing that originated as athletic gear and workwear comfortably and fashionably.
Choose Shoe and Shorts Colors
Sneakers such as the Puma Basket collection are available in a variety of colorways. Denim also comes in a full spectrum of shades, though blue is the most common color for jean shorts. The shade of the shorts you plan to wear may influence the best shoe matches or a favorite pair of shoes may determine your choice of shorts.
In general, it is a good idea to avoid wearing shorts and shoes that are the exact same color unless you are going for a monochrome look. A wide variety of shoe colors can complement denim, including black, white, beige, brown, gray, red, orange, yellow, green or purple. If you want to wear blue sneakers with blue jeans, try varying the shades.
Consider Short Length and Shoe Height
The fashion standards for pairing shorts and shoes are more flexible than for pants and shoes. It is unlikely that even the longest denim shorts will get in the way of your shoes, or vice versa. No matter which length you choose, jean shorts can show off womens retro sneakers.
Short shorts can be paired with sneakers that have a low profile to elongate legs. In general, shoes with a low or ankle-height profile tend to be the natural choice for wearing with shorts. If you want to lengthen your legs, you may not want to wear high-top sneakers or sneaker boots with shorts of any length.
Feel and Look Cool
The materials sneakers are made of will determine how cool your feet feel. Depending on the temperature and conditions, shorts may be enough to keep you comfortable regardless of the shirt and shoes you choose to wear. In extremely hot conditions or during certain activities, you may want to wear sneakers made of a material that allows feet to breathe.
If your feet feel hot and sweaty or the temperature is so high that sweat is accumulating in your shoes, you may prefer to wear a pair of breathable sneakers. Shoes made out of canvas, mesh or other textiles tend to be cooler than leather. If you want to sport leather sneakers in hot weather, look for a style with a perforated upper and consider putting on a pair of moisture-wicking socks.
Wearing sneakers with shorts is a timeless, casual look for women, men and children. Socks are one of the main considerations when selecting which shoes to wear with shorts. Some breathable sneakers can be worn without socks. Other styles may be more comfortable when worn with a pair of moisture-wicking socks that hit below the ankle. Depending on the style you are going for, you may want to wear longer socks as an accessory with sneakers and shorts.