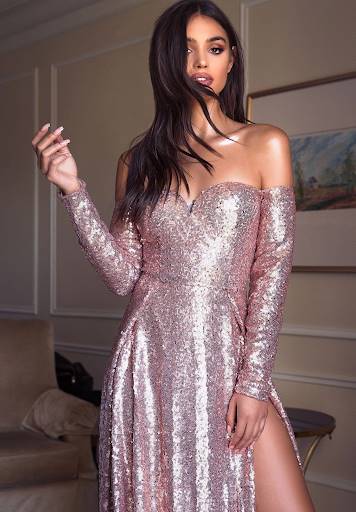 Your formal is coming up fast and you need a dress, but nothing is quite working for you – we've all been there, and we all know the struggle – far too well. If you're standing at your wardrobe, stumped for any ideas or with no idea where to even start looking for a formal dress, then you've come to the right place! Follow these tips and you're sure to pick out your picture-perfect dream dress that's going to make your special night all the more unforgettable…
Gather some inspiration
Firstly, you need to get an idea of what kind of dress it is that you're looking for! Start by hopping on Instagram or Pinterest and gather images of dresses or formal outfits that you absolutely love. Create a board or a picture folder and you'll most likely see a direction or certain overarching vibe in there. Use this as the basis for your dress' look and fit. You can also use this to give you direction with your hair, makeup and accessories.  
Look at your wardrobe
Next, it's time to take your eyes away from the screen and set them on your wardrobe. Take a look at the fit of dress that features the most in your wardrobe, this is going to give you a clue as to what you feel comfortable in. Yes, you want to look different from your day to day get-up, but that doesn't mean that you should feel uncomfortable or unflattered. If you're spying a lot of A-line fits, you should look for formal dresses that have a fuller skirt and nipped in waistline. This is going to make you feel your most confident and beautiful, which is exactly how you should be feeling at formal!
Nail Down a Budget
Numbers can be tricky, so figure them out early on so that you can shop within your means and avoid any bitter disappointment down the line. If you don't have much to work with, don't worry. There are loads of options formal dresses on sale, second-hand frocks and you can even rent a piece if you don't have space in your wardrobe.
Think about your aesthetic
Your overall aesthetic or desired theme should guide your choice of material and colour. If you're wanting to channel a cool-girl, futuristic vibe, then lace or tulle in red or forest green won't fit your chosen aesthetic! Use your theme as your direction and you'll wind up with a great piece that gives you the effect that you're out for. Some great themes to consider include boho, contemporary and classic.
Try it on!
Online shopping has completely changed the game for finding beautiful, unique dresses – but that doesn't mean that you're excused from doing your trying on! You might not be able to find the exact dress that you're interested in out in stores, but you should strive to find one that's a similar fit to get a feel for the cut and to see if it's going to suit your shape and style. This one should be easy if you're using your wardrobe as your guide – you'll already have the cut in there!
Remember your accessories
Do not underestimate the power of your accessories! Your jewellery, clutch, shawl and shoes can make a massive impact on the look and feel of your dress. Even a simple black slip dress is going to totally transform with some statement pieces elevating it. Keep accessories in mind whilst you're searching, and you'll find that there are a few more options out there for you than you originally thought.
Stay true to yourself
Try not to get caught up in trends and what everyone else is wearing. Stay true to your own tastes and preferences and you'll find that you look unique and feel amazing instead of trying to fit in with the rest of the room. Letting your personality shine is always beautiful.
Follow these tips and you can be sure that you'll end up with a stunning formal dress that you're going to be loving for a long time to come!