Metal plaques are commonly seen in many buildings, memorial parks and schools, military bases, landmarks, and graves. Metal Memorial plaques are made to last a lifetime, making it the best option to commemorate almost anything.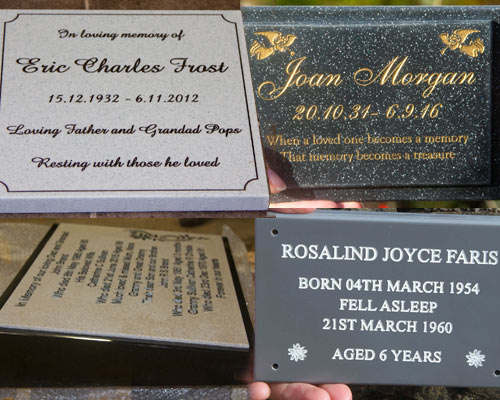 That being said, memorial plaques have become popular as a lasting tribute to anyone who has passed on. It is something that will stay forever, long after the person dies. Choosing the material is one of the most important decisions to make when choosing a memorial plaque, as it makes a huge impact on the overall look of the plaque.
Brass  
Brass often looks like bronze. However, it comes in various ranges of alloys where it gets different shades and colours. This material offers a "classic" look with a little twist, making it the best choice for an indoor setting.
However, brass can get tarnished heavily outside, so it needs more maintenance if it is going to be exposed to elements.
Bronze 
Bronze is one of the top choices for commemorative and memorial plaques. It symbolises success, achievement and reminds us that the person who died was loved dearly. Moreover, bronze has been so popular as it is strong and requires less maintenance that even a strong winter won't take it down. This is also the reason bronze is used in public gardens and memorial parks.
Bronze is also versatile as it fits any settings. It is easy to clean and ages very well through the years.
Stainless steel 
Stainless steel is also a popular choice in memorial and commemorative plaques. Engraved and polished, these plaques are sure to captivate people's attention, attracting them to take a look at what is written on them. This material is also commonly used in award plaques, a notion that celebrates someone's achievements instead of focusing on their death.
Stainless steel is also a strong material that can stand against harsh weather conditions. Even salt can't damage this steel, making it the best choice if the plaque will be placed near the sea.
Choosing the right shape 
Aside from the material, it is also important to consider the shape of the plaque. Some shapes offer more space for texts, while others look more attractive. Below are some tips to make decision making easier:
Oval plaques are good for outdoor display. It can keep long quotes that can be placed through the centre of the tribute.
Circle plaques are perfect for shorter passage of text included in the design.
Square plaques offer a modern look, allowing the plaque to stand out from conventional designs. It is also a good choice if the plaque needs to accommodate larger texts or feature more designs.
Rectangular plaques provide a wide range of dimension options. It also has enough room for any combinations of texts and designs, and they are easy to mount in any setting.
Aside from the actual design, it is good to consider a few logistical points. It is advisable to have the Memorial plaques delivered somewhere close to the site where they will be displayed.
Moreover, it is also good to consider if the place where it will be displayed has restrictions about displaying plaques. For instance, some cemeteries may have colour restrictions when it comes to plaques. Always check the area authority about these restrictions and get clearance before getting a plaque.