College, high school, and university textbooks are on significant demand today. College students undertaking online and distant learning have limited or no access to university libraries. They, therefore, heavily rely on buying college course books from websites which provide such services. The ready accessibility of such books from online platforms and website makes it easy for the students to acquire learning materials which can expedite and facilitate their learning process. The high demand for such books has led to more businesses and websites expressing interest in the provision of such course book retail and rental services. Here are 5 of the best sites from where to buy cheap course books.
BooksRun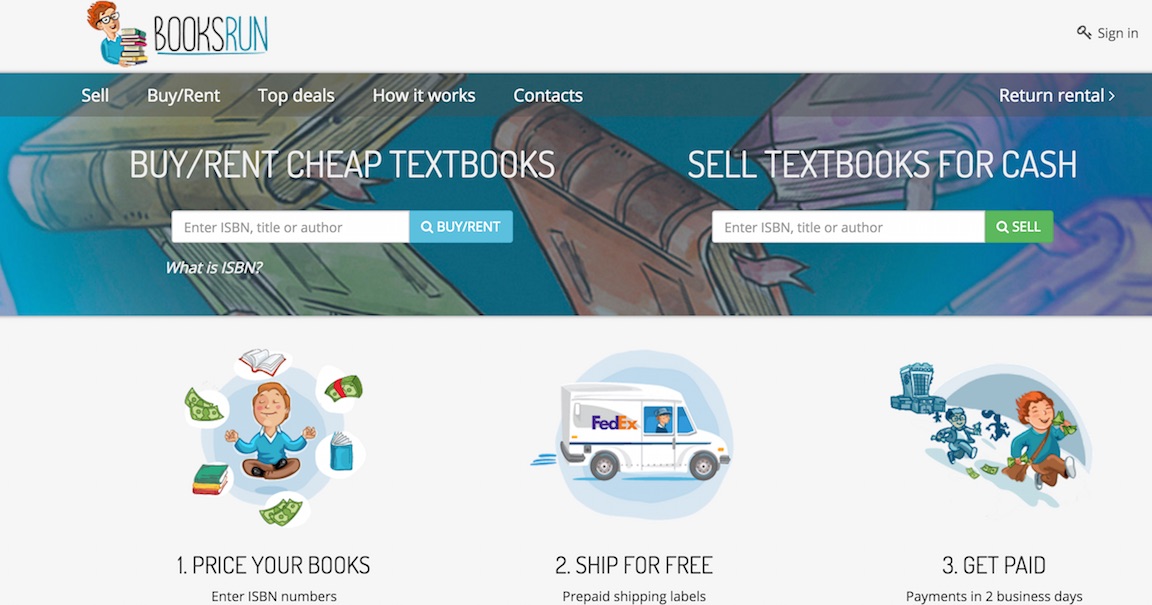 BooksRun was established as a dedicated portal from where students and other interested persons can buy textbooks of their choice. The site accepts and deals in both new and used books. BooksRun provides its services across the country and has the advantage of being relatively affordable as compared to other market players. The website is well optimized for users to easily and quickly locate their books of interest.
After signing in or signing up, an interested person simply needs to enter the book's title, author, or the International Standard Book Number (ISBN) to query for a specific copy of interest. This query produces specific books of interest to the reader from where he or she can proceed and check-out. BooksRun offers various additional benefits such as free shipping on every item bought. The company also provides customers with promotions such as coupons, discounts, and buyback deals.
BooksRun has emerged as the leading choice of preference for students seeking to buy textbooks for their courses. The company has a fast checkout process optimized by a simple and straightforward site that is clutter-free. It also has an extensive reach to the US market and ships within a relatively short period of time after the customer checks out.
Amazon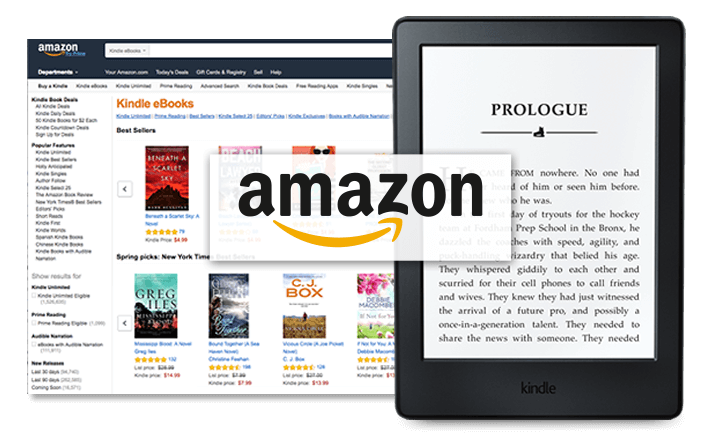 Amazon.com is perhaps the largest online market and retailer. The company retails in virtually everything including textbooks. Amazon Books comprises of a comprehensive collection of various books of different genres, authors, publishers, culture, and diversity. The company charges a commission of 15% for books bought through the platform. Also, the buyer has to incur additional shipping costs to have the bought books shipped to their preferred destination. Amazon collection of books comprises of both hard copy books as well as eBooks. Each version retails at a different price with most eBooks being generally cheaper than their corresponding hardcopy versions. One can either buy or rent a hard copy or eBook of their choice, if available.
Rakuten
Rakuten is an online collection of eBooks. The website provides customers with a comprehensive list of electronic and audio books in a similar fashion to the Amazon Book library. The website collects and vends books from all possible categories for all people ranging from babies to baby boomers. Rakuten specializes in offering competitive pricing and discounts for several of its selected categories. It also boasts offering competitive benefits to its customers including lucrative discounts, promotional coupons, among other sales benefits. The online retailer accepts payments from virtually every form of payment existing today ranging from Google Checkout to PayPal and any other forms of electronic funds transfer.
Half Price Books
Half Price Books comprises of a collection of differently priced books, general reading books, and course books. The website boasts providing books that are significantly cheap; as cheap as half the price that the books retail on other websites. The site comprises of a comprehensive list of eBooks from where customers can easily navigate and search for their book of preference. Users can search books using the books' author, title, as well as the ISBN. Readers also have the option of selecting from a wide range of differently priced alternatives of the same book such as new or used textbooks. Half Price Books is considered America's largest family-owned bookstore; having over 120 bookstores across the nation. It also runs physical offices from where it vends hard copy versions of books to customers.
Chegg.com
Chegg.com is a large collection of electronic and hard copy books available online for rental or purchase. Customers enjoy wide collections of books, especially those of academic importance and inclination. The site gives customers the option of finding their book of choice by searching using a combination of book identifiers including ISBNs, book titles, in-text content, and authors, among other search criteria. The website specializes in providing electronic copies of books and has partnered with various learning institutions to ensure their students can acquire the required reading material at a relatively fair price.
As course books experience an increase in demand, more and more businesses are coming up with revolutionary textbook dealership and retail services. The websites provide ultimate solutions to ensure customers can read and enjoy their books of preference remotely through the internet. The various businesses and websites providing textbook retail and rental services have all optimized their operations to give readers an optimal experience that ensures they can search, find, buy, read, and retain copies of their books of interest.