It is not easy to choose the right window frame when the available choices are many. In that case, you need to make research on the types of window frames that are suitable as per your budget, design and home architecture. The old windows cannot play along after a point of time. They start leaking air and it has been found that windows and doors alone can lead to a loss of 70% of energy. This is a problem with the low-quality window frames as well. Choosing between fiberglass and vinyl windows can be tiring work but if you have the features and differences of both in mind your task becomes a bit easier.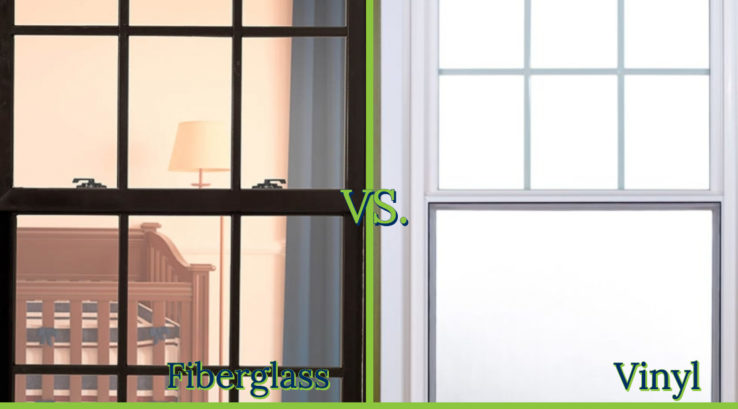 In this article, we will provide the basic features and differences between fiberglass and vinyl windows. This will allow you to make the best choice of window frames for your home with much ease. Replacing the windows and doors allows you to add new colors to your place and you should make smart choices.
Expenses For Each Window Type
The vinyl windows are much affordable than fiberglass windows. The labor and cost of vinyl windows are very affordable because the manufacturing process is very simple. On the other when it comes to fiberglass then their manufacturing includes a long and complicated procedure. This owes to them being 10 to 30% more expensive than vinyl windows. You should look for the window manufacturers that provide financing options for your windows replacement. This way your replacement work can get more affordable and relaxing.
Finishing and Color Options
The homeowners should go for the manufacturers who provide customizing options with their products. The variety of colors available in vinyl windows and fiberglass windows are large. It is found that the painting options are largely available with fiberglass windows. But, as suggested you should go for such companies that provide the customizing options for vinyl windows as well. Many companies are providing the finishing and custom painting options.
Insulation Process
It is found that both the vinyl and fiberglass window types provide effective and solid insulation. They are embedded with hollow cavities that get filled with insulation. They prevent the transmission of outside temperature to the house by slowing it down. The insulation of dust, air or water can be hindered if the frame is of fiberglass. The window frames that are created with multiple chambers can help in improving the insulation and energy efficiency.
Strength And Durability
The fiberglass windows are much more durable in comparison with vinyl windows. The fiberglass windows and vinyl windows are made with a plastic-type. But the glass fiber in fiberglass windows increases the strength of the window. The fiberglass windows can withstand the sun's heat and do not face any damage because of them. On the other side, the vinyl windows may contract and warp due to sun heat. The fiberglasses as already mentioned can be repainted but there are very few options for repainting vinyl window frames. Thus it is their makeup which brings all the difference.
Maintenance
Both fiberglass and vinyl windows need low maintenance. You can clean the mildew and dirt from the windows using warm water and sponge. However, both the windows types ask for maintenance after a point of time. They can be contracted, have cracks and chips that need repainting. There are various repainting options available for repainting fiberglasses. But the vinyl windows develop warp that needs caulk filling for stopping airflow inside.
ROI
Let us now discuss the ROI to make the final call for one window type. The investment in entry goods like windows and doors should return an appreciable revalue. The vinyl window frames have been into the market since long and fiberglass windows are comparatively a new member. The window type that provides a high ROI as per the statistics is Vinyl frames. The ROI of fiberglass doors has been found equivalent to that of vinyl window frames. Vinyl windows provide an ROI of around 75%.
Conclusion
The vinyl windows and fiberglass windows have certain properties that make them a good option for you. There is not a need to mark one of them as superior. But since the article is comparing the two of them, we can suggest one. It seems that fiberglass windows can be a profitable investment with better durability and ROI. Although, the best in which you find suitable for your home.