When one talk about redesigning a home, our minds go automatically to certain spaces. Maybe is a new living room, a redecorated bedroom, new life for the bathrooms or the kitchen. Families will consider how to adjust the space of a growing kid; the more daring will consider working on hallways and staircases. A space that is seldom considered is what used to be called the "hobby room" or, more recently, the man cave. This is the one space where the family man, having absolved his many tasks, retreats at the end of a tiring day. The kids are sleeping, there are no social obligations planned in the calendar and sometimes one wants to just find his own space, a personal area that is just his own. 
Usually this is an extremely functional place, it is after all for most a place to tinker, to find a space and time for his hobby, holding items that don't necessarily belong in the rest of the house. Its design has therefore been stereotyped as a cliché, a cement basement, badly decorated with some posters or left unfinished where men like to spend their free time watching sports on a big screen TV, playing a game of poker while enjoying a craft ale and munching on take away pizza. We have almost been programmed, by commercials and sitcoms, to imagine it that way, an über-masculine space with a pool table, a darts board, some self-built bar area with bottles of spirits hanging in front of a cheap neon with a beer brand, that is almost difficult to think it in another way. Yet the story of the "man cave" is much more complex as it arises from the evolution of the old "men's quarters" or cigar rooms of the past. 
It's true that for many men, this is the functional space where to take on their own hobbies. They are after all essential for their well-being as it is not possible to have a life without interests, but not all hobbies require a fully furnished garage and men's sense of style has developed considerably.
Where it comes to the décor, much has changed in the recent years. The modern man has evolved from those old clichés that beer commercials try to reinforce and wants a space able to reflect his own taste. Wallpaper is the perfect way to help you define a precise style without breaking the bank. We have taken a look at a few models available from the online retailer Wallpaper from the 70s to give you some ideas. For some men, the man cave should reflect their heightened sense of fashion, with stylish chestnut furniture, a place where to sip an aged scotch whisky and maybe enjoy a cigar in the company of a few, selected friends. For these styles, a classy, Art Deco wallpaper like Pontinius, with its flair and timeless design is just the perfect complement.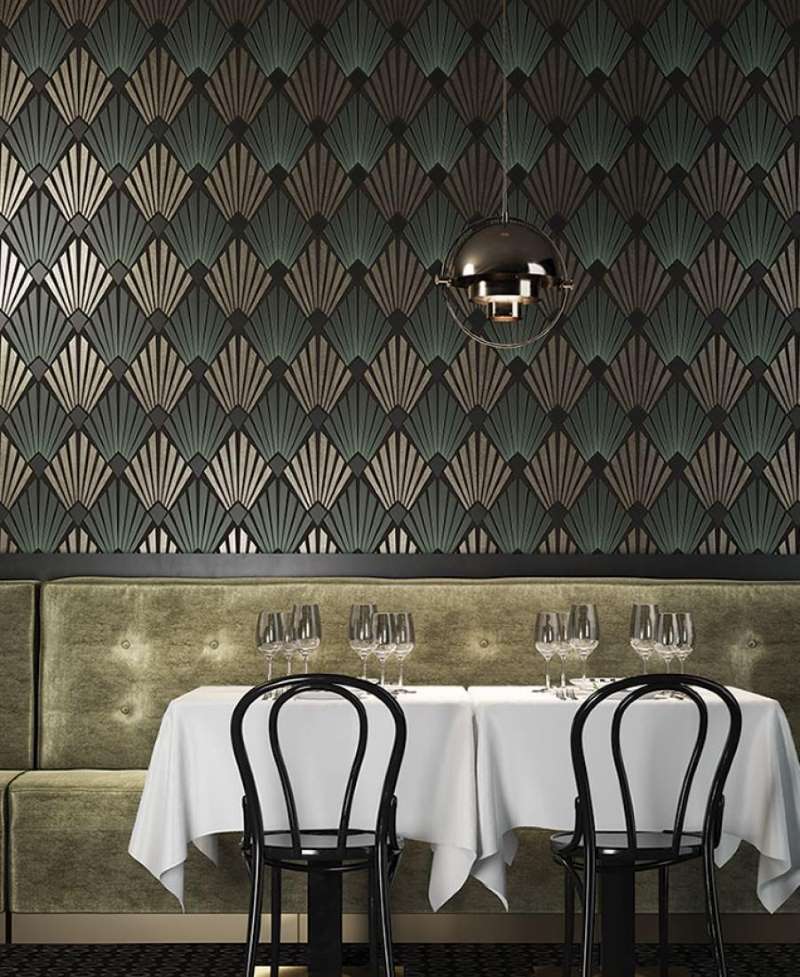 Recently we have also witnessed a substantial comeback of retro and vintage designs. Men who grew up with the myth of the space race tend to love decorating their rooms with a vintage design, maybe with the odd vintage pinball and arcade machine. A feature wall with a glamorous 70s motive is therefore the appropriate match to such approaches.
For those guys looking to build a man cave as a place to indulge in their childhood fantasies, decorating its walls with retro motives and populating the shelves with Walt Disney miniatures, collection pieces and videogames, a good match would be a wall with old Marvel comic magazines reproduced in stunning details.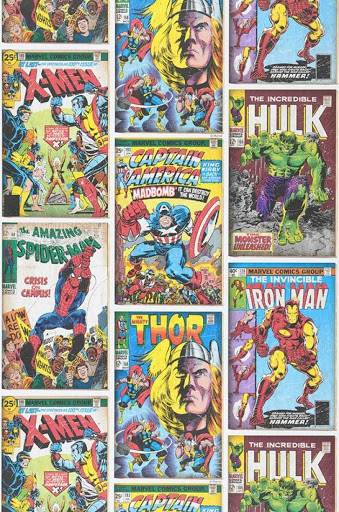 A simple tip for decorating your own man cave:  before you stand it is a good idea to think how you are going to use the room and, based on this, what should it look like. Once this has been clarified, it is time to select a wallpaper that can complement these requirements and call a couple of friends to help you out. A little decoration project together with the boys, sharing jokes and a couple of beers, is the ideal way to get started and to have fun while doing it.