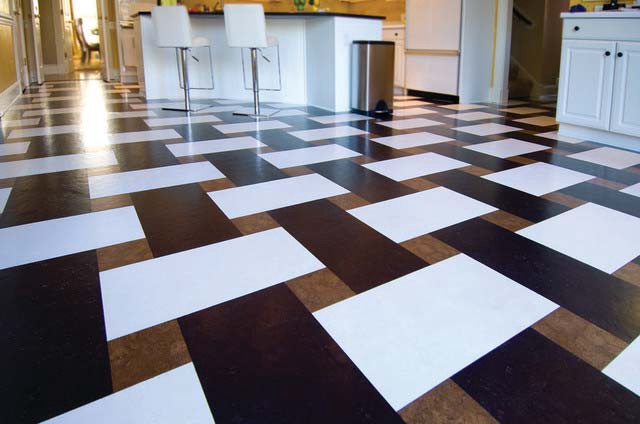 When you are planning a home renovation, choosing the right tile flooring for different rooms can be a tough choice. Tiles are a great flooring option that can work in any room and come in a wide range of colors, textures and designs but not all of them are created equal. They are made from different materials that differ in price, durability, ease of maintenance, and other aspects you should take into account when selecting floor tiles for your space. Floor tiles need to be durable, strong, and visually appealing and in any case, the quality and the style of tile flooring should be appropriate for the interior décor and the value of your home. In this guide, we discuss pros and cons of different types of tile to help you choose the best option for your floor tiling project.
Ceramic and porcelain tiles
Porcelain and ceramic tiles are a practical flooring solution that can be used in different areas of your home due to their water-resistant properties. You can install them in bathrooms, kitchens, hallways, bedrooms, living areas, and some of them can be even used in gardens. They are also one of the most affordable flooring options. Being durable, easy-to-clean, and fully compatible with underfloor heating, they are an ideal option for families with children and pets. 
Porcelain and ceramic tiles may look identical because they are made from the similar material – natural clay. But they are produced using different manufacturing processes. For example, porcelain tiles use finer clay particles and are fired at higher temperatures than ceramic. As a result, porcelain is denser than ceramic and less porous so it is suited for high-traffic areas as well as for indoor and outdoor use in virtually any climate. Both types of tile come either glazed or unglazed and are available in any color you can think of. Porcelain tiles have amazing design possibilities and can resemble almost any material. They can even mimic the look and texture of real stone or hardwood tiles. As to the sizes, you can find everything from tiny mosaics to large format floor tiles. 
Glass tiles
Glass tiles, especially glass mosaics, are a very popular choice for many different applications, including kitchen backsplashes, shower stalls, and accent walls. Being luminous, glass tiles installed on a floor can elevate the style and sophistication of any space. Although they are costly, they look very beautiful and are an excellent choice for small and dark spaces because they reflect light and make rooms look bigger and brighter. Mosaic glass tiles on floors can fill any space with a sense of lavish luxury. They come in virtually any size and the most common shapes are squares and rectangles. There are also specialty tiles available in a variety of forms. You can combine glass tiles with porcelain and ceramic tiles to create an accent on your floor for a breathtaking and expensive look.
Glass tiles are durable and resistant to cracking. They are also resistant to mold, mildew, and stains and are easy-to-clean. They are also resistant to chemicals and moisture which makes them a natural choice for bathrooms and kitchens.  
Stone floor tiles
Stone floor tiles are made from natural stones like marble, travertine, granite, limestone, and slate. They are a popular flooring choice and are typically used in kitchens, bathrooms, hallways, living areas. Stone floor tiles are practical, hardwearing, and hygienic and they are suitable for the modern lifestyle. Stone tiles typically come in larger sizes than ceramic and porcelain tiles and are rather expensive. Their durability depends on the type of stone they are made of. Natural stone is porous so such tiles require frequent cleaning and should be sealed regularly at least once a year to protect them from moisture. 
Natural stone tiles are timeless and are valued for their natural beauty which combines elegance and sophistication. Every piece of natural stone tile is unique because it has special veining, coloring, and natural characteristics. The choice of the type the natural stone material depends on your budget and your personal preferences. 
If you want to create a classic, luxurious look, select marble tiles. Slate tiles are the right option to create a more rustic look. Travertine floor tiles combine elegance with the rustic look and if you prefer a contemporary feel, choose polished limestone tiles. Granite floor tiles come in a wide variety of colors and patterns and make a perfect choice if you are looking for a tough and high efficiency tiles that can give your design space a stylish look. Granite tiles are also water and stain-resistant which makes them the perfect material for bathrooms. Natural stone tile is an exclusive material that can make a bold statement of elegance and style and will improve the resale value of your home.