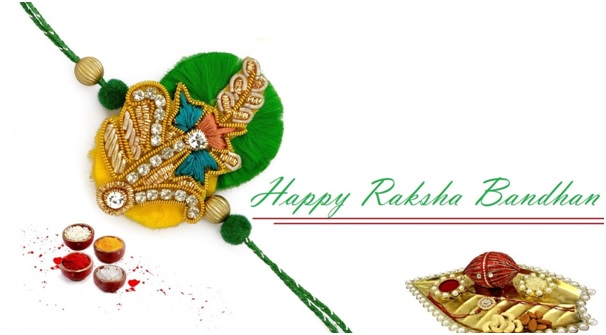 Women of the family are no lesser than the wonder women who are holding each and everything at the right place and also maintain the balance between each and every member of the family so as to avoid unnecessary fights and issues. These women are born in another family and later hold command of some other family. So, to make these pretty and beautiful ladies feel happy and special, Lumba Rakhi tying ceremony is gaining popularity. If your brother too is newly married and your Bhaiya and Bhabhi are in some other place on this Rakhi, send Rakhi to them and make them surprise with your love in the form of Rakhi.
Tying a Lumba Rakhi to sister-in-law is basically the Marwari culture but now it is gaining popularity, and every other family is adopting this tradition of making their daughter-in-law happy. Daughters left their family, their brothers for the new family, then making her happy and feel special so that she does not feel sad and lonely is the sole duty of the in-laws.
On this Raksha Bandhan, not only make efforts to impress your brothers but also make your sister-in-law feel special by sending a pair of Bhaiya-Bhabhi Rakhi to them. These Lumba Rakhis are the perfect blend of modernity and tradition. There are different types of Lumba Rakhis that can be the best to give to Bhabhis on this Raksha Bandhan.
Here are some of the best Lumba Rakhi options for you to go for, this Raksha Bandhan and choose a designer, unique and exquisite Rakhi for your Bhaiya-Bhabhi.
Designer Lumba Rakhi
This designer Rakhi is perfect for sister-in-law as they can carry it with any type of outfit whether it is Indian, western, or Indo-western. It is one of the most magnificent Rakhis that will add an extra charm on your Bhabhi's wrist.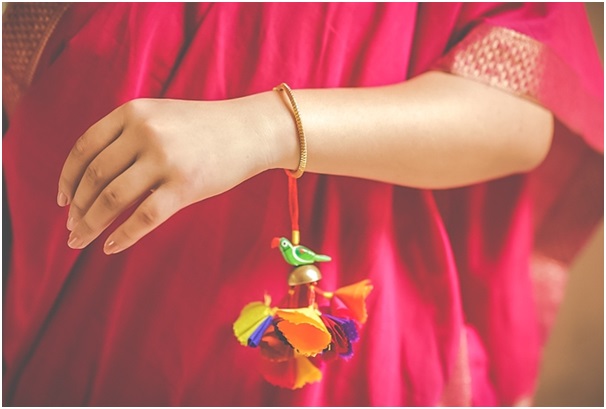 Stoned Lumba Rakhi
This is one of the most popular and opted Lumba Rakhi. This Rakhi is the fabulous artwork of stones studded in the Rakhi to give it an extra shine. This piece of stone studded jewelry is perfect for women.
Jeweled Lumba Rakhi
The jeweled rakhis are the one which has studded diamonds or pearls that give it a look that no one can ignore. Women will no doubt fall in love with this type of pretty and stylish piece of jewelry that is the perfect blend of fashion with tradition.
Zardosi Lumba Rakhi
Zardosi work gives a classy look to the Rakhis which make it perfect to be worn out with the Indian attires and women cannot resist by seeing this beautiful piece of Lumba Rakhi to style it with their pretty sarees.
Pearl Lumba Rakhi
Pearls are no doubt the favorite of many out there. Pearl studded jewelry items are in popularity for a long time and their time will never finish. So, grab your personal favorite pearl Lumba Rakhi that can surely melt your sister-in-law's heart and put a wide smile on her face.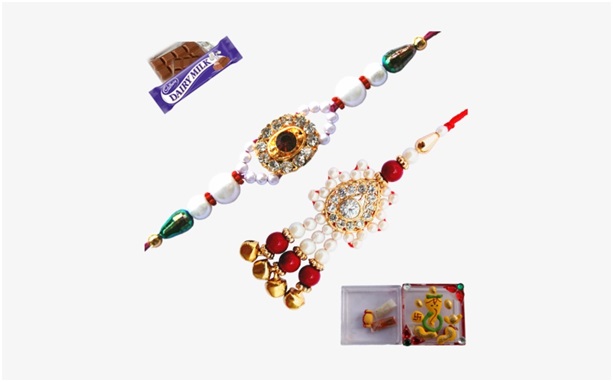 Panchaglee Lumba Rakhi
This is not a single Lumba Rakhi but a set of Rakhis that is perfect to be given to newly married women. As the name indicates, it has 5 different types of Rakhis with a ring and bangles. So, give your new bhabhi this designer set and initiate your relationship with her.
These beautiful and exotic Rakhis are also available online so that you do not need to roam in the market for a perfect Rakhi.  Sendrakhi.Com is the online Rakhi store that offers a wide variety of Lumba Rakh is that would surely be the best to give to your sister-in-law. And not only Lumba Rakhi but also Kids Rakhi, Designer Rakhi, and many more options are available there. Go and pick your favorite choice and surprise your Bhaiya Bhabhi.