Garage will be the ideal place to store your garden materials. It isn't even near to the garden, Garage has the necessary space to put your all items you will require to beautify and support your garden. You may not only store there your equipment, but you can even store their seedlings, fertilizers, and other sprays. As you wait for the little seeds to be ready enough to be set in your garden. You can also store there flower planters and pots.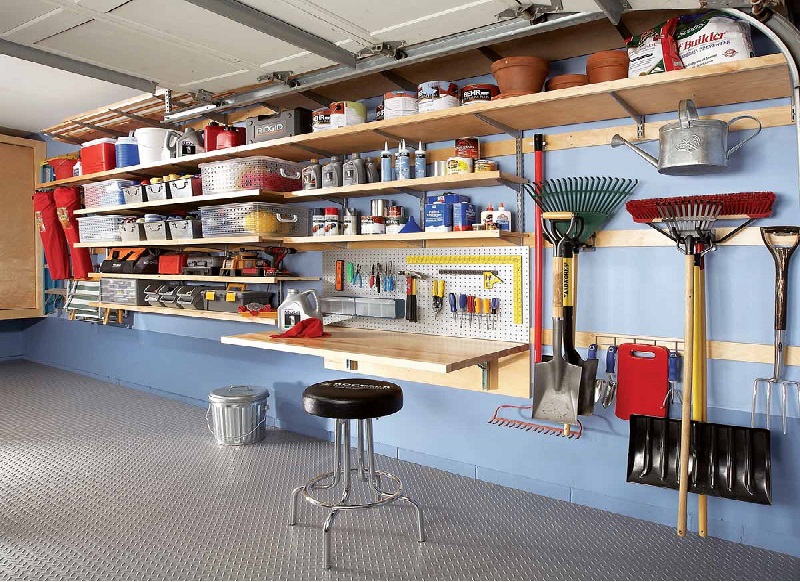 Garden equipment organization in the garage isn't very hard to make and also not that much expensive. The most essential and the basic step to having an accessible and functional storage is sweeping the place first then keep clean for all the year. It is not necessary to have a massive garage. You only have to make sure that you maximize the part of the space which you have allocated for your garden equipment storage. Also, keep in mind that it should not take up the entire area that can be used for your vehicles and other tools.
Puton hooks in the wall: serially put some big-size hooks, which occupies at least one and a half meter of the wall having distance of two to three inches among-st each hook. They must be at least four feet above the ground level. You can also use for hanging your round pitchfork, shovel, pickaxes, spade, spades, rakes and weeding tools.
Use drawers for medium to small garden tools be like bypass pruner, pruning shears, gardening gloves, loppers, safety glasses:The Dawes can also be used to store little packets of fertilizers and seeds, also labeling sticks and markers for your trees. Every time place drawer liners in your drawers it also shields it from discoloration, stains and getting broken or scratched with other tools.
Shelves for other garden equipment:You can put here all of your mallets, both empty and clean plastic or clay pots. You can also place little tubs, and buckets. Even use it to showcase gardening magazines and books.
Make and install cabinets, other hand you can even purchase ready-made cabinets from stores, ensure it complements or matches the design of the home:These cabinets suitable for extra gardening instrument. You can even place there some of your other equipment as long as you manage it neatly and nicely. Never mix automotive tools or carpentry tools with it, instead use a cabinet divider inside the storage cabinets. You can even store there some pesticide sprays and a garden hose. Don't forget to mark the doors of the cabinets so you can immediately locate the things you need.
You can buy also microwavable types or see-through types storage boxes to be placed on the shelve:These can also be used to store tapes, seeds, brushes, labeling sticks, and other tiny think you will ensure to make your garden even more beautiful. You can also use them to keep bolts and nuts safe that you may want for your garden.
Our list of creating a well-organized and functional storage place for your gardening pieces of equipment it can made more useful and ideal. With your diligence and creativity, if you commit your time even for just one weekend in completing this project, it will make your life stress-free, much better, and relaxed. You are no more going crazy in looking for spades, rakes, etc. And no more hurting yourself only just because you have to go through a large pile of messed up boxes looking for your pruning shears, gloves, and other gardening tools.
The most challenging part of this project is taking a stat. At the same time, the final goal is to build a space that is well-organized, clean, and pleasing to the eyes. Once the carport door is open and, of course, a proper place for all of your gardening gadgets and pieces of equipment that will assist you in maintaining your ideal garden.