I'm the kind of person who is fond of cooking. Instead of going to restaurants, I prefer to try making dishes on my own.
My dream is to taste all cuisines from all over the world. Therefore, I spend lots of time searching the Internet for exceptional recipes and do some experiments in the kitchen.
And you know what?
Among the various types of recipes, I found it most straightforward to test desserts since the essential ingredients are available everywhere. So, what about trying out distinctive Asian desserts today?
Let's not waste time anymore! Now, I will introduce to you 5 alluring Asian dessert recipes.
The 5 Mind-Blowing Asian Dessert Recipes
Ready? Apron on! Roll up your sleeve! And let's have some fun in the kitchen with the 5 splendid Asian desserts below! Here we go!
Chinese Egg Tart Recipes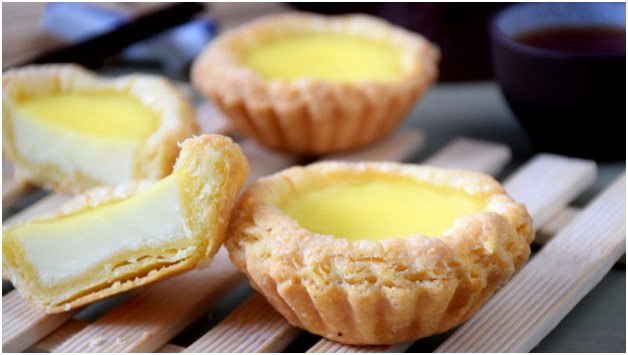 https://tasteasianfood.com/wp-content/uploads/2016/01/et17-720×405.jpg
Let's begin with a worldwide-famous dessert from China! Does this seem familiar to you?
Yes, it's similar to the egg tarts sold in KFC! The one you see in those restaurants has a browned top rather than a plain creamy top as the picture above and often called Portuguese egg tart.
Since introduced, egg tarts have gone through different innovations and developed various styles. And today, I will show you how to make one of the original forms of Chinese egg tarts – egg tart with puff pastry.
Firstly, you need to prepare two kinds of dough: water dough and oil dough. For the water dough, mix the plain flour with egg and water finely. Replace the egg and water with the butter to make the oil dough.
Next, put the oil dough above the water dough and start flattening until it's about 3 mm thick. Cut out the pastry and place it in a mold.
After that, mix the egg, sugar syrup, and milk altogether to fill into the mold. Finally, bake it in the oven for about 25 minutes.
Now, enjoy the crisp shield outside and the soft cream inside with this stunning Chinese egg tart!
Indian Gulab Jamun (Rose Cake) Recipe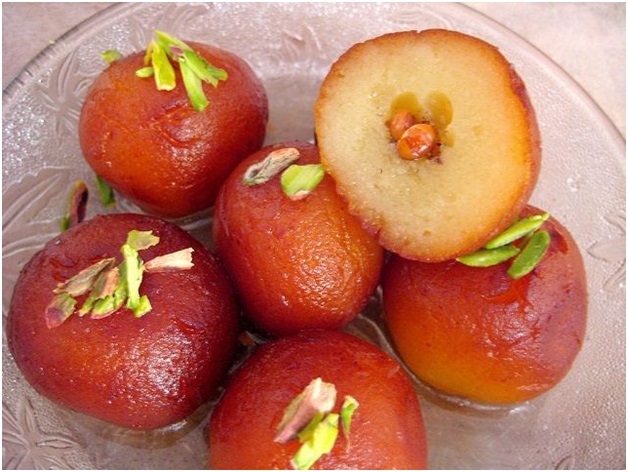 https://punampaul.com/wp-content/uploads/2019/02/Gulab-Jamun.jpg
Next, let's meet this lovely Indian dessert: Gulab Jamun, also known as rose cake. What is the most impressive thing about this dessert?
As soon as you taste it, you will surely be captivated by its charming sweetness and fragrance. So, how to make it? Check out this simple recipe from All Asian Recipes!
In boiled water, cook sugar and rose syrup together with chestnut, cardamoms, and saffron flowers. For the batter, mix wheat flour, baking soda, and powdered milk with yogurt and oil then shape into small balls.
Fry these balls in a heated pan until they turn brown. After cooling them down, soak these balls in the syrup for about 2 hours.
All you need to do now is to take the balls out and have a sweet bite of this attractive Gulab Jamun!
Bubur Pulut Hitam (Black Rice) Recipe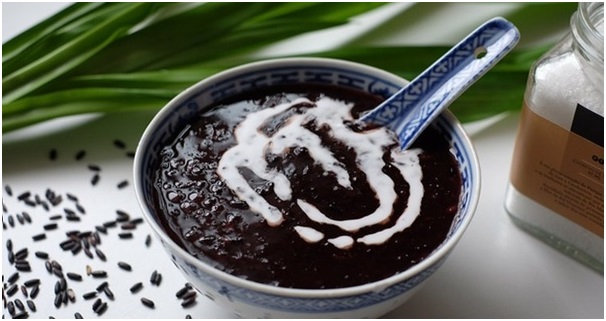 https://qph.fs.quoracdn.net/main-qimg-7d3cc698364de1368c1b0f62bb2b622b
And now is the time for the healthy and tasty Bubur Pulut Hitam. This dessert is most prevalent in countries such as Indonesia and Malaysia.
Mainly made of rice and coconut milk, this extraordinary dessert will not only supply you plenty of nutrition but also help freshen your body, especially in the hot climate. What's more?
The recipe is easy to learn. The first thing you need to do is to wash the black and white glutinous rice. Then, boil the rice in a water pot with pandan leaves until it forms a thick liquid.
Remove the pandan leaves. Add sugar and salt and bring to a simmer. The dish is ready to serve with some coconut milk on the top.
By the way, you can also have this trouble-free Bubur Pulut Hitam at any time. Breakfast, tea time, or snack. Whenever you want!
Now, let's have some fruits on the list today!
Vietnamese Banana Yogurt Recipe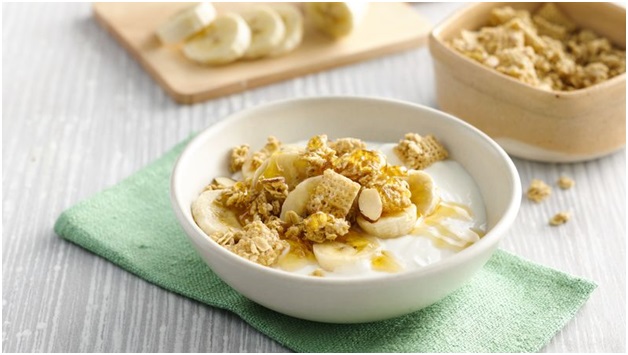 https://images-gmi-pmc.edge-generalmills.com/20b8ee95-a1ec-4ff4-848b-b18985a12cec.jpg
Well, yogurt is way too familiar to you, indeed. But you may have never tasted a unique banana yogurt. So, try out this fantastic dessert recipe from the beautiful country of Vietnam!
It only takes 3 quick steps to complete this dessert. Firstly, bake the slices of bananas for about 20 minutes. Next, grind the bananas thoroughly and place them on the yogurt.
Based on your interest, you can freely put some toppings on the banana yogurt such as granola, almond, chocolate, and more. What else?
Have a wonderful summer with this chilling banana yogurt!
Philippines Banana and Avocado Smoothie Recipe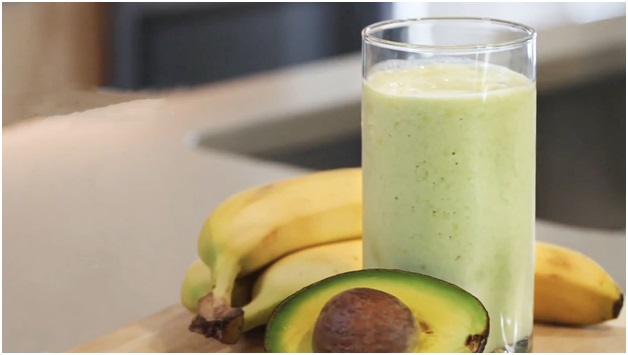 https://www.bodybuilding.com/images/2018/july/avocado-smoothie-recipe-header.jpg
Here's another dessert for the hot summer. This time, have a try of this cool drink from the Philippines – banana and avocado smoothie.
Want to hear an interesting fact about this dessert?
Many people pick this drink as an effective way to lose weight. This smoothie contains no fat while still giving you enough energy. Awesome!
So, how to make it? Nothing complicated!
All you have to do is to grind the sliced banana and avocado. Then, pour in some yogurt and green tea powder. Remember to mill all of them together thoroughly.
Finally, decorate the drink as you like. And have a fresh taste of this banana and avocado smoothie!
Create Your Dessert Now
That's all for my 5 spectacular Asian dessert recipes. Now it's your turn to make your dessert!
If you are looking for some distinctive cakes, give the egg tart and Gulab Jamun a try. Or if you prefer something nutritious and flexible, the Bubur Pulut Hitam will be an ideal choice.
And if it's hot out there or you need a gluten-free dessert for your diet, the two fruit dessert recipes are there for you. Feel free to pick what you like! After that, of course, heading to your kitchen and have some tries!
But before that, give me a like and share as an inspiration for my work. Also, if you find other fascinating recipes, don't forget to share with me in the comment box below. Goodbye, and see you later!