Juicing fruits and vegetables has seen a rise in popularity in the last few years and has become widely regarded as a healthy habit. It is known for its ability to improve a person's energy levels, its detox capabilities and being able to rejuvenate your entire body overall. Like many things that involve health, however, juicing done wrong can lead to some very bad consequences. For example, some fruits, like mangoes and pineapples, are rich in fructose sugar, and can cause diabetes if used too much.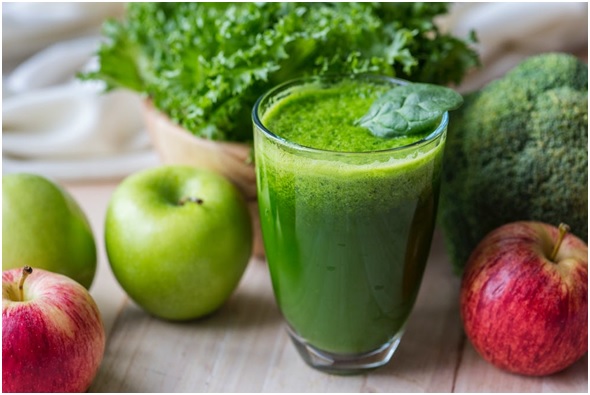 If done with the right mindset, however, juicing can single-handedly change the way you live your life for the better. To help you out, we've compiled 4 ways you can make your healthy blends easily.
1. The golden ratio
When making your green smoothie, it's always tempting to just put as many greens into the juicer as possible. It can also go the other way, and you'd be tempted to put as many fruits in as possible instead. If you decide on a green-heavy blend, you'll end up with a nasty-tasting goo, whilst adding in too much fruit will just give you diabetes in the long run.
A good way to keep your juice recipes tasting good while keeping its health benefits is by following the golden ratio. Basically, you'd want to have 3 parts fruits for every 2 parts leafy greens. First, add the leafy greens in, such as spinach, romaine lettuce, kale and collard greens, then blend it thoroughly with your liquid base, such as water, almond milk or coconut milk. You then juice your fruits with the rest, before blending them thoroughly. On top of this, you can also add some extra fillings to boost your drink, like cinnamon, coconut oil or protein powders.
2. Invest in a good juicer
Not all juicers are made the same. Depending on each product's specs, you can end up with two different types of juice, despite using the same ingredients. There are things you'll need to watch out for, like the wattage, the settings and if it has any accessories to speak of. Depending on how they're built, some juicers also do their jobs with minimal waste. Some are also equipped with bigger chutes to accommodate bigger pieces of fruits and vegetables, so you wouldn't need to cut them up first before feeding the machine.
A good juicer should not only accommodate a lot of features, but still get the job done with little fuss. For a lot Braun's multiquick 5 is one of the best all-rounders available. The combination of a fast-juicing system and a large enough chute ensures that the whole process goes by smoothly without taking too much of your time.
3. Avoid using ice
A lot of people prefer their drinks cool, and that's okay. If you want to chill your juices, however, it's best to avoid using ice. Ice tends to water down your drink once they start melting. This makes the juice less appetizing and could also ruin your golden ratio by adding too much into your liquid base.
A good alternative to keeping your juice chilled is by putting your fruits in the fridge before you juice them. It's also a great way to keep your fruits fresh for longer. You can also use this method with your leafy greens, but make sure that you store them in a freezer-safe container, and make sure you add your frozen greens into the juicer immediately after taking them out of the fridge.
4. Make your drinks ahead of time
While we already know that juicing is a healthier way to go, they can be a bit of a hassle to make, especially if you want to have them for breakfast. After all, mornings are when you can benefit from the energy boost the most. It can get hectic at the start of the day, however, which means that people on the go will have fewer opportunities to enjoy their juice.
To overcome this, start juicing your favorite fruits and greens ahead of time. If you think that the next day will be a busy one, then do your juicing the night before and leave it in the fridge overnight. You should also store it in an airtight container to prevent oxidation and to keep it fresh for as long as possible. When you're ready to drink your juice, make sure you give it a good shake beforehand.
While juicing itself is a healthy habit to have in your daily lives, you have to remember that you can't rely on it alone. Vegetable juice, for example, is a great compliment to any meal, but it doesn't have the fiber your body needs to function properly, which whole vegetables do. With that said, however, juicing makes it easier to put a huge variety of nutrients into you may otherwise have not time to prepare and eat.