15 awesome tips on designing a small yet beautiful living room for any space. If you are baffled with looking for designs that are both charming and suitable for your modest living room. Check out this article in which we'll introduce you small yet lovely living room designs for your home!
Choose the right furniture
Simple sofas and tea tables can make your living room appear more breezy and spacious. Bright colors will also compliment the designs of your furniture. If you use the right tones, the modest space of your room will be less noticeable, making every details more appreciable.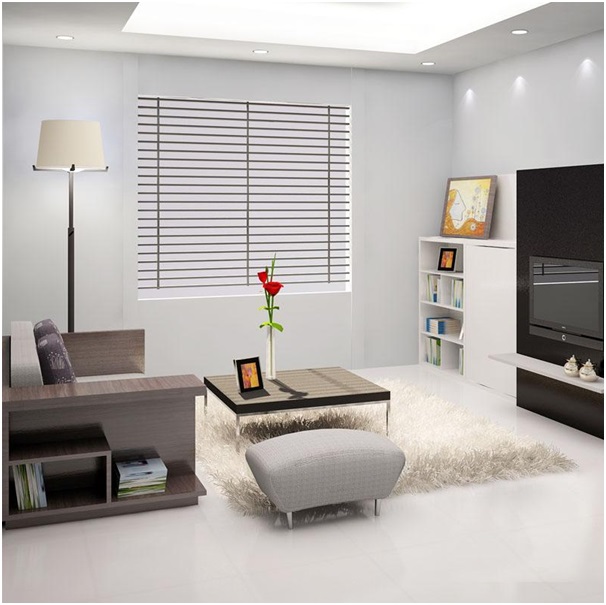 >> Check out these top sofa choices for small spaces
Favor small sofa
Small sofa can be placed at any spots in a small living room, it's much more versatile and economical than long couches. Furniture items of light materials and in vivid colors would help define the style and clear up the room.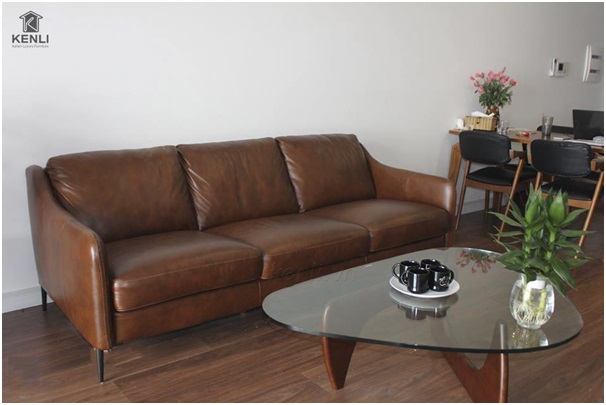 Choose delicate and simple patterns
Subtle patterns are one of the things many people overlook while interior-decorating. For example, the geometric pattern on the rug can create a balance with the smooth surface of the plaster wall and the TV shelf. Many interior designers also use diamond patterns on the sofa cushions.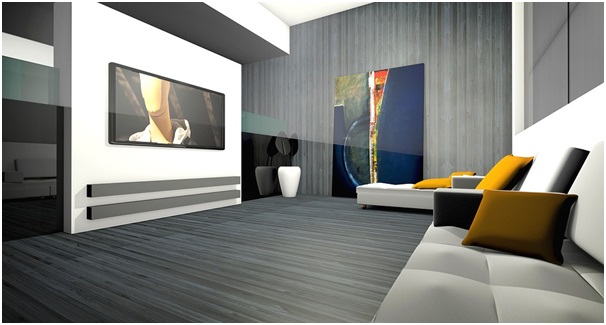 Choose furniture pieces of appropriate heights
The height of your furniture has an effect on the visual impression and the depth of a room. Milky-white items will create the feelings of consistency and envelopment, making the room appear larger than it is.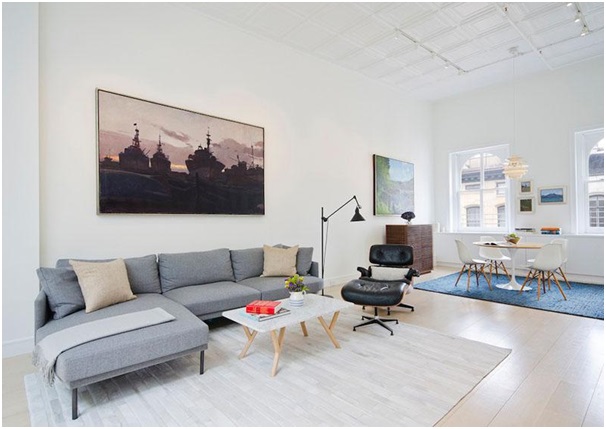 Decorate with colorful pictures
Pictures in vivid colors can bring a splash of joy and creativity to any room. Abstract paintings are hard to comprehend but never fail to impress. A set of wooden chairs with lemon-yellow cushions prevent the neutral tones-filled space from giving off a cold and dreary vibe.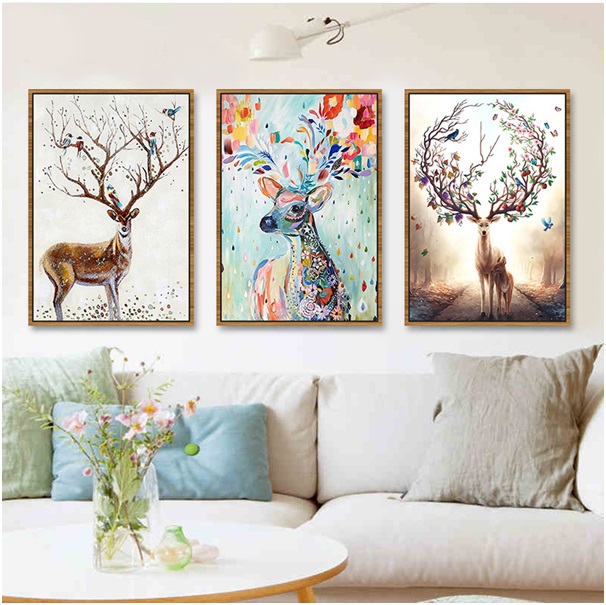 Make use of natural light
It's crucial to make the most of out of available natural light. A brilliant living room always looks more welcoming and comfortable than a well-decorated yet drab one. Furthermore, this kind of light has an effect on your family's hygiene and health.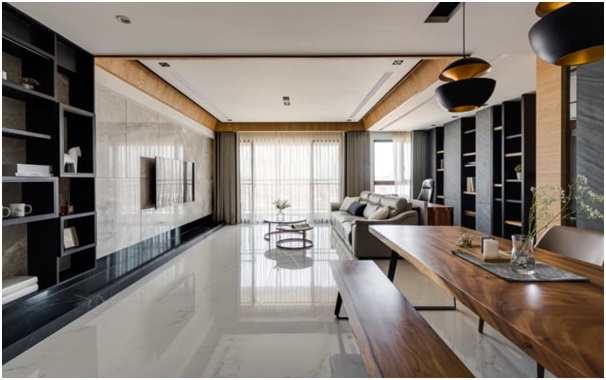 Combine multiple materials
White-coated rough brick walls is also a pretty nice way to cooperate many materials in a living room. This is one of the ways professional interior architects design a room. The floor, the cushions or the curtains are a few examples of the spots where you can easily be creative with different materials.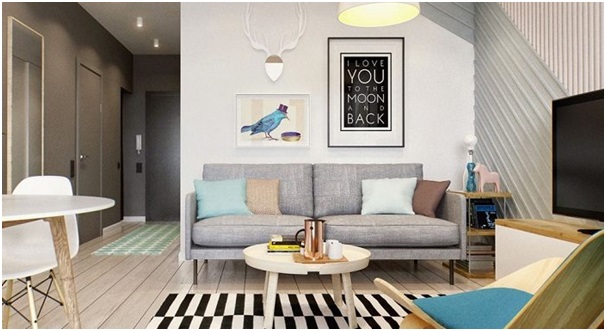 Give your ceiling some attention
If you have a low ceiling with bear wood beams, you can paint it in neutral or white hues to create a balance among the colors of the space instead of clumsily hiding them with other furniture pieces. Don't forget that ceilings with beams can become no less ornamental than smooth ceilings.
Hang your curtains higher
By hanging the curtains higher than usual, you can seemingly add more height to your living room. Every window in this room has the curtains hung this way. Moreover, the combination of colors and patterns can make the room more spacious and beautiful.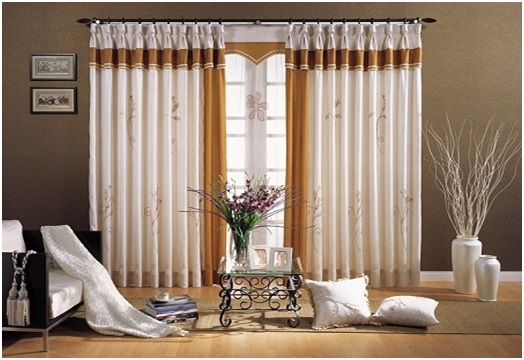 Use glass separators
Room dividers made of glass transmit light uninterrupted, be it natural or artificial light. This can render a modest living room bigger. If you're concerned about privacy, stained, colored or one-way glass are good options. Curtains or blinds are also not bad and somewhat more flexible.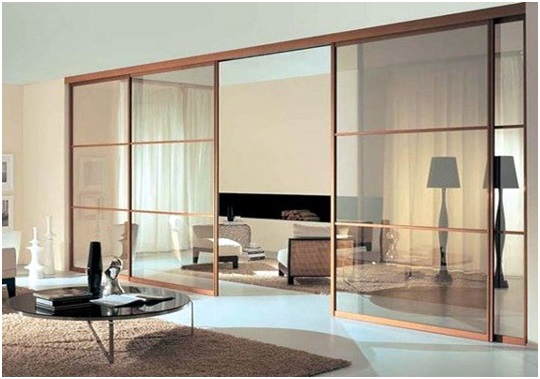 Minimize it
Minimalism can make every room neater and airier. Spaces that follow this style are effortless to clean as well as to accessorize. Look at the minimalistic beauty of this unique living room. Just a few touches of blue can catch our eyes. If you adore this Japanese style. This is also one of the most loved designs for apartment living rooms at the moment.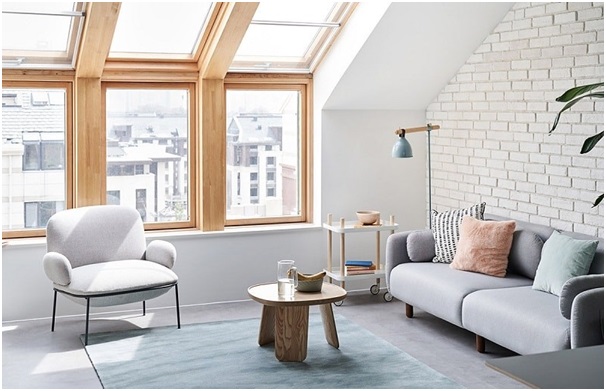 Choose contrasting colors
The effect of contrast is greatly expressed through the contradicting colors of the wooden floor, the couch, the armchair, the ceiling and the white walls. Color contrast is also an efficient way to renovate a boring living room without any highlights if you don't wish to buy extra decorations. White and black make a decent pair.
Buy tables with a glass surface
Glass tabletops don't make the room cluttered like the traditional wooden ones do. Besides, if you have a magnificent carpet, a transparent tabletop is the perfect way to show it off. The breezy Scandinavian style seems to work very well with modest living rooms.
Place your furniture at the center
Positioning your furniture at the center of the room makes it more spacious. This way of arrangement results from a 20th century trend. Combined with a Scandinavian sofa and high ceilings, it can really light up and stretch out the room.
Try out bold designs
Don't hesitate to add an element of surprise in your safe usual style. A tree stem turned side chair, mismatching chairs, shiny contemporary TV shelf, but with a stack of classic clothes trunk.
We hope that the beautiful designs for small living rooms listed in this article will help you decorate the space of your dreams!