If you think about it, then we sleep eight hours a day, which means that a substantial portion of the day is spent on a mattress. No doubt, mattresses are an essential element of your bedding as they contribute to a good night's sleep. With an uncomfortable or worn out mattress, you won't be able to sleep as soundly as you need to in order to maintain a healthy body and mind.
Many experts believe that good sleep contributes to your mental and physical health by lowering stress levels and promoting productivity. For instance, if you have slept well, you would be able to complete more work in a day.
Looking at how important sleep is for the wellbeing of our body and mind, we have prepared a guide to help you buy a certified organic mattress.
What is a Certified Organic Mattress?
A certified organic mattress is manufactured using all organic and natural materials. This also means that the mattress is created without the use of any chemicals.
The non-organic mattresses contain harmful chemicals and items such as volatile organic compounds, bacteria, allergens, formaldehyde, petroleum filters, microbes, etc. With a certified organic mattress, you can sleep peacefully knowing that you are not being exposed to any harmful substances or chemicals.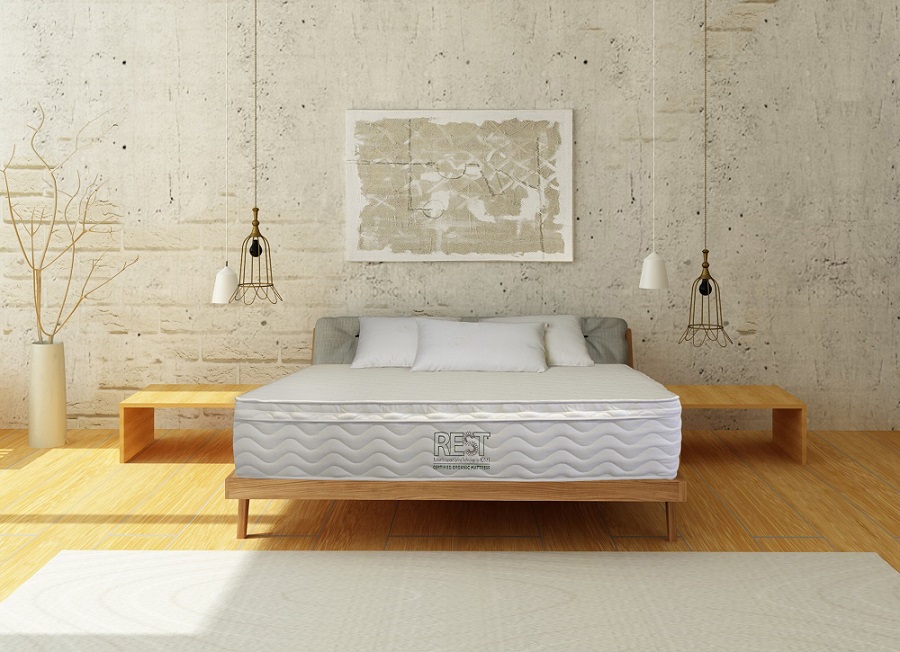 However, many times, a company may claim that the mattress is organic and you may buy it considering the lower price. But these mattresses may not be 100 percent organic and here's how you can check and analyze that accurately.
Points to Consider
1. Check Material
Knowing if the material from which the mattress is made is 100 percent organic is the trickiest task you will have to accomplish. Sometimes, you may find a mattress with a certified organic mattress label but only the cotton cover of the item may be organic. Hence, check if all the layers of the mattress are made from organic materials.
Organic mattresses can be made from wool, latex, or cotton material, of which latex is most preferred. If you choose latex, it is the most environmentally friendly option for an organic mattress. However, you still need to check if the latex used for the mattress is synthetic or organic.
Additional Tip: Check if harmful flame retardant chemicals were used on the mattress. If so, then don't buy this mattress. And always prefer water-based glue holding instead of solvent-based glue.
2. Check the Certifications
The certification labels on the mattress can tell you a lot of things about it. While every certifying body or organization prints different information on the label, you can get a clear insight into what is actually in your mattress.
For instance, GOTS (Global Organic Textile Standard) or GOLS (Global Organic Latex Standard) certifications both indicate that the mattress is 95% organic. These labels give you a comprehensive knowledge of the materials used during the manufacturing process, beginning at the farm and ending at the finished product that is shipped to your door-step. These labels are environment-friendly, which also means that banned products have not been used in the manufacturing process.
If you can't find these certifications on an organic mattress, look for Oeko-Tex Standard 100 or Greengaurd Gold. These two certifications will tell you whether or not dyes, volatile organic compounds, or flame-retardants have been used on the mattress.
3. Don't Make Hasty Decisions
Often we only spend a few minutes selecting a mattress. You may simply go to a store, check the organic label and purchase the mattress without considering its contents. However, this may cost you, and cause you to end up with a mattress which is highly uncomfortable and unhealthy as well. So, check everything thoroughly before buying a mattress and take your time with the purchase. Check online for the specifications of a certain product or go to the store and ask questions about the details in person for guidance.
Benefits of Certified Organic Mattress
Purchasing a good mattress is not just an investment for your bed, it is money spent for your comfort and health. Here are some factors that make a certified organic mattress the best choice:
Organic mattresses don't contain any chemicals or synthetic materials so they won't harm your health in any manner.
The manufacturing of organic mattress is sustainable and the materials used don't harm the environment.
Whenever you dispose of this mattress – of course, after years of use – these will not harm the environment due to their biodegradable properties.
Only minimally treated and high-quality materials can be used to make a fully organic mattress, which means that you don't need to worry about quality when buying a certified organic mattress.
Organic mattresses are a long-term investment because these last longer than normal mattresses. Especially latex is a highly durable material and the best choice for long-term use. You may even get a warranty of up to 20 years with an organic mattress.
Conclusion
Since the choice of mattress may affect the quality of your sleep, you should consider every factor carefully before buying a certified organic mattress. Ensure that the mattress you purchase has actually been certified by reputed bodies and organizations and that it doesn't contain can synthetic materials. Also, consider the warranty period of the mattress as well as its price when buying.