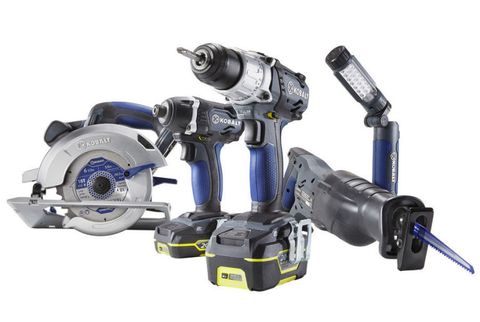 Buying power tools is an effective way of starting your tool collection or adding pieces to your existing toolset. These sets differ in the number of items included, from two to 10 or more tools. A power toolset like the makita combo kit typically carries widely-used items such as drills, saws, screwdrivers, hammers, etc. 
When choosing the item for your power toolset, learn about the tools, their power source, as well as the other accessories included in the kit. Doing this ensures your pick meets your tool needs. The different tools come with different functionalities.
Power Source
When it comes to power tool combo sets, the items can be cordless or corded. Cordless provides convenience and mobility, while corded offers power and reliability. 
Cordless tools. They do not depend on a power source as they can function without a cord. They are ideal tools to use in tight spaces as you can easily maneuver them and move around without the risk of tangling a line or tripping over it. For example, you can use a cordless drill in roofs, ladders, and other awkward places without worrying the wiring will catch something. 
The portability of the cordless tools makes them suitable to bring when working on several projects at the same time. Moreover, cordless power tools are easy to store.
Corded tools.  These items do not run out of power as long as you connect them to a power supply. Besides the continuous power, they provide you with greater torque, enabling you to get the job done fast. For example, using reciprocating saws, jigsaws, and circular saws requires consistent power while cutting through dense materials. Also, a corded power drill is suitable for drilling holes in tiles, concrete, glass, stone, plastic, metal, and wood. Depending on the material you need to drill, there are different lengths and types of drill bits.
Brushless Tools
Lighter, smaller, and more efficient motors run these brushless tools, together with other advanced electronics in the tools. You can adjust the power and speed of the motors according to the task at hand. An adjustable motor means it only uses a specific amount of power from the battery, increasing battery life and overall runtime. 
There are many other power tools that you can include in your tool kit. Also, take into consideration the additional features that these kits offer, such as a carrying case, a limited warranty, or an extra battery. 
Factor in your needs and preferences when choosing the items you may include in your combo kit. If you are into major and complex projects, consider a comprehensive power toolset that includes drills, saws, oscillating tools, and more. On the other hand, if you only need tools for performing odd jobs at home, you can find a combo kit with a couple of power drills and a few additional items like a flashlight. 
Power tools are functional and sturdy items, which can last a lifetime. For this, it is essential to choose high-quality tools from reputable companies. For example, a Makita combo kit designed by a trusted company that has been in the industry for a long time. Choosing your tools from the right brand will ensure less work, less frustration, and more quality results for your projects.