In the last 30 years, the internet and online technologies have come to shape all aspects of our lives – changing everything from how we shop to how we communicate and find and watch media. Today, the web is the starting point for the majority of consumer journeys – and has also been found to be the most common way students research and choose which university to attend.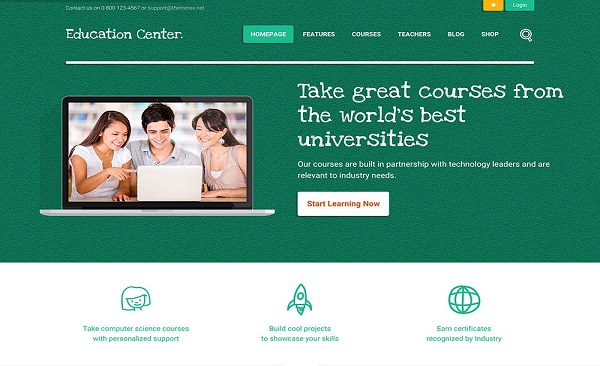 Just like almost all other companies and organizations, your website is likely to be the first port of call for prospective students looking to find out more about your establishment and the courses and services you can offer. Consequently, having a well-designed and easy-to-use website is essential if you're to attract more undergraduates to your college.
Proven results from building positive online branding
There is little doubt that today's younger generation is the most internet-aware and knowledgeable in history. Today's young adults have grown up with the web and consider it in higher regard than more traditional forms of media like TV, radio and print journalism. As a result, to gain the attention, interest and respect of the current generation of university-age people, colleges need to build a positive online profile and engage in everything from social media promotion to online marketing.
For example, in a recent campaign to address the declining enrollment in continuing professional development programs, Fresno Pacific University enlisted the help of a professional educational marketing firm to perform a full audit of their website and online promotions. The results were stark and provided ample evidence of just how important web marketing has become to colleges.
The key aspects of web marketing and promotion
If you feel your college is under-performing when it comes to promoting itself online, there are a few key areas you could look at improving:
Perform a full audit of your website: While you may be able to do this in-house, you will likely find a third-party professional company will be able to do a better job of assessing your website's functionality and ease of use. However, there are some foundation guides you should follow including checking that your site is Fully Responsive, downloads quickly and has a clear navigational structure.
Check your social media profile: Today's prospective students are far more likely to believe the comments and posts they find on social media platforms than your official marketing so you should stay on top of student feedback and address any issues you find.
The importance of Search Engine Optimization (SEO): Today, Google accounts for around 92% of all internet searches – so your college website must feature high under the search keywords and phrases likely to be used by people looking for establishments like yours as well as the courses you offer. Search Engine Optimization (SEO) is a highly detailed and involved discipline that uses a variety of tricks and techniques to push websites higher up the main search engines. While there are some aspects of SEO you could attempt to do yourself, almost without exception you will find you'll get better results by outsourcing to a professional online marketing company.
Keep your website regularly updated: Google and the other search engines like nothing more than regularly updated, relevant and informative content so spend time crafting the text, photos and other associated materials on your website to keep it as engaging as possible. If you do, you'll rank far higher up Search Engine Result Pages (SERPs) and also be much more likely to attract the interest of your site visitors.