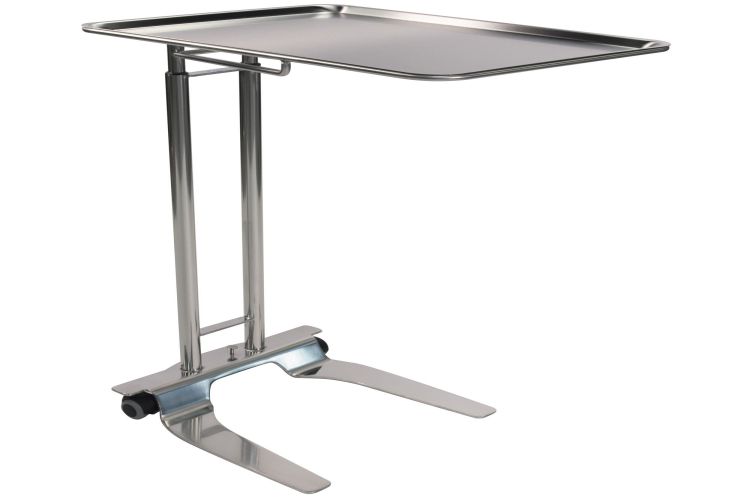 Surgical supplies and equipment are kept in operating rooms and offices on Mayo stands, which are portable instrument stand with trays on top. The Mayo Clinic could offer a useful spot that could be cleaned up and put close to surgical areas without getting in the way. Mayo stands are available in a range of designs to suit a range of requirements. The instrument tray is removable, making it typically easy to clean and maintain. This little instrument stands can be covered with Mayo stand coverings, both sterile and non-sterile. A Mayo stand's height may be altered easily, and some Mayo stands come with extra practical features like a foot- or thumb-controlled height adjustment.
To facilitate a wide range of operations and procedures, Mayo stands are available in various sizes and configurations. For instance, orthopedists will probably need entirely different equipment than dermatologists. Access to tools and supplies is made simple, and technology that saves space is advantageous to all medical personnel. These compact stands keep everything needed for an operation close at hand and save unused space.
Mayo stands are also made to be as convenient and simple to use as possible, even during extremely difficult and multi-step processes. The fundamental layout reduces equipment interference. Some designs include slender legs or ball-bearing swivel casters to prevent tripping over other surgical supplies, beds, and tables.
A variant with wheels may make sense if you regularly need to relocate your Mayo stand during an operation. On the other hand, operations requiring stability may call for versions that are fixed or include wheels.
A crucial element for protracted operations that tax the entire operating room personnel is the adjustable height offered by Mayo stands. Most are movable up and down for convenient access while seated or standing. Mayo trays may be set up in any sort of operation so that they are promptly and conveniently accessible with little effort. Their mobility also makes it possible to arrange equipment ergonomically for use during surgery or other medical treatment.
Tray frames and tray brackets from the Mayo stand can easily be removed for quick cleaning. Most Mayo stand trays are constructed of stainless steel, which resists corrosion and stains and can be replaced if it is damaged.
A surgical drape and/or stand cover, both necessary for preserving a sterile environment, are readily accommodated by lipped tray edges. Here is also mayo stand coverings available to lessen cleaning requirements and help avoid contamination. Typically, Mayo stand coverings are sterilized.

To fit beneath operating tables or beds, most Mayo tables feature short legs or only one leg. By doing this, they may use less floor space in operating rooms and during office-based medical procedures. The surgical bed or patient chair cannot interfere with other surgical team members, equipment, or tables because of its small footprint.