What is a smart home? A smart home is an ecosphere of appliances and systems that uses Bluetooth or Wi-Fi connections to communicate. It is also called the Internet of Things (IoT), as they do not require people to control them before they can function.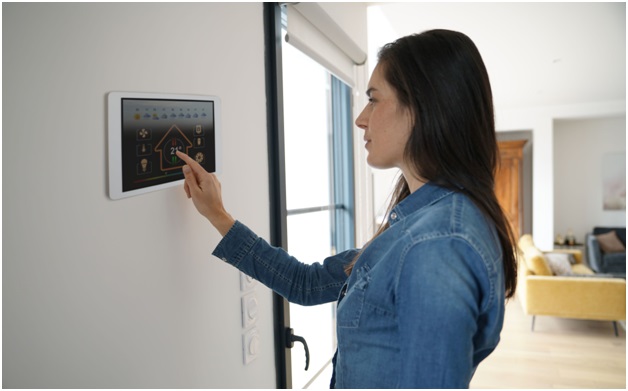 There are various smart technology automation for home use, such as voice controlled cooling systems or lights, touch screen refrigerators and many more.
If you live in a smart home, you could monitor your electric usage, set up your alarm system, check to see that your laundry has finished, open or lock the front door, check to see if you left any of your light on.
A fully automated smart home can turn on air conditioning/heating systems when you are on your way home by tracking your movements through its connection to your fitness tracker/smartphone. It could open your windows, cook your meals to perfection whenever you require it or have coffee waiting for you in the morning.
This might seem futuristic, but most of these applications are possible today. The only limitation is full automation. However, you can still do all of these things via a smartphone and smart appliances.
Some smart technology home applications that you can use include:
With smart lighting installed in your home, you would no longer have to worry about leaving your lights on. Smart lighting systems come fully equipped with scheduled lighting moods and timers.
Smart lighting is a beginner level home automation technology, so you should readily find shops stock Wi-Fi-enabled lightbulbs. There are also companies that can set up your home so that your lights can be turned off or on with a single touch.
Most of these smart lighting systems come with a sleep-mode feature that can automatically turn on the lights if someone gets up at night. And when you're out of town, your lights can be set up to make it look like you're home.
An automated cooling and heating system will reduce your power usage and make your home more comfortable. Your underfloor heating systems and heat pumps can be scheduled to come on at certain times in the morning and your dehumidifiers can be timed to come on when humidity levels reach a particular point.
You are most probably already streaming content on your smartphones and tablets, but adding devices such as smart TVs and Wi-Fi or Bluetooth-enabled speakers will take your experience to another level!
With recipe-sourcing robots, smart-rubbish bins and touchscreen refrigerators, kitchens are becoming smarter. Voice control applications are making everyday tasks simpler.  An easy voice control application that you can install into your smart appliances would be Amazon's 'Alexa'. Apple and Google also have voice-controlled applications for smart appliances – the Apple home kit and the Google home kit respectively.
Smart Security and Access
Smart security and access has gone beyond automatic opening gates and garages to doors and security systems that can be locked or unlocked and checked remotely.
Most smart home specialists also offer home security systems, such as vivint security cameras which enable you to watch your home while you are out as well as disarm and arm your door as remotely.
You can also make your gas and smoke detectors smarter by using detectors like Birdi. Biridi connects automatically to emergency services in an emergency. You can also use it to silence false alarms and monitor air quality — all from your smartphone.
Your outdoor area can also be as smart as the interior of your home. You can set up smart irrigation systems that can be timed not to come on if there is a forecast that it is going to rain or it has rained that day.
A popular smart outdoor application is timed-outdoor lighting that can be activated to come on at sunset and off at sunrise. It can also be connected to an alarm system and can come on by the opening or closing of a door or gate. To keep your home smarter and cleaner, you can consider buying smart trash can.