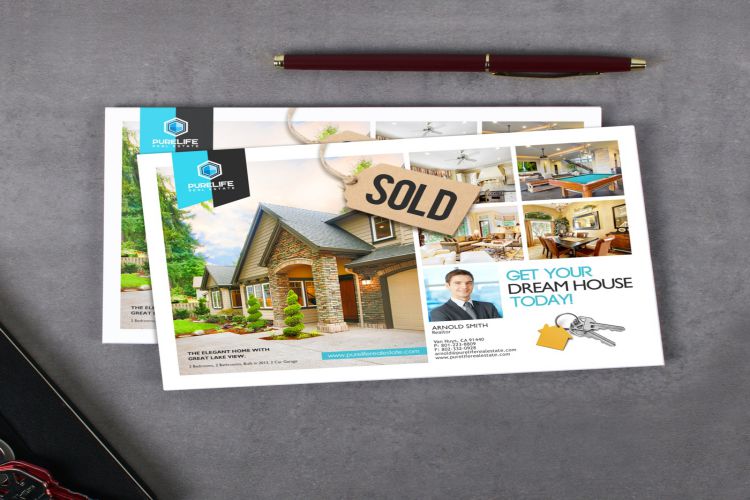 Whether well established or running a small-scale enterprise, as is with any business, realtors have to work with a limit on their marketing spend. This makes the decision on where to allocate funds very crucial. 
However, one sure thing is that real estate postcards are essential to any marketing plan. 
A real estate postcard is a sure way to contact potential leads and help you 'own' your real estate area. It is a powerful marketing tool that has stood the test of time even during this era of digital marketing
If you are just starting in real estate, continue reading to learn all you need to grasp about real estate postcards and why you need to include this strategy in your marketing arsenal.
Costs Involved In Postcard Marketing
There are four primary costs involved in real estate postcards: design, printing, mailing costs, and the cost of buying a mailing list. 
The mailing cost will depend on the services you pick, the size of each postcard, and the speed at which you want them delivered. Printing costs are often much lower than the cost of mailing. Just make sure you shop around for good deals. Depending on the volume of cards you order, you are likely to pay anything between five and twenty cents for each postcard.
Before printing, you will need to design the cards. If you choose to use a template and DIY the postcard, you won't spend on design. A professional will only cost you about $100 or even less. 
Finally, you'll be left with the cost of a mailing list. You may choose to only mail to your list, but that won't get your name to new prospects. Buy a targeted mail list from a company that compiles and builds lists. The more you buy, the cheaper the cost for each.
Creating Postcards that Actually work
For postcard marketing to be successful, you need to prepare to make consistent mail deliveries sent to your list of prospects. Nevertheless, experts recommend doing monthly deliveries. 
You want to ensure that every postcard you send out offers some value to the recipient such as a free service, coupon, or guarantee. That way, your postcards are less likely to end up in the trash.
The following are tips to help you create good postcards:
Be intentional and intelligent with your targeting. Are your target market buyers, sellers, or are you seeking referrals? Choose your list of recipients based on targeted information.

Make use of 'just sold' postcards as they will inspire other listings

Use "just listed'' postcards; they will spread the word on new listings in your neighborhood and inform your area on the market price of homes in the area.

Use content-designed postcards to show off your ability to sell homes.

Offer free competitive market analysis (CMA). 

Partner with other local businesses and offer promotions such as home insurance.

Switch up the pitches you make between postcards to ensure your messaging is fresh and evergreen.  
The Bottom Line
The most important thing to have in mind when running a postcard campaign is it's going to be a long-term strategy. You are less likely to get meaningful conversations from the first or second mailing. It's crucial to be patient and understand that your postcard campaign could even run for six months before your leads start showing. While it may sound like forever, the low costs and efforts needed make the wait worthwhile.