Given that we spend one third of our lives in bed, it's important to keep mattresses clean and toxin-free. But if you think that changing sheets and pillow covers periodically is enough… you're sadly mistaken.
Despite usual mattress maintenance, dust mites and sweat can seep deep into beds and form into mold, causing a nasty stench.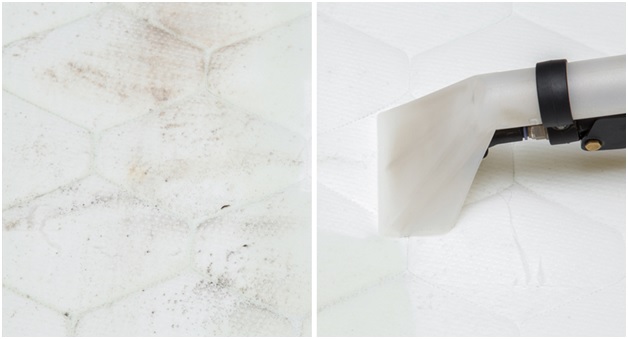 All of those germs make their way into our eyes, nose, mouth, and places you wouldn't even imagine! And before you know it, you're getting sick or having an allergic reaction. But this simple home remedy can go a long way.
Why Clean Your Mattress With Natural Ingredients?
Because it's a cheaper, healthier alternative to the hazardous cleaning chemicals from the store. Plus, for those of you looking for a little home science experiment, it's fun!
Nowadays, the sad reality is that we spend most of our time surrounded by harmful chemicals — on the street, in the park, and even in our homes… so there's no need to take them to bed with us too. Cleaning agents have harmful, volatile compounds that linger around in the room and in your mattress for much longer than you'd think.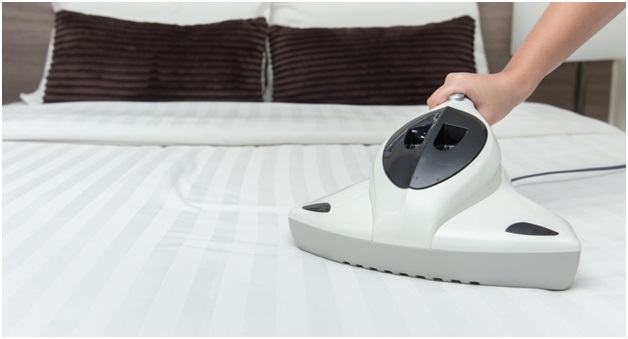 Home ingredients like baking soda and vinegar are best for routine mattress cleaning to revive and freshen up a dirty, smelly mattress. Follow the steps below to clean your mattress indoors or outside in the sun.
How to Clean a Mattress with Baking Soda and Vinegar
Steps to Clean a Mattress
1. Strip your mattress of all blankets, pillows, sheets, and mattress protectors.
2. If your mattress cover is:
MACHINE WASHABLE: Toss the cover into the laundry machine for a fresh clean.
NOT MACHINE WASHABLE: Remove mattress cover and spot clean. (If the cover is not removable, proceed to the next step.)
3. [OPTIONAL] Mix a few drops of your favorite essential oils (lavender or tea tree oils work particularly well) in a cup of baking soda and mix it thoroughly. Once you sift the mixture, you're left with a refreshingly scented baking soda.
4. Sprinkle the baking soda evenly over the entire mattress (you can use a brush to spread the powder to the corners).
5. Let it sit for at least 30 minutes.
6. Attach upholstery/mattress attachment to your vacuum cleaner and get to work on removing the powder, germs, dust, and dander.
Steps to Remove Stains from Mattress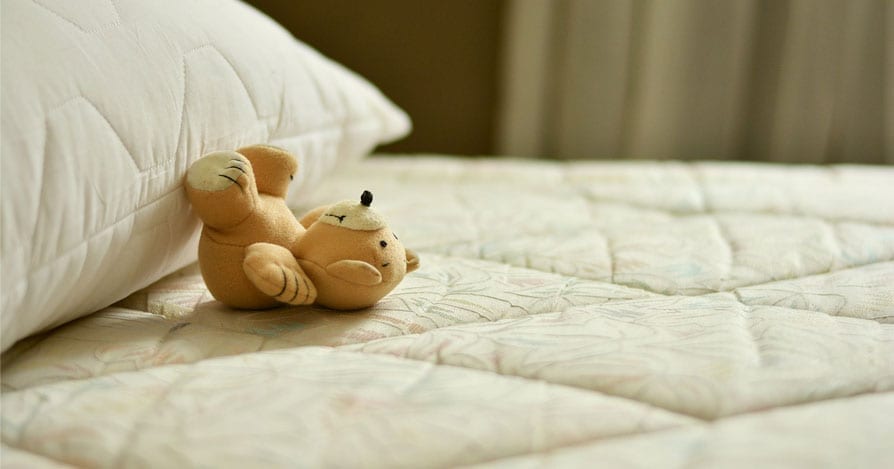 Baking soda annihilates the bacteria caused by drool and sweat, but what about the stains? That's where vinegar comes in. Once you've vacuumed all of the baking soda from your mattress, proceed with the following steps:
1. Mix equal amounts of water and vinegar. Pour the solution into a spray bottle.
2. Spray it over specific stains or the entire mattress if needed. Blot (DON'T rub!) the affected area with a clean towel. Repeat if necessary.
3. For tougher stains, use undiluted vinegar and sprinkle baking soda over it. Then grab the kids from the living room so they can watch the bubbles form! We won't get into the science of it now (but you can find the full explanation below if you feel so inclined)
4. Give the mix some time to do its magic.
5. If required, use a toothbrush to gently work in the mixture more.
6. Sprinkle baking soda over the entire mattress and let it sit for several hours (preferably overnight).
7. Vacuum all of the baking soda from your mattress and voila! Your mattress is clean and fresh — sans any gross odors.
8. Before you put the mattress cover and sheets back on, make sure the mattress is completely dry. It's best to air out the foams for a day under the sun or in a room with plenty of ventilation. Don't forget to clean the mattress from both sides if it's a reversible one.
Note: Most mattresses nowadays are not reversible. Do not flip them! Instead, stand the mattress up vertically against the wall and vacuum the sides + underneath. Then, clean the foundation and vacuum the box spring.
Make sure you apply vinegar only after you've vacuumed your mattress at least once. If you don't, dust particles can create even more of a mess and leave unsightly blotches.
How to properly care for a mattress is always a big question. With in-depth infographic from ASleepyWolf.com, you will have an overview of it
The Science Behind The Bubbles (in case your kids are curious)
Vinegar is a weak acid and baking soda is a base. When mixed, an explosive reaction occurs, creating a potent cleaning concoction that can cut through grease, dirt, dead skin cells, drool, and more.
While baking soda and vinegar are best for regular mattress cleanings, you might need a proper guide on how to clean your mattress if your mattress hasn't been cleaned in ages. With these simple steps, you can get rid of nasty stains/odors and disinfect your mattress all by yourself!