Over the past few years, the competitive world of gaming has transformed intoone of the most lucrative forms of sport out there. As a matter of fact, the 2019 Dota 2 international tournament has reached a prize pool of almost35 million dollars. This only goes to show that becoming a professional gamer is becoming a legitimate career path. However, if you are interested in following this path you have to understand that you won't get far unless you have the adequate gear to take you to the top. While most people think that buying a pre-built PC will get the job done, in reality, you are far better off with creating your own custom build. With that in mind, today we are going to take a look at just how to build a PC for professional eSports gaming.
Get the basics out of the way
Before we move on to the technical details of your PC, let's first mention the importance of other must-have hardware that will significantly impact your performance. First off, you won't be able to get far without a high-quality gaming monitor to play games on. The technology that is used to create monitors has improved significantly in recent times and purchasing a new monitor will allow you to really get the most out of your custom PC. Secondly, a keyboard and a mouse are the actual tools you are going to use to play games. And while some people believe that you don't need the latest gaming mouse and keyboard to be good, the fact of the matter is that they come with numerous tools and shortcuts that will help you take your gaming to the next level, which definitely makes them a worthwhile investment.
The heart of your gaming PC
Now, let's move on to the most essential part of your gaming PC, the graphics card. Often referred to as the GPU (graphical processing unit), the graphics card is the part of your computer that is the most important when running games and trying to achieve high frame rates. The world of graphic cards is divided into two big camps,NVidia and AMD. However, deciding between the two will ultimately come down to your personal preferences and possibilities as both have some great gaming graphics cards. With that being said, if you are prepared to make a real investment, you can't go wrong with the NVidia GTX 1080-Ti which is considered to be one of the best gaming graphics cards out there. On the other hand, if you aren't willing to spend so much money, AMD has some great budget options such as the RX Vega 64 which will still get the job done at a considerably lower cost.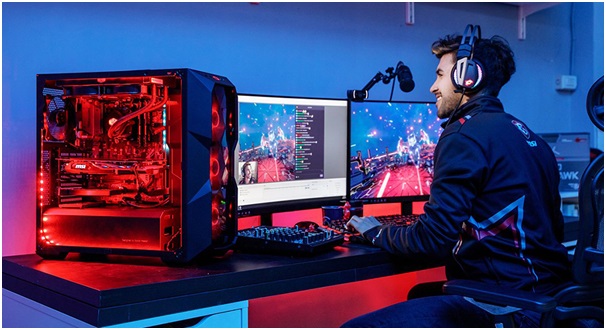 The brain of your gaming PC
Another essential part of your PC is the CPU (central processing unit) which basically acts as the brain of your computer and is the second most important part when it comes to getting the desired performance. With that being said, most games don't require you to have the latest multi-core processors such as the i7 or the i9 as some lower-end high-frequency processors will be able to get the job done just fine. However, while you can get a processor that's a tier or two lower than your GPU, you should still make sure you get something that will be able to efficiently support your needs with something like the Intel i5 being the first thing to come to mind.
Keeping things cool
Running high-end games with the gear we mentioned here can be really demanding and can make your gear reach really high temperatures which have the potential to overheat your PC and even destroy some of your gear. Because of this, it's essential to get an adequate cooling system installed in your computer. In most cases, an advanced air cooler will get the job done, however, if your funds allow it, most gamers considerliquid coolers to be the superior solution.
There are two important parts of any PC that we didn't dedicate a section to in this guide. Namely, the motherboard and RAM memory. However, these two things won't have as big of an impact on the performance of your PC as the ones we did talk about as an average motherboard will usually be able to cover all of your needs and 8 gigabytes of RAM is already an inexpensive standard which won't cost you that much.