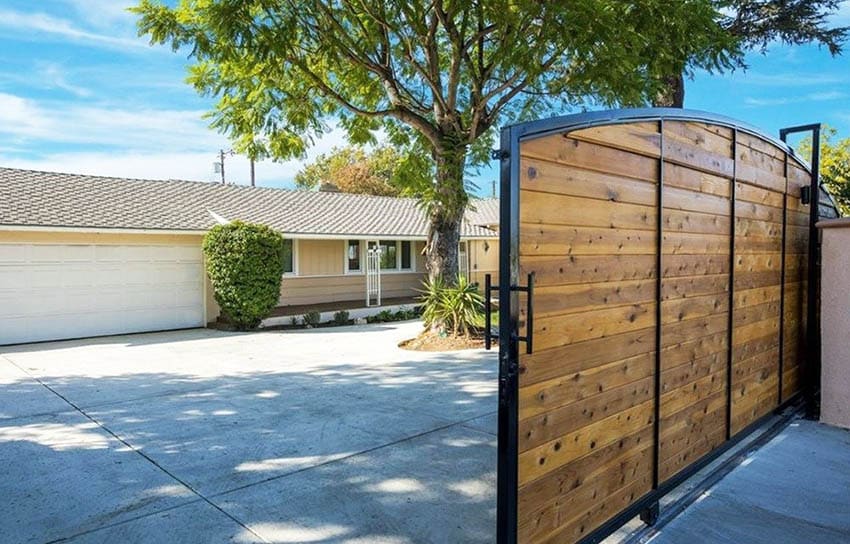 Driveway gates always give your home a beautiful look. This is most likely the first thing that guests will come across while arriving at your home. To give a good impression to your visitors' driveway gates must be functional and beautiful. Sometimes you might find it challenging to choose on which driveway gate to choose. 
Before choosing a driveway gate, you will have to consider the architectural design of your home. This will help you make a crucial decision for the perfect driveway gate. We have driveway gates that are formal while others look informal, gates with curved tops with some metal works always look more formal while those with flat tops are informal. However, if you will want to get one of these gates, you will have to consider these choices.
The type of gate
Single-swing, this one opens inwards or outwards.

Bi-parting swing gate opens half of its width.

Sliding-great this is the perfect one for steep driveways.
The gate material
Wood- this can be manual or automatic preferred for solid privacy.

Metal-it is always long-lasting and suitable for visibility.
Attachment
Piers or columns these pillars are constructed using stones and bricks topped with a lantern.

Posts this post may be made of wood or metal.
Construction
Prefabricated- you can choose a design or style of your choice.

Custom you can order a ready-made gate.
Automated opening mechanism
Remote entry- anyone visiting will have to inform the owner.

Keypad entry-this one has a code that you have to enter before entry.

Telephone entry- this gate is opened just by a call.

Sensor- they are always used as exiting gates they are not the best for your security.
Slide gates
This type of gate has wheels that move left and right to open and close it. If you want to install this gate, you must make sure that you have enough space bigger than the driveway for easy movement right and left.
V Track slide-this are the most popular however, not the best for areas with a lot of snow.

Rear pipe- these gates always have wheels and it is mounted to the fence.

Cantilever-this gates have vertical wheels which makes them appropriate and suitable for areas with a lot of snow.
Swing gates
This is so similar to the house doors they either open inwards or outwards. This type of gates should be avoided in busy streets to avoid hitting people. There are two types of swing doors single and double swing door. Swing doors are most preferred in flat driveways.
Vertical pivot and lift gates
Vertical pivot gates could just be the perfect gate for you if space is an issue. This gate, when opened it moves upwards to the air hence doesn't consume space.
For the liftgate, the whole gate is lifted to the air, unlike the pivot gate which is tilted. This gate too, would be perfect where space is an issue.
Important tips you should have on these gates
The most important tip every person needs to consider before installing any of this is the driveway space. Space will give you the idea for the gate you need to install. Another factor you should consider is the security is your security if you are in an insecure area you won't install a sensor gate.
Anyone interested in installing a beautiful gate should consider this information. Make the right choices and give your visitors the best impression on your home.