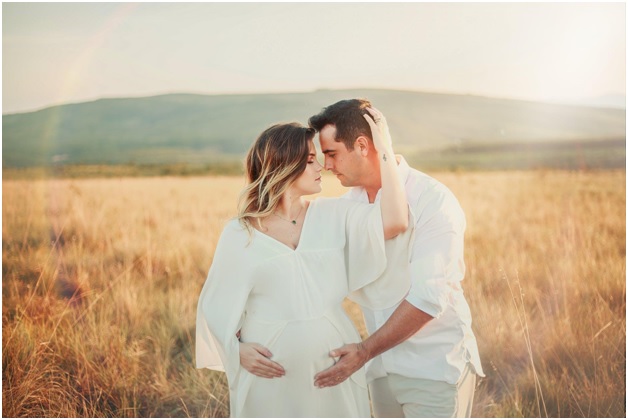 Motherhood is a blessing. You can cherish it all the way. But this good news comes with a concern for your closet for the next nine months of your journey.
You want to get yourself clothes that are as comfortable as possible, but at the same time, you're not ready to compromise on the latest fashion trends. There were times when women were told to wear loose clothes, but in 2019, maternity is all about 'flaunting your bump' in style and fashion.
Here are five ways listed through which you can spend your nine months wearing comfortable yet fashionable clothes.
Sleek Dresses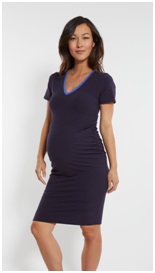 Celebrities always sprinkle some inspiration on their fans and followers. They make a huge fashion statement during their pregnancy times. Even the Royal princess wore different sorts of dresses during her entire pregnancy.
The sleek dresses can be selected as your Maternity Dresses. All you need is to look for the best ones. Many brands are offering such dresses globally. You can grab a few of them rather than just sticking to one of the dresses, so you're able to wear it formally for dinners and outings.
There are so many variations to these dresses – you can either get short or long ones. You decide to get fitted dresses to flaunt your bump or some flowy dresses to let the air pass. As far as colours are concerned, don't just stick to blacks and whites – opt for bright hues for a colourful pregnancy journey.
Feminine Skirts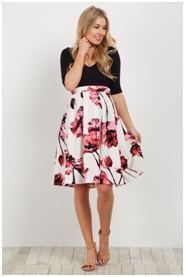 You may think that with pregnancy comes the need to wear dull, loose dresses all the time. Well, not really! You can find ladies pulling off skirts with class and utter glamour even during pregnancy.
It's not like you'll restrict yourself at home during your whole pregnancy. You would obviously go out, hang around with friends and family, attend parties, and live your life. These skirts could be a fantastic option to participate in formal gatherings. While wearing skirts, you can choose if you want to go with a pencil skirt or a flowy skirt. If you like showing your skin, then a mini skirt could also be a great choice. But remember to tuck in your shirt, no matter which skirts you decide to wear.
Maternity Jeans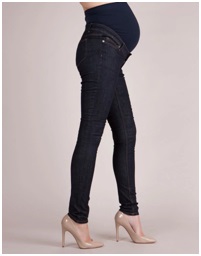 Sometimes, you wish to keep it simple yet classy, just like Kate Millington – she decided to step out in her maternity jeans looking sleek and beautiful.
It's not possible to wear denim during pregnancy since it doesn't have a stretchable material. This doesn't mean you can't wear jeans at all, you can opt for maternity jeans. They have stretchable material which is excepti0nally comfortable for pregnant women.
You can pair these jeans with causal stripped T-shirts, crop tops, or long denim shirts. You do need to spend money on a few trending causal shirts. Off-shoulder shirts are trending the most these days. They are stretchable enough for you, to flaunt your bump properly. Apart from casual shirts, in case of cold weather, sweaters would also look chic with these pants.
Vogue Coats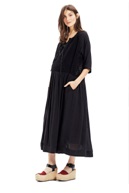 As soon as winter kicks in, it becomes confusing on how to style your outfit, while saving yourself from the cold. You can just get yourself a couple of warm coats and pair them up with literally anything. You can either opt for a skinny dress, pencil skirt or a pair of jeans, to wear underneath the coat. A coat won't just keep you warm, but it also helps you maintain a balance with your maternity and fashion.
Accessories
Heavy jewelry during pregnancy can be a big NO! But some casual jewelry is a must. It will not only enhance your whole outfit, but a pair of hoop earrings with a studded ring would also help you make a maternity-fashion statement amongst your friends and family.
For shoes, you can wear anything except for high heels – since they might be risking a fall. The best choice would be to opt for wedges – since they are comfortable and go well, with every outfit. Or else you can also get yourself a pair of sneaks or boots. They tend to rock every outfit, especially jeans. You must have seen many celebrities also wearing comfy sneakers with jeans and a casual top.
To add more to your outfit, carry a small crossbody bag or a clutch to store your essentials – mobile phone, medicines, sanitizer, etc. And of course, sunglasses to kill the sun and add spirit to your whole outfit.
Gone are the days when ladies had to stay at home during their pregnancy. The world has evolved now, and you can step out in your pregnancy looking like a diva and flaunt all you want to. Take the bull of fashion by its horns, no matter if you're pregnant, because you can still ace it like no one else can.