Airport security can be strict sometimes for all the individuals who are carrying objectional items in their bags accidentally. But the airport security officials don't have an intention to offend you or disrespect you. They just want to make sure that you are flying around the world safely.
The best thing that you can hope is passing through the security checks as quickly as possible, without facing any problems or pains.
That means that you have to be prepared and avoid making any security mistakes that can slow the process of checking all your items, causing trouble for you as well as everybody else who is standing in the queue. This also can cause a lot of trouble for you with the TSA.
According to a report by the TSA, it proves that out of 70 trials, three trials are usually detected as threats because of numerous obvious reasons. With TSA investing over 5 billion dollars every year on providing security services in the airports, it is expected out of the airport security officials to deliver their best in protecting people from oblivious threats.
Here are some of the best tips and tricks for you to ensure that you don't break any rules and regulations of TSA by carrying illegal items in your luggage accidentally:
Don't' carry liquids that are more than about 3.4 ounces: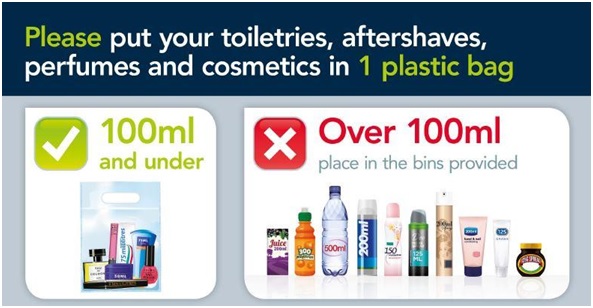 Image Source: Gatwick airport
It is quite obvious for all the frequent flyers as they would know that they are not allowed to carry liquids that are more than 3.4 ounces.
This means that you have to be careful while carrying shampoos, perfumes, as well as any other liquids without knowing the rules.
Every time this occurs, an agent of TSA will stop you at the security checking point, causing delay to board the flights for you as well as for your fellow passengers. Therefore, don't carry any big bottles of shampoos, sodas, or any other liquids.
Don't leave any liquids or gels deep in your luggage
The security officials check you and your bag thoroughly, which means he or she would know everything that you are carrying at any given time. Don't try to stick your shampoos, gels, or any other liquids deep inside your bag thinking that nobody would know.
If you are a first-time traveller, then it's essential for you to know that there are strict rules and regulations of TSA that you must follow.
Try to keep the bag that is stored with liquid contents in a handy place. This will help you in unzipping the bag quickly if the security officials ask you to do.
Don't forget your boarding pass and Identity proofs
As mentioned above, keep all the items that are considered to be risked by the airport security handy, similarly, keep your boarding passes and identity proofs handy so that you can show the officials whenever they want.
This reduces your tasks to search and dig into your bags every time an airport security official is asking for you.
Don't forget to carry your boarding pass and at-least three identity proofs with you when you are travelling by air.
As there will be a lot of security checks from the source destination to the final destination, carrying right boarding passes and identity proofs can expedite the process of security checks in the airport.
Don't wait for the security officials to take off your watches, belts, shoes, or jackets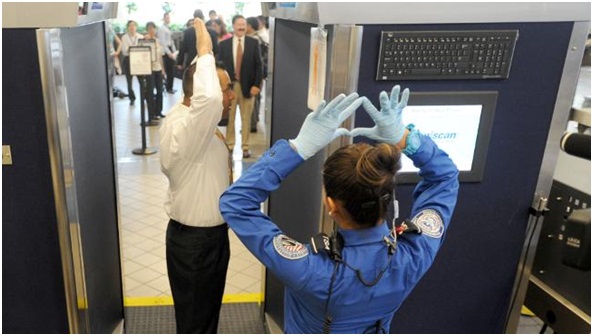 Image Source – corruption
If you are a frequent traveller, you would definitely know that taking off your belt, jackets, shoes, watches, and some other mandatory things are the standard rules and regulations for passing through a security checkpoint.
If you are a first-time traveller, then get yourself prepared to take off your belts, jackets, shoes, and watches at the security checks.
When you are standing in a line, it's better you start taking off your belt, shoes, and jackets so that you don't have to wait at the security checkpoint where the officials ask you to do it. By doing this, you can move faster through the checks and board the flight easily.
Don't remove any unnecessary items from your bag 
The most common mistakes that people make in the airport security checkpoints is they take out all the things that they are carrying from the backpack, including phones and other small accessories.
If you are a first-time traveller, then you can go through the rules and regulations set by the TSA. Similarly, for example, if you are travelling in Air Canada airlines, you can go through the procedures and regulations that the airline follows. You can also check the Air Canada flight status online so that you can determine how much time you should be spending in the airport security checks and plan accordingly.
Also, you may choose to consider Faremart for booking your next flight ticket, since the platform offer best and exclusive deals on more than 450 airlines.
Don't put on sandals
If you are willing to expose your naked feet to everyone around you in the airport, then you can wear any sandals that you like. However, it's not advised to wear sandals even though they are quite easy to slip into.
If you really can't give up wearing your flip-flops, then you can carry a pair of boots in order to safeguard your feet.
Try to enter through the less busy security checkpoints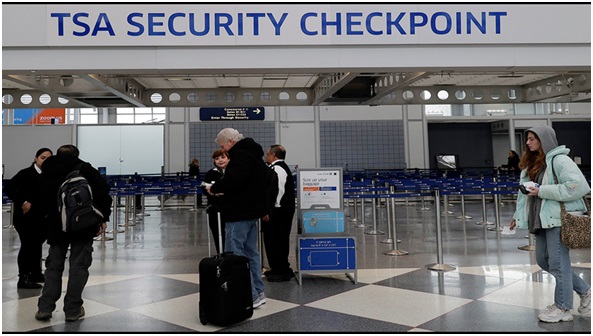 Image Source – abc7ny
When you travel frequently, you would know the tricks and hacks to pass through the less crowded checkpoints. But when you are travelling for the first time, you wouldn't know where to go and what to do within the airport after crossing the entry point.
You can follow the maps that most of the airports have, and if you can't find one, then try to get in touch with the security officials who can guide you through the checkpoints.
Don't irritate the security officials or give them a tough time
Try to make things easier for the security officials by supporting and following them as they say. Don't give them a hard time to take out stuff from the bags that they think is not allowed to take within the flight.
While the agents of TSA demand a lot by forcing you to give up something that you are carrying, don't try to retaliate to them by not giving your things. You can ask them the reasons as to why you can't carry such things but cooperate with them.
Don't joke around with the security officials compromising national security 
If you want to fun at the airport, then there are lots of ways to have fun, but definitely not pranking them with bombs or posing any threats to national security.
The officials are trained individuals who wouldn't have time to understand your jokes or pranks, and would end up arresting you thinking you are a terrorist or potential threat.
Precheck program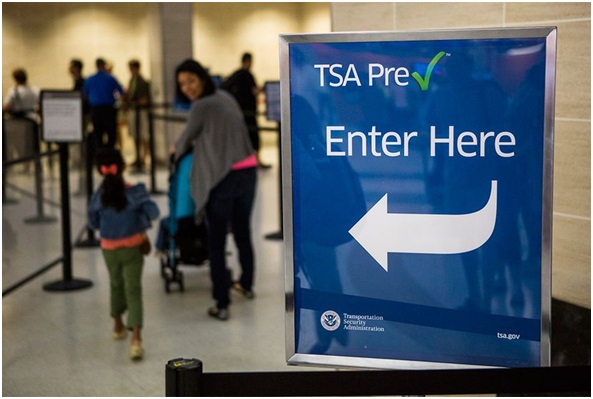 Image Source – texas tribune
The Precheck program of the TSA is a prescreening system that permits all the flyers to apply for necessary accesses to the restricted and faster mode of passing through the security lanes in the airport. Try to make use of these checkpoints to complete all the security checks quickly.
Final Words
Although there are lots of security procedures in the airport, these are imposed to make sure that your journey in the air is safe and secured.
Therefore, following all the security procedures becomes necessary for all the flyers and listening to the airport security officials will definitely smoothen the process of security checks.